A Sailing Holiday In The Ionian Sea in Greece
If you want to make your summer holiday into a sea travel adventure, yachts and sails should be your next thing. The Ionian Islands in Greece is a great location for seeing beautiful untouched beaches and relaxing while swimming and sunbathing. Here are some travel tips and ideas when it comes to planning and enjoying a sailing holiday in the Ionian Sea.
Why should you choose the Ionian Islands for your sailing holiday?
You can find the Ionian Islands on the western side of mainland Greece. There are lots of islands situated very close together meaning it is the perfect place to explore by yacht. You can explore many different destinations in just one holiday and soak up the sunshine at the same time. Talking about sunshine these islands are fortunate to enjoy over 3000 hours of sunshine annually! So, if you take a sailing holiday in the Ionian Sea in the summer you are sure to have many sunny days.
There are different types of sailing holidays you can take. Chartering your own yacht or joining a flotilla, which is a group of yachts following a lead yacht. Flotilla holidays are popular here as it is a sailing destination that suits all abilities. Distances between the main islands are short and not too difficult so you don't have to sail for many hours at a time. Actually, most of the time you can see from one destination to the next with little currents or tides, so it should be smooth sailing all the way. If you want to find out more about flotilla holidays in the Ionian, click here.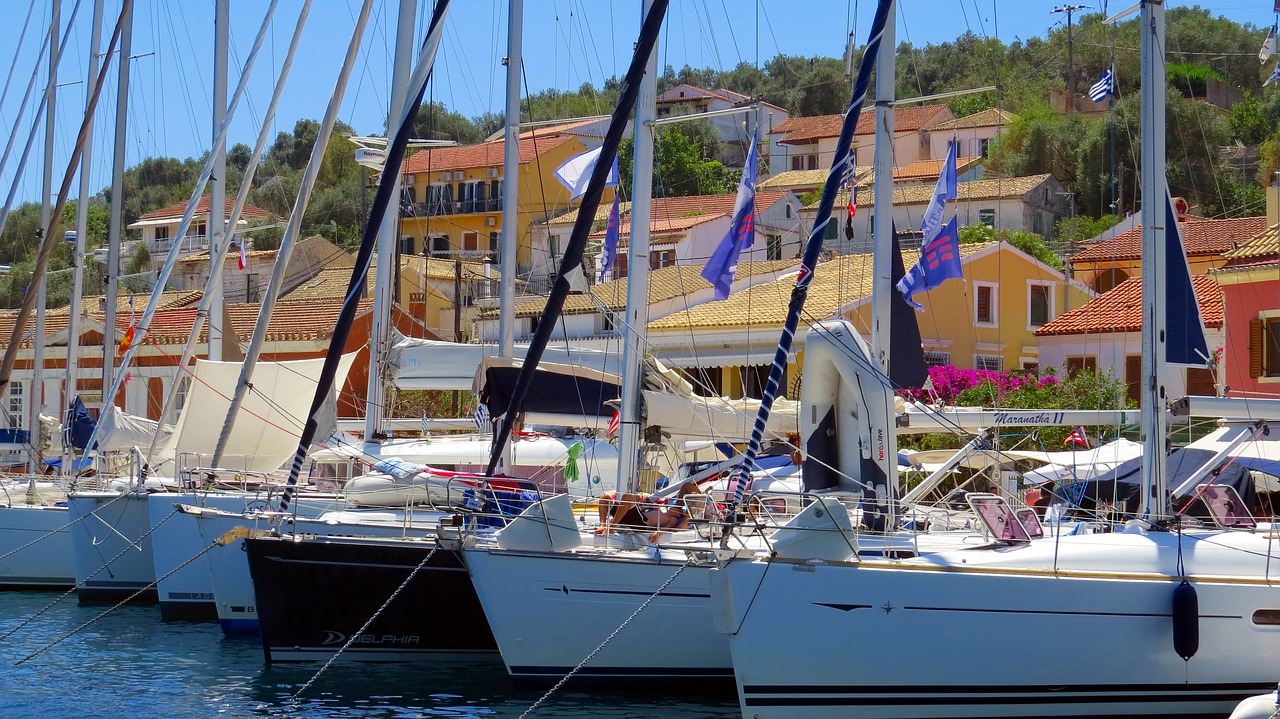 How to plan your sailing holiday in the Ionian Sea?
If you are planning to take a flotilla holiday, then you are best to book with a trusted tour operator who will sort everything out for you. Your itinerary will be set and you won't have to think about developing your own schedule. However, if you are chartering your own yacht, you will need to plan your route and decide how long you want to stay in each destination. You can still get some help from professionals from itinerary planning to hiring a skipper. So, it can be easier than you think to plan a sailing holiday in the Ionian Sea.
How to prepare for a sailing holiday?
Your boat space will be very limited so the most important thing you need to remember is to pack light. Using waterproof bags too to keep everything dry especially for documents such as passports that you cannot afford to be damaged. Sun cream is another essential as you will be spending a lot of time in the hot sun with no shade. Remember to bring the right clothes too, with limited space you should split your choices between Yacht clothes and shore clothes. A t-shirt, shorts and flip flops as well as a good fitting hat, are enough for your time on the boat. Although you won't have too much down time sailing in this part of the world you'll want to bring something to entertain yourself such as a book to read for the quieter times.
Where can you visit during your trip?  
There are lots of different places to anchor in this beautiful area, it might be hard to make the choice when deciding on your route. To start you off here are some examples of the top islands to make a stop during your sailing holiday in the Ionian Sea.
Zakynthos
This popular Greek island in the Ionian Sea is a well-known summer resort for holiday makers. You'll find the capital of the island at the harbor city of the islands name based around Solomos Square. If you are after great beaches then you'll find plenty here including Agios Nikolaos, Alykanas and Tsilivi. All of these beaches are lively and provide facilities and water sports for you to enjoy. A popular sight is Navagio beach, the site of the 1980 shipwreck hidden in a sandy cove surrounded by rocky cliffs. Stop off here early to avoid the crowds and get some good photos from your vantage anchor points.
Paxos and Anti-paxos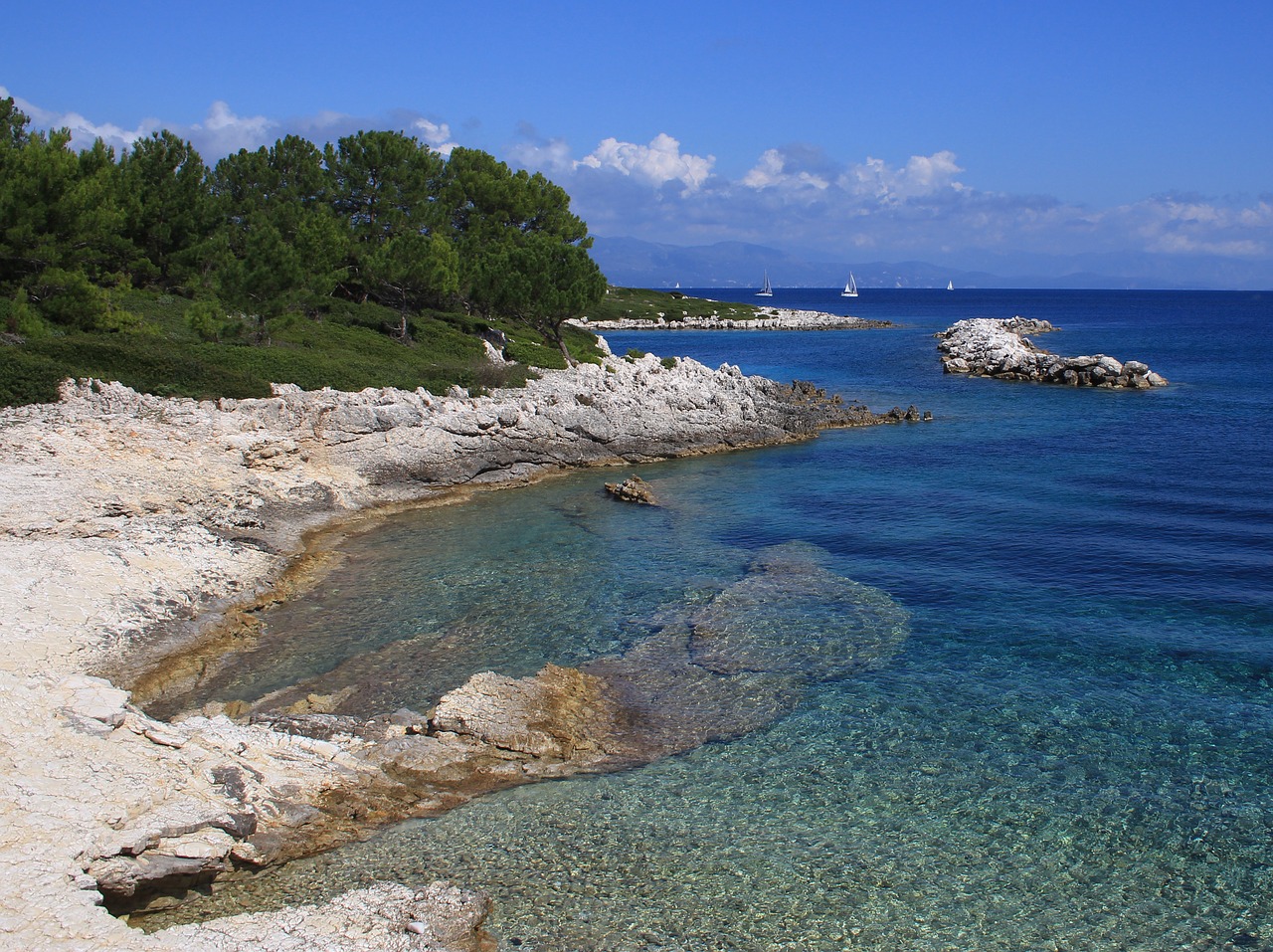 The gorgeous islands of Paxos and Anti-Paxos offer you the paradise you've been waiting for. From secluded bays to spectacular soft sandy beaches you'll find the perfect place to relax. Lakka and Mongonisi are both beautiful spots to stop for a dip in the sea and rest for a while. Gaios town in Paxos is a good place to start, excellent for soaking up the atmosphere of the place and to enjoy some local, traditional food. The island of Paxos is lively in contrast to the small, almost deserted Anti Paxos. If you are looking to get away from it all then Anti Paxos is the only choice to make.  All you will find here is small family vineyards, where you may get the chance to try local wine tasting and tours.
Corfu
For a mix of ancient history and natural beauty Corfu has it all. This island is surrounded by clear turquoise waters are perfect for swimming and snorkeling. There are many tiny coves and pretty beaches to stop at and explore. Corfu town is where you will find the most historic sites to see. There's the expansive Venetian fortress with its twisting medieval lanes and French-style architecture. You'll also find the Grand Palace of St. Michael and St. George.
There's also Kérkyra Old Town where you can visit the Museum of Asian Art and the Byzantine Museum.
Kefalonia
Made famous by the book and film Captain Corelli's Mandolin, Kefalonia is a place that draws visitors from all over the world. The colorful buildings are a sight to behold and there's plenty to keep tourists entertained in the towns of the island. Beaches are also great here too, so it is a very popular holiday island. By yacht you can see more than the average package holiday tourist though. Stopping away from the main areas will give you access to some secluded caves and beaches at the east side of the island. So even in this popular place you can anchor and explore your very own slice of the island.
Lefkas
The colors in this part of the world will blow you away. Gorgeous green landscapes and clear turquoise waters which are so picturesque you should definitely bring a camera along. But it is not only the stunning scenery that draws visitors to this island. Water sports are a popular past time here and the harbor at Vasilliki is rated as one of the best windsurfing destinations in Europe. Or do you want to relax and unwind? The old town is the place to head with charming pedestrianized streets, and buzzing cafe, bar and shopping areas.
Would you like to sail the Ionian Sea?
Now you know how to plan and prepare and where you can go, are you ready to take your next sailing holiday in the Ionian Sea of Greece? Even if you are new to sailing you can still enjoy a fantastic sailing holiday in the Ionian Sea. There are so many beautiful beaches, secluded coves and historical architecture to explore. What are you waiting for?
Please follow and like us: