Galle – Ceylon's Dutch City
Galle is the fourth largest city in Sri Lanka and an increasingly popular vacation destination. With a wide variety of landmarks, eateries and high class accommodation, Galle provides a tourist experience that you won't soon forget. Temperatures remain at roughly 26 degrees Celsius (but can sometimes go high) and the city's climate is tropical, with no regular dry season.
Transportation is streamlined as Galle is served by the coastal line of Sri Lanka Railways. The Southern Expressway is the first world class highway built in Sri Lanka – providing a speedy link between Galle and Colombo. There is much to see and do while vacationing in Galle.
One of the most popular destinations is Galle Fort where visitors walk the huge fort walls. There are several sights to take in with churches and older government buildings steeped in local history.
The Galle Lighthouse inside the fort, with its lantern perched 92 feet above sea level, is another common attraction. The Dutch Reformed Church for which the Clock Tower would chime, is also on the site and is a key historical monument.
Travelers who are looking for a unique shopping experience are able to browse at Laksala. Conveniently located just a few steps from the Galle Bus Station, Laksala caters to a wide range of shopping needs. You can purchase tea and spices to bring home that are unlike any others you've ever tasted.
There are also several different fabrics to be chosen from, custom designed jewelry to spice up your look, hand crafted leather and ceramic items for home decoration, and for the more handy traveler, there are stores that cater to the arts and crafts aficionado.
Once you've done all of your sightseeing and shopping you will certainly be famished. Time to visit Galle's finest restaurant, Crepe-ology. Diners can enjoy the romantic rooftop setting and peaceful ambiance as they consume the finest crepes Sri Lanka has to offer.
There is also a wide selection of wraps & salads and you should try out Italian sodas or order a refreshing smoothie. Each day, Crepe-ology prepares the freshest quiches and cakes. The only problem will be deciding which ones to eat.
Those who are looking to take a load off can recline in Crepe-ology's candlelit terrace area, order a cappuccino and take it easy.
The restaurant is also a great gathering place for friends looking for a top notch eatery or the traveler who is dining solo. Whether it's day or night, by yourself or as a group, Crepe-ology delivers a setting that will cater to whatever you are looking for.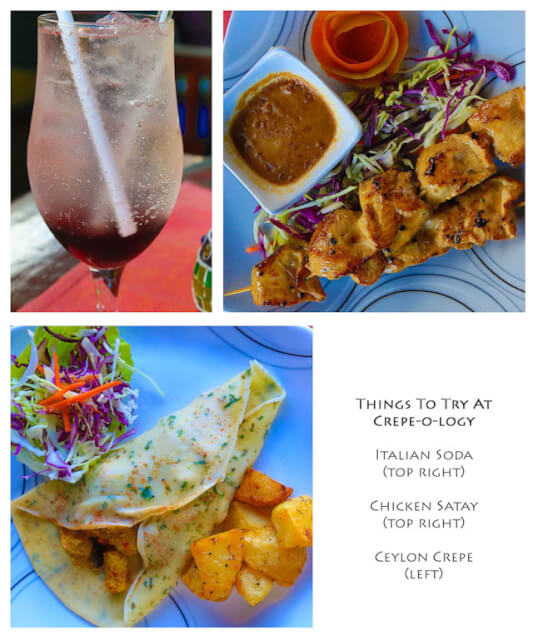 After dinner, why not retire to the Mango House, Galle forts finest boutique hotel? Mango House provides an appealing mix between the elegance of the past and more modern architecture styling. The Mango House is also very conveniently located at 3 Leyn Baan Cross Street.
Patrons are greeted by a lobby that has been tastefully decorated with a Bollywood motif. The lobby is filled with humorous Bollywood posters, giving guests a chance to enjoy a chuckle as they obtain their room.
Free wi-fi is available throughout the hotel, allowing business travelers to resume their work without interruption. All rooms are equipped with fans and air conditioning so you can beat the tropical heat.
Mango House gives its guests a great range of rooms to choose from. The Balcony Rooms are located on the second floor, with French doors that lead out onto balconies where guests are able to enjoy a relaxing meal while looking out over the palm trees and antique architecture.
For mothers and fathers who are traveling with children, the Family Room is a great choice. A mezzanine loft gives families a chance to spread out, with queen size beds for both parents and children. If the children should become bored, they can relax and watch satellite television or choose a DVD from their huge collection.
Looking for a room with a Asian fusion decoration style? The Oriental Room has a variety of amenities, including a rain forest shower setting and a bathroom that has been finished with high quality polished concrete.
I opted for the Courtyard Room, a great choice for the sociable traveler. The Courtyard rooms open up into a lovely shared courtyard, where guests can put their feet up and talk or simply read a good book and enjoy the outdoors.
Breakfast is provided with a simple yet effective set menu that gives guests the chance to choose between Sri Lankan food or continental. Fruit juice and fruit salad are both included. Tea and coffee are also available, as guests can make their way to the lobby and help themselves.
The Mango House believes in being as environmentally friendly as possible. To that end, there are no plastics used on the hotel premises. Drinking water is provided to the guests in glass bottles, while all of the toiletries are stored in porcelain bottles.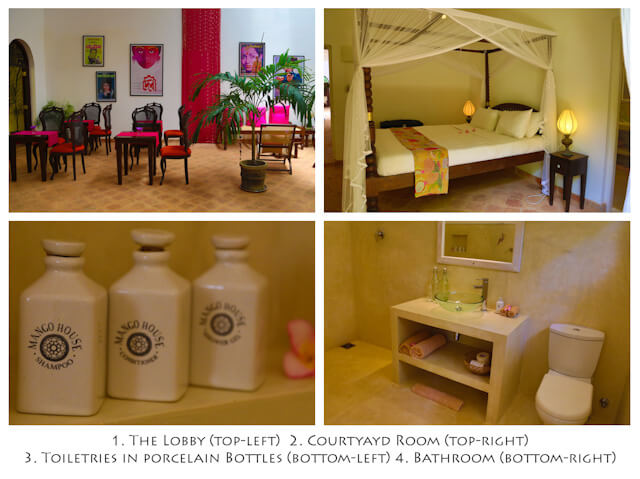 Mango House, 3 Leyn Baan Cross Street, Galle Fort | mangohouse.lk
Book this hotel on Booking.com or Agoda.
Please follow and like us: