2 Fantastically Delicious Boutique Hotels On Sri Lanka's South Coast
Sri Lanka is a world renowned honeymooner's paradise, where the options are so plentiful that all the choosing makes your head spin. I am writing this post to share about two exquisite honeymoon hotels, even though I was not honeymooning while I was there.
Amaloh Boutique Hotel
36/9, 1st Cross Road, Polhena, Matara | amaloh.com
Book this hotel on Booking.com or Agoda.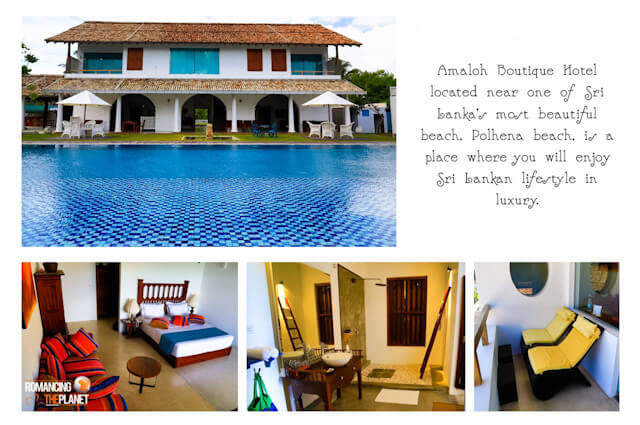 Located on Polhena beach – the accommodations and services at Amaloh Boutique Hotel, makes you feel right at home. With a location that is only 2km away from Matara city center and just about 110 km from the Colombo Airport, it is a 3.5-star hotel that draws in numerous honeymooners every year.
The rooms are large and well equipped. The furnishings are very nice as well. They were building a new wing which would make a total of 30 rooms in all plus a bar and a spa. The 1st floor ocean suites features a balcony that looks out over the sea. The hotel is an excellent stay for those wanting to be intimate and quiet. All the more lively excitement is found in the surrounding areas.
The Amaloh features room service, tours, laundry and dry cleaning services, safe deposit boxes, plenty of antiques around the hotel and more. All accommodations intended for guests come with thoughtful amenities to provide an unrivaled comfort. This place is so classy that they even have a remote control to open and close the curtains. Outside they have a car park for parking and Wi-Fi is also available.
There are many recreational activities to enjoy like the outdoor pool, water sports and a garden where you can sip some evening tea watching stunning vistas of the ocean. The recreation outside the hotel features coral viewing and snorkeling. I took a walk down to the market along with the hotel's Chef, to purchase some fresh fish for dinner.
This location is perfect for discovering Mirissa/Weligama. From this point guests will easily be able to access all that this exciting city has to offer. Hotel visitors can take in all the top attractions like Polhena Beach, Polhena Reef and White Water rafting at Mirissa.
Guests have the option to unwind and relax sitting on the loungers located around the swimming pool or they can listen to the rhythmic beating of the sea against the shore while sitting on the beach deck enjoying a great barbecue. This is a great place to indulge and flatter the palette with mouth-watering cuisine that is top quality. They had an Italian Chef there named Shasika who worked in Italy for 14 years. He is well prepared to cater to your most delightful culinary desires with his expertise.
As you can see, the options for spending your time are so plentiful and wonderful it is hard to choose. And we are not finished yet. We have one more hotel to go.
---
Lantern Boutique Hotel
71 Matara Rd (Galle Rd), Kamburugamuwa, Matara | thelanterngroup.co
Book this hotel on Booking.com or Agoda.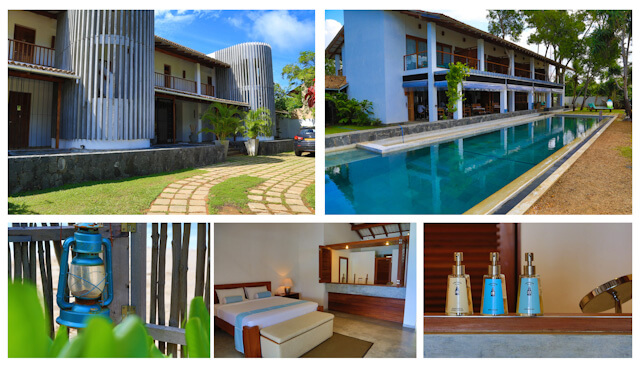 The Lantern Boutique Hotel is a villa located on Kamburugama beach in Kamburugama, Mirissa. This is in the Southern Province of Sri Lanka. The rooms are the largest I've ever stayed in when visiting Sri Lanka. There is a collapsible window separating the washroom from the bedroom that makes the room look even bigger.
Beyond its crystal blue waters outside, the Lantern redefines the term 'luxury boutique holiday' by making it a more personal experience. The staff is a diverse team seeking to make a different and unique experience for their guests.
In their attempt at bringing comfort into the experience, there is smoking allowed, pets, parking, cable tv, sea view rooms, shared pool, beachfront, breakfast, excellent staff, wireless internet, air conditioning and an available chef. I myself really loved the curry and rice more than all the other dishes. They are family and kid-friendly in all aspects.
Their toiletries beat every other place I've ever been. Everything was fresh and aromatic. They even added cinnamon bark oil to be used for a body lotion. There are hand showers and rain showers in all the bathrooms.
The hotel is situated right along the road so there are times when it can be a bit noisy. Still all in all, considering all the other great things that were to enjoy, this seemed to be trivial at best. In all, the hotel has only six rooms, so the experience would be more personal. It is 4km away from the City center and it is about 100 km to the Colombo Airport.
The hotel is situated on the most stunning and breathtaking stretch of beach you can imagine. The difference in this beach and others is that aside from a couple of people, some turtles and maybe a local dog, you practically have it to yourself. That is a treasure all by itself.
The pool was kept perfect at all times. You could swim anytime of the day. In my room I was able to leave the balcony door open and listen to waves breaking onto the shore. It was literally paradise to me.
I wrote about these two hotels because the magic I experience there reminded me of how wonderful it is when you're in love. These two places would be a perfect destination for anyone in the mood for romance and who would be more in the mood than honeymooners? That's why I pick the Amaloh Boutique Hotel and the Lantern Boutique Hotel as being among the two best secret honeymoon destinations ever.
Please follow and like us: