Colombo City's Urban Hideaway
Colombo Courtyard is a luxury hotel that offers guests unyielding refinement, comfort and character to make your stay an unforgettable experience. It is one place where you can relax and indulge yourself in warm Sri Lankan hospitality coupled with fine food and drink options.
Tucked in the heart of Colombo, the financial capital of Ceylon, Colombo Courtyard is made up of a concoction of environmental design elements and intrinsic contemporary style. Lighting patterns are intriguing and the picturesque surpasses all expectations.
The hotel is ideally located in proximity to commercial facilities, diplomatic missions, shopping and entertainment areas.
Rooms and Suites
Colombo Courtyard has an array of elegantly furnished and designed suites that are conveniently located on each floor to meet and surpass every expectation of discerning travelers.
Rooms are designed with a touch of modern facilities, suites include rain showers, bath tubs and twin wash basins with humungous mirrors. Rooms bear LCD screens and an iMac to unwind after a long day exploring the city.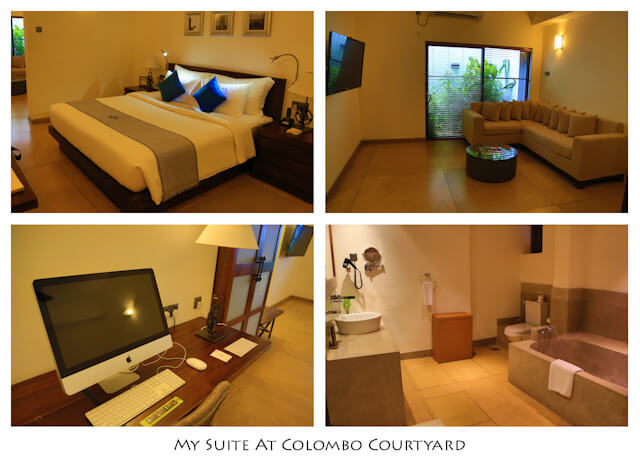 Facilities
Colombo Courtyard boasts numerous facilities to keep the traveler calm and intrigued. Therapists at Amber Spa will take you through extremes to rediscover yourself through induced wellness regimes.
The Spa offers unequalled proficiency in relaxation and hot stone using only the finest essential oils blended with minerals & vitamins and a serene atmosphere to give you a holistic experience after a long flight. The pool also offers an ideal getaway from the Sri Lankan sun.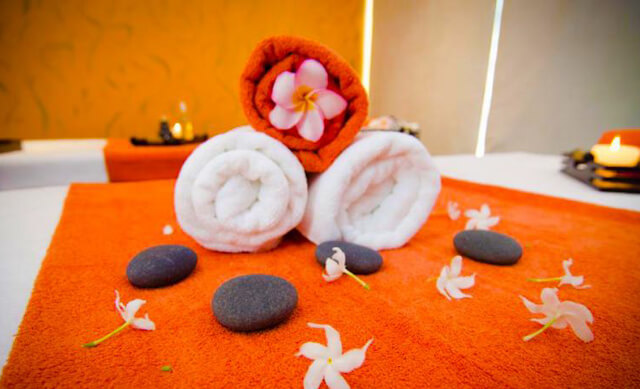 Dining and Bar
The Scarlet Room only opens for breakfast and you'll have a set menu to choose either from Sri Lankan, Continental or Indian. The restaurant is uniquely designed in an enticing atmosphere that takes pride in the caliber of cuisine it provides. You can try the best of different flavors from talented chefs.
You can also take up the stairs to Loft Lounge Bar where in addition to a variety of drinks, you can enjoy A la carte lunch and dinner. Cloud Cafe, another bar is located at the top of the building giving an excellent view of the city. Grape Expectation is also worth trying out especially wine lovers as it serves it 24 hours a day.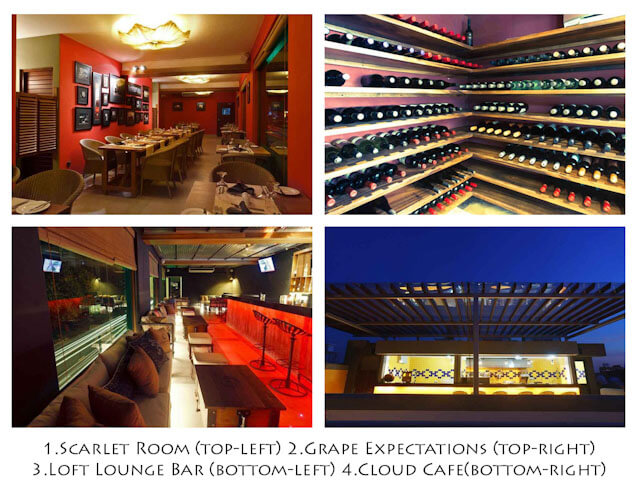 Carbon Footprint
Colombo Courtyard is built on the basis of being an environmentally friendly establishment and it has initiatives of Carbon Neutral to help offset challenges of global warming in its own sophisticated way.
Bicycle Part Tree
The four-storey staircase needed a sculpture that would extend from the main lobby right through to the height of the building for guests to see. A recycle tree was commissioned to exhibit the value of recycled material and the crows perching on the tree summarized the major components of the design's philosophy.
I was very impressed with this unique art design.
Conclusion
To conclude, my stay at Colombo Courtyard was somewhat an amazing experience. The hospitality, amenities, food and wine, and the design features of this impeccable hotel were nothing short of grand. Although there was a USD 2.50 Carbon Neutral charge that was added to the bill, it was insignificant considering how good the cause was.
Colombo Courtyard, 32 Alfred House Ave, Colombo – 03 | colombocourtyard.com
Book this hotel on Booking.com or Agoda.
Please follow and like us: