Anuradhapura – Home To Sri Lanka's Ancient Relics
As I woke up and peeped out of the windows from my hotel in the city of Colombo, Sri Lanka's financial hub, it was raining heavily and the sky was overcast. I was not sure whether to stay a day more or go to Anuradhapura as I had planned earlier. But, being indifferent, I jumped into a tuk tuk, who dropped me at Colombo's busy bus station for 100 Lankan Rupees. From here I hopped onto a bus to Anuradhapura.
Only after a few hours in the journey did I realize that the bus was not going directly to Anuradhapura, but was going through a transit via Kurunegala and Dambulla. What should have been a three hour journey turned into a trip of six hours. Finally at 5:00 P.M, I reached the Anuradhapura bus station. I was exhausted and hopped into another tuk tuk, at last reaching my hotel.
Stay at The Lakeside Hotel at Nuwarawewa
The hotel personnel at The Lakeside Hotel at Nuwarawewa were helpful and caring and realized that I was tired. They offered me a cool towel as soon as I arrived and some cold watermelon juice to revive me. The Nuwaraweva water tank was just next to the hotel.
I checked into my room, large compared to other three star hotels in Sri Lanka. It looked considerably modern for an ancient town like Anuradhapura. The staff gave me a complimentary fruit basket with lots of tropical fruits. There was a small swimming pool, which offered views of the Nuwaraweya water tank. I asked myself why we couldn't swim in the tank?
Later that night, I was impressed by the warmth and hospitality of the restaurant staff, when I went to have dinner (I had a half board reservation). The offering was a buffet that included native Sri Lankan food, western food, salads and desserts. I found it all very tasty as well as diverse. I have not experienced such an excellent dinner, even though I have stayed higher starred hotels. I finished my repast with few desserts and slept very well that night.
Next day, the breakfast lacked as many choices as the dinner, but was appealing and satisfying. The hotel personnel were kind enough to provide me with a geared bicycle so that I could explore and check out the sacred surrounding towns.
If you are looking for accommodation in Anuradhapura, I would suggest you no other hotel than, The Lakeside Hotel at Nuwarawewa.
The Lakeside Hotel at Nuwarawewa, Old Puttalam road Old Town, Anuradhapura
Bookings can be done on either Agoda or Booking.com
If you are looking for a more calm and peaceful hotel, the same group have a hotel in a 100 year old British built grand hotel. It's called The Sanctuary at Tissawewa and located very close to the sacred old city. You could expect the same service there.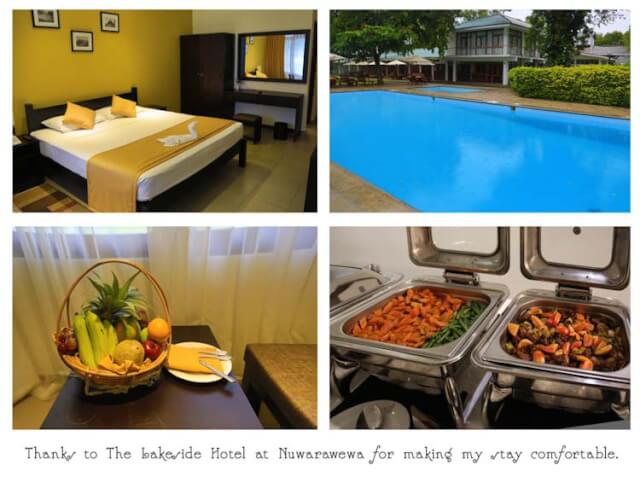 Journey Through Anuradhapura
Anuradhapura is Sri Lanka's most sacred city. It is known as the site where a fig tree cutting from the sacred tree where the Buddha became enlightened, was brought by Sanghamitta, who founded a Buddhist nunnery in Anuradhapura. Anuradhapura then was a major center of Theravada Buddhism and it was home to many monasteries and Buddhist monuments.
The ancient city of Anuradhapura was once hidden away in deep jungle but can now be visited. Abhayagiri Vihara, a principal Buddhist monastery, is located in Auradhapura and is now a popular ruin site. Today many tourists visit Anuradhapura to view relics and monuments, including the 4th century A. D. Samadhi Buddha, depicting Buddha in meditation pose.
I wanted to especially visit the Ruwanwelisaya, a huge dome shaped structure, known as a stupa, revered by Buddhists worldwide. Built by king Dutugemunu around 140 B.C., it is 338 feet high and 950 feet in circumference. The king built Ruwanwelisaya stupa on the full moon day of what was known as Vesak, or the months of April and May. Bricks of gold were placed all along the sides of the stupa. Stupas throughout ancient times were built to house and protect the relics of the Buddha. I found the Ruwanwelisaya a majestic structure to behold, especially in the evening light.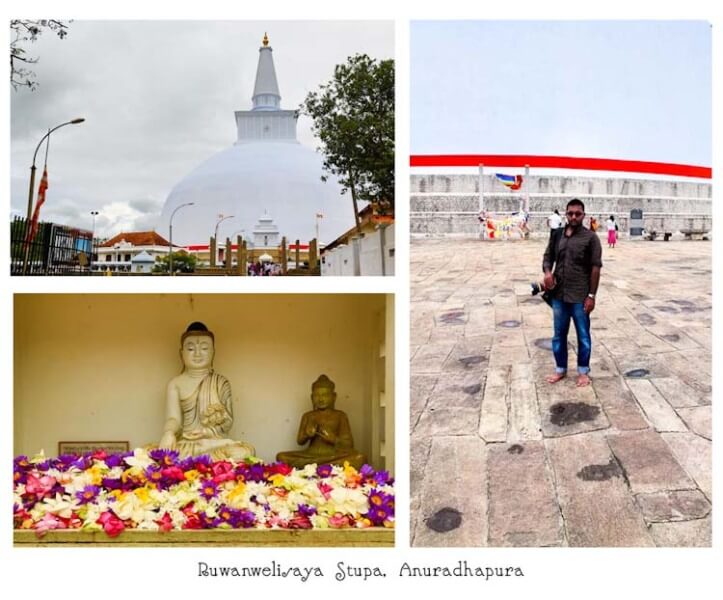 Continuing on my journey I then visited the world famous Sri Maha Bodhi. This tree was then only a cutting from the original fig tree under which Buddha attained enlightenment, but now has grown into a big tree and one of Sri Lanka's most sacred.
Making my way to Abhayagiri Vihari, I found another stupa of great height. The site once was home to a famous library and a center for progressive thought and learning. Abhayagiri, lying close to two ponds named Kuttam Pokuna, is known for many levels of stairs and the statue of a five headed cobra.
No trip to Anuradhapura should be completed without a visit to the revered Samadhi Buddha, nearby Abhayagiri Vihari. This renowned statue, carved in granite, is of the Buddha sitting cross legged in a meditation position. The statue has become an embodiment of the teachings of the Buddha and I was no less awed than the many millions of followers who revere this amazing work of art.
Next I came to Thuparamay, another stupa of ancient origin. Miraculously built in the shape of a bell rather than a dome, it stands majestically. At the request of Buddhist Mahinda Thera, an ancient king built this famous site in honor of Theravada Buddhism. The collarbone of the Buddha is sheltered within Thuparamay. The monument is 59 feet around at the base.
My journey through Anuradhapura ended with the Jetavanaramaya, a structure which helps to represent the history of differences between among the three types of Buddhism – Thereavada, Mahayana & Tibetan. This stupa is 400 feet in height, extremely tall and is believed to shelter a piece of a belt that was worn by the Buddha. Here my trip ended with a great sense of inspiration and joy.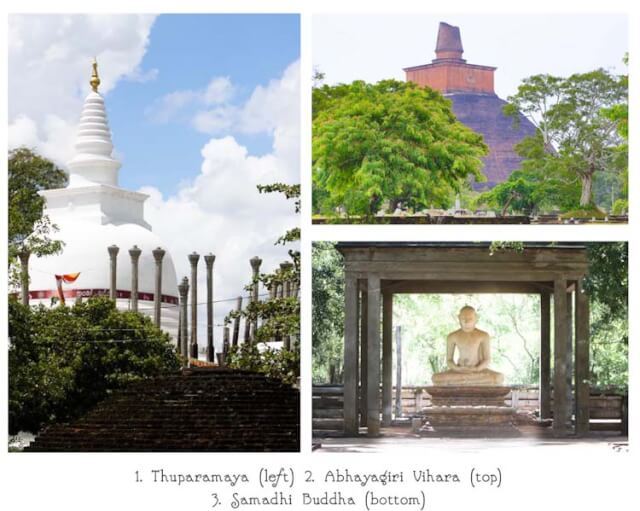 Please follow and like us: