22 things you better know before traveling to Myanmar
Myanmar is still a novice when it comes to tourism. But that's where the beauty lies in exploring places that are less traveled. Some might feel that Myanmar is weird, but I tell that you better travel before it becomes a backpacker's destination.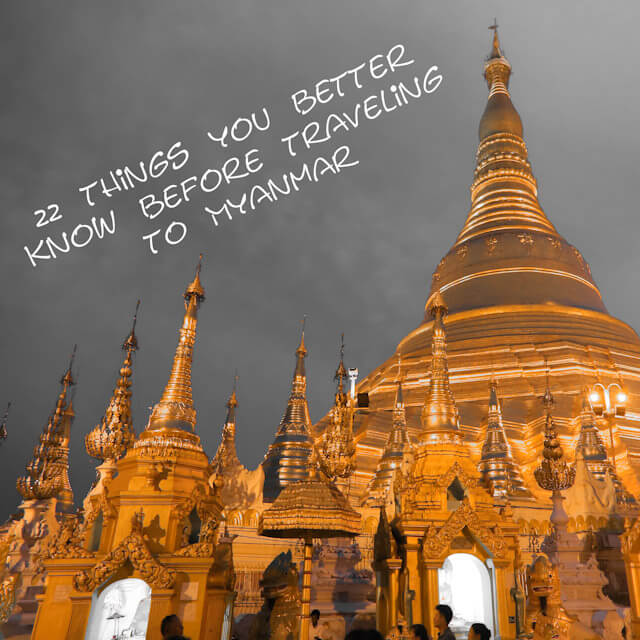 Here are few things you better know before going there.
Before You Travel
1. Myanmar is poor, but it could be expensive for a traveler on budget. Not as expensive as Europe or America, but more expensive than other places of South East Asia.
2. Only legal way to enter Burma (old name of Myanmar is Burma) is through any of the three international airports (in Yangon, Mandalay and Nay Pai Taw). Land border crossings are closed for foreigners.
3. If your profession is in the media sector (photographer, journalist, blogger, etc), there are very little chances of your visa being accepted. Do not fake your profession, as the immigration department often searches the social media profiles once you applied. In case you fake, make sure you hide all your social media information (source via a traveler I met, maybe false information, but you better be cautious).
Accommodation
4. Couch Surfing is not possible. It is illegal to host a foreigner in one's home.
5. Hotels are damn expensive for what they offer. They are owned by the military government. Stay in a privately owned guest house which are much cheaper and offer better value for money.
Money Matters
4. The currency is Burmese Kyat (MMK). Approximately 1 USD = 950 Kyat on November,2013.
5. Get only brand new USD notes that were printed after 2000. Old notes wont be accepted and notes with folds or a tear or stains will be rejected without second thought. The only other currencies that can be exchanged legally are Singapore Dollar and Euro.
7. There are no ATM's. I am not sure but I haven't seen one. There are banks but no ATM's.
8. Cash is the king. Credit cards are not accepted. Carry a lot of cash – bigger and smaller notes.
9. Do not exchange all your money. Entrance tickets to pagodas, few train and flight tickets, some hotels charge in USD. If you pay in Kyat at these places you will be given a horrendous exchange rate.
Food
10. The Burmese cuisine is an amalgam of Indian, Malay, Thai and Chinese food. Burmese food is extremely oily and surprisingly not spicy.
11. Use your right hand to eat even if eating with cutlery. Left hand is considered unhygienic and used for washing out the dirt in the washroom.
12. Muslims do not eat pork and Hindus/Buddhists do not eat beef.
General Etiquette
13. When you enter the home of a Burmese, leave your shoes (including the socks) and hat outside the house. Same applies when you visit pagodas.
14. When handing over money or food, use only your right hand. Bow a little and move your left hand towards the right elbow while you pass on things with your right hand.
15. Do not point your feet towards Buddha. It's considered very rude. Also do not point your fingers towards people or sacred objects.
The People
16. The Burmese are overwhelmingly kind and they always sport a smile on their face. They might well be the most friendly people in the world, take away the notorious taxi driver.
17. The Burmese chew beetle nut all day long from the moment they wake up until they sleep. Overtime it has stained their teeth to red. Many people have red teeth and next time you encounter such a person, you better not think he is an alien.
18. Burmese never say "NO". For instance, if you invite a Burmese for a dinner or a drink, though he is busy and would not be able to make it, he would not say no.
Stay Away From Trouble
19. Do not talk about politics. Myanmar is still not fully democratic, the military has a lot of restrictions on what topics can be spoken in public. There might be undercover police and initiating such a topic can land you in a jail.
20. Although Yangon is a much better city in Myanmar, the roads are full of chaos and during the rush hours it gets even worse. Be very cautious while crossing the road. Use the foot over bridges that aid you cross the road.
21. Do not overstay. If you overstay under one month, you can escape by paying a fine of 3 USD a day, but overstaying over a month can land you in trouble.
22. The Burmese are conservative. Do not show over affection towards your partner in public as it is an act of vulgarity and the police might jail you. Also, do not wear skimpy clothes.
Do you have anything else to say about Myanmar? Post it in the comment section below.
Photo Credits
Burmese woman with teeth stained in red – https://www.flickr.com/photos/[email protected]/49880661/
Burmese currency is Kyat – https://www.flickr.com/photos/jasontabarias/4100896520/
Oily Burmese chicken curry – https://www.flickr.com/photos/[email protected]/2352727257/
Please follow and like us: