Nuwara Eliya – English county in a tropical country
After spending a few days in cultural places of Sri Lanka I moved to Nuwara Eliya which is different from the places I have been to until now. This was my second time there since I visited here two years back.
Nuwara Eliya is a city situated on the hill countryside of Sri Lanka. The temperate and climate is what gives it a different feeling from other parts of a tropical country and its colonial structure has earned it the nickname "Little England."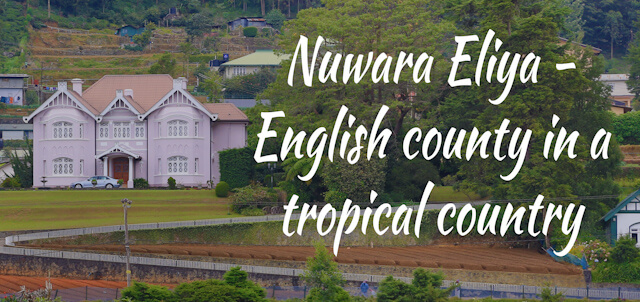 Getting There
By train – You can take a train from Colombo or Kandy to Nanu Oya. The easiest way is to catch the Colombo – Badulla train called Udarata Menike. You can use local buses which frequent Nanu Oya to Nuwara Eliya city centre.
By bus* – You can use buses from Colombo or Kandy.
*Be aware that the road journey from Colombo to Nuwara Eliya is very slow. A typical tide can take 6 hours to travel 180km.
Getting Around
The town is small and you can easily get around by walking. To visit the sites that are further afield hire a three-wheeler/tuk tuk.
Things to See and Do
Pedro Tea Factory provides fascinating tours. On the nearby hills there are several paths that meander through the tea plantations. Half-hour guided tours will take you through 1865 built factory crammed with 19th century engineering. However because of the very light tea processed in this factory, processing only takes place during the night when its cooler, so you may not see much action.
Victoria Park which is located nearby the classical post office, is a public park where visitors can relax under cool shades of green.
Gerogy Lake is well maintained and characterized by cool weather throughout. You can take pleasure walking along the shoreline and getting up to the never-ending activities like horse-riding and boating. Grass is well trimmed and the place is litter-free.
What I enjoyed the most was wandering the local market, which had full of life selling fresh produce of fruits, vegetables, meats and fish.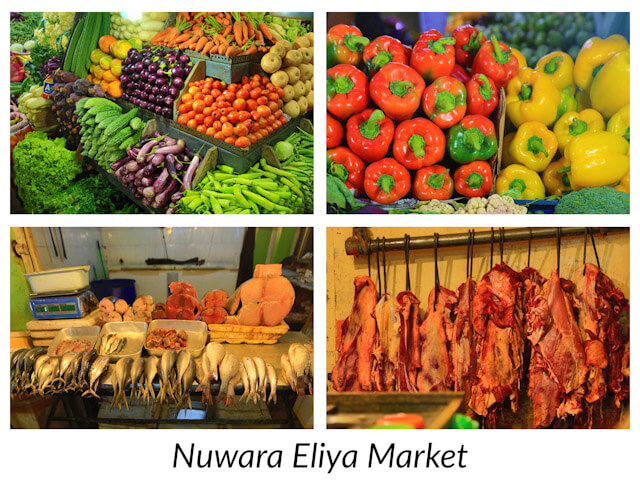 During your free time you could hike Single Tree Mountain and enjoy the spectacular view over Nuwara Eliya. You can also visit Hakgala Gardens for more sightseeing.
Where to Stay
A highly recommended hotel in Nuwara Eliya is Jetwing St. Andrews Hotel. The hotel is ideally situated in the midst of the hills and tea plantations at 10 St. Andrews Drive. This former country mansion was converted into Jetwing Hotel and the place is still reminiscent of the old days when British settlers ruled the land.
Primeval charms ensconce the atmosphere at Jetwing St. Andrews. This hotel was a prime holiday destination for colonial settlers and the place was suitable for retreats for those looking for cooler temperatures in the region. You can enjoy waking up to the typical English breakfast containing beacon & eggs as well as evening high tea on the lawn and a bottle of good scotch at Road Hole Bar during night. You can enjoy a round of golf at nearby Nuwara Eliya Golf Club.
Jetwing St. Andrews bears two wings – one from the old historic building and one from a newly constructed one. A better choice would be to choose the newer one as the old one is beginning to show signs of dilapidation, but the newer one is very amazing.
The hotel offers free bird and frog watching tours. The bird tour is about an hour long and includes a walk uphill where you will see different species of birds found only in this part of the world. The walk is easy and a exercise, as the hotel had no gym. The frog watching tour takes place at night in damp marsh just behind the hotel.
The downside about this hotel is in the food, which is not the best in relation to what you pay. They have pre-set menu for lunch and the choice is not much. I tried their mixed grill one day for lunch and was disappointed because the meat was under-cooked and was under my expectation. Breakfast options are dominated by western meals over Sri Lankan. Although there's diversity, there is nothing worth talking about because the food is nothing special. On the other hand, I would suggest you to stick to the hotels restaurant as there are no many dining options outside.
Jetwing St.Andrews, 10 St. Andrews Drive, Nuwara Eliya | jetwinghotels.com
This hotel can be booked on Agoda or Booking.com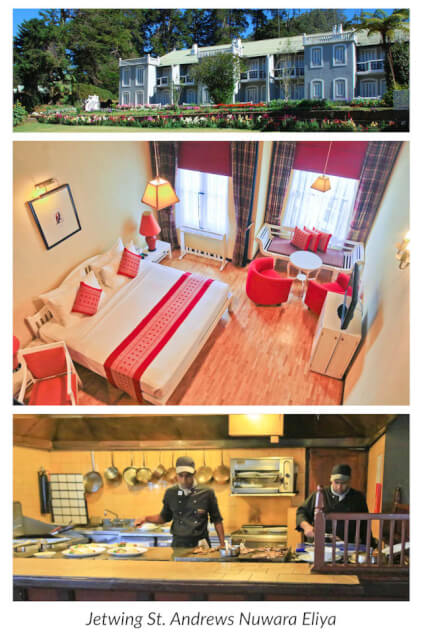 Jetwing St. Andrews Hotel isn't ideally the cheapest place in town. If you are a budget traveler looking for something decently priced consider a stay at Heaven Seven Hotel.
Heaven Seven Hotel is a cheaper accommodation option to Jetwing St. Andrews and it is ideally located in proximity to Gerogy Lake and a tea estate just behind.
When you stand on the Heaven Seven balcony, your first greeting will come from a gentle and calm breeze Nuwara Eliya has to offer. The second will come from the alluring fragrance from multi hued blossoms which will mesmerize your lungs. The third is the view below of the Race Course as well as the mind-blowing view of the city centre. These scenic views for the balcony are enthralling and captivating.
If such ambience is experienced from the balcony, you can begin to wonder the level of comfort you will be immersed in. For a slightly cheaper price, Heaven Seaven has a lot to offer.
It is a small but amazing English hotel with excellent service. From the balcony you can take a good long gander at the stunning views of Gerogy Lake which is not far away. The tea plantation and country hills are also within walking distance.
I typically enjoyed the food, their breakfast and dinner were delicious. I tried the fried seer fish for dinner and it was mouth-watering. For breakfast I had Indian breakfast (dosa and vada) and it went down well except that they dished so much food, it would take two other heavy eaters like me to finish. Overall you will be thrilled to stay at this hotel for a budget price.
Heaven Seven, No.24 A, Haddon Hill Road, Nuwara Eliya | heavenseven.lk
Bookings can be made on Agoda or Booking.com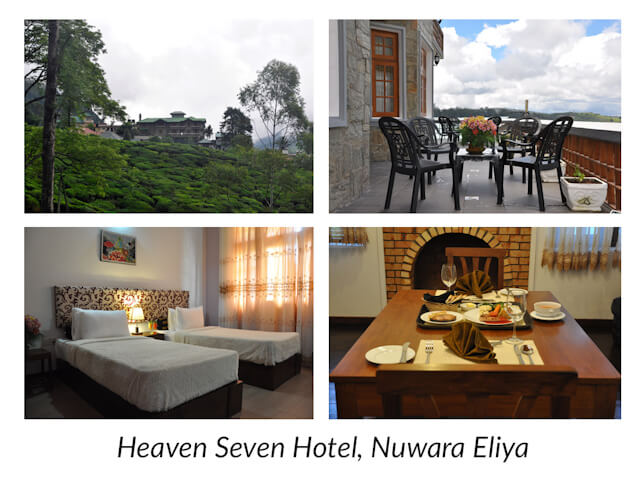 Please follow and like us: