Picks of the week – June 3
Starting from today, every Monday I pick up my favorite travel related posts from around the web and bring it to you. Be it a travel guide or a travel story related to backpacking or luxury travel, if you want to get your post featured in future picks of the week, leave a comment with the link on this page or contact me or tweet me the link @romancingplanet. Additionally we also feature travel picture of the week and travel video of the week. All the bloggers, filmmakers and photographers show us what you have.
Travel posts of the week
Do you know KLM is the oldest airlines in the world and Airbus 380's wingspan is much longer than the aircraft itself or that American Airlines saved USD 40,000 a year by cutting down one olive from each salad served in first class? A humorously written post by an anonymous author who does not want to reveal himself/herself to the audience, mentions top 50 useless aviation facts, that you might have never known before.
TBEX  is the biggest networking conference, where travel bloggers, writers and media content creators from around the world come together. This year Toronto has been choose to host this event. Dave and Deb, the adventurous traveling couple have attended this event for 4 years. In this post they share photos of their past experiences at TEBX.
With all the bad news of kidnapping of foreigners and the political unrest in Yemen, the tourism in Yemen has taken a beat. Anil Polat from foXnoMad explains why you should go to Yemen. And the answer to it is easy, go there for Socrata, which is a part of Arab peninsula. This might be a politically controversial area, but its low on crime and zero terrorism.
Every one loves ice cream. But how many of us know how to find the best ice cream? The addons on the ice cream is just for the looks but not for the taste. The color of the ice cream signifies something, if the color is to bright its a sign that artificial flavoring has been done. Take a look to see how to find the best Italian ice cream.
Traveling gives us many memorable experiences that we can cherish throughout our lives. Traveling is for everyone and there are no rules. Someone said "Who lives see much, who travels see more". Traveling has taught me a lot of things in life and made life much more beautiful. I gurantee that everyone life would become much more beautiful when you travel around the world.

Travel photo of the week
This photo was captured by Lisa Lubin from LLWorldTour during her trip to Bhutan. Lisa captured some amazing photographs of children during her trip there and you see more photos on her page Children of Bhutan. I always admired monochrome photos and Lisa was able to capture the smiles and expressions of these wonderful Bhutanese children.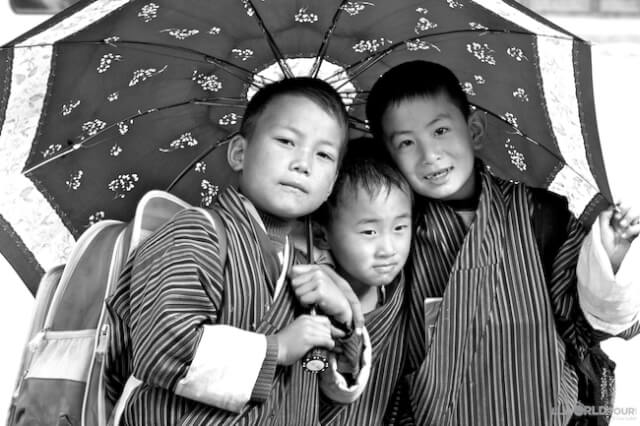 Travel video of the week
Mark Weins from Migrationology (Interview with Mark Wiens) travels to Sikkim and goes for a day trip to Ranka Monastery which is located 45 kilometers from Gangtok. On his way back Mark, eats a delicious Tibetian dishes of Chicken Thukpa (similar to Pho in Vietnam) and vegetable momo dumplings. It's so true that somethings are priceless and the expression on Mark's face when he savors delicious food is worth more than a million dollars.
Please follow and like us: