Five views you don't want to miss in Leh-Ladakh
Leh Ladakh is all about the views and the thrills. Yet, there are some natural wonders that will make a mark with their sheet magnificence. If you are visiting Leh-Ladakh, make sure to keep your eyes open for these sights.
1.The More Plains
Just as you start getting used to the dirt-track-like roads in Ladakh, the More Plains that lie between Tanglang La and Pang throw up a surprise for you. You are suddenly in the middle of a massive expanse of golden brown sand flanked by mountains in the faraway distance. The More Plains expand as flat and as far as your eyes can see. You are your own navigator in this desolate area with not a single man or beast in sight. With the Border Roads Organization working towards building a road, you might find yourself cruising along a road in some stretches of the More Plains. But for the most part, be prepared to follow trails of other vehicles in the sand to find your way out. The More Plains are located at a distance of around 165 kms from Leh.
Unforgettable because…..It's a sight that stifled city slickers can recall every time they feel claustrophobic in their concrete jungles.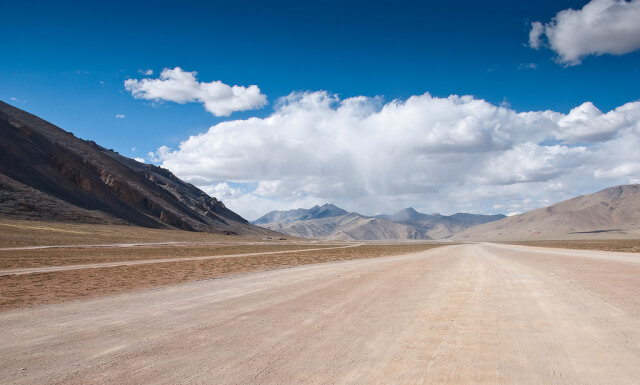 2. First view of the Pangong Lake
Just 4kms before you reach the shores of the famous Pangong Tso, you are treated to a sneak peek of the most glorious, exquisite blue waters you've ever seen. The dull, jagged mountains that surround the lake perhaps play a part in elevating the contrasting effect of blue against brown. It's a sight that makes you forget the fatigue of the cruel roads in Ladakh and fills you with gushing enthusiasm. Pangong Tso is located at a distance of around 187 kms from Leh. No Leh Ladakh tour package is complete without a visit to this destination.
Unforgettable because…..It's the perfect metaphor of finding a bright streak of hope in the middle of a discolored life situation. It's a symbol of life in the most uninhabitable conditions.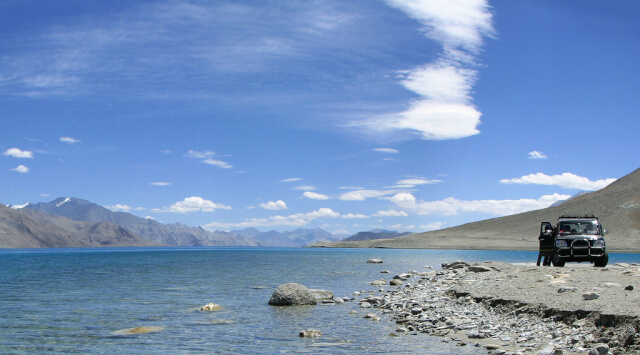 3. Gata Loops – View from the Top
The Gata Loops are located on the border of Jammu and Kashmir and Himachal Pradesh. A series of 21 stomach-churning hair pin bends take you to an altitude of 15,302 feet, to give you a breathtaking view of meandering roads as far below as you can see. The Gata Loops are magical. And they are surreal. You can feel the shadow of the floating clouds falling on you before it wafts away. A drive up the narrow roads of Gata Loops is as nerve-racking as it is exciting. The Gata Loops are located at a distance of around 221 kms from Leh.
Unforgettable because…..It is one of those rare journeys where your heart will skip many a beat, but continue to race at the same time. Fear, thrill, and awe surge through your body as you pass the slender snake-like roads.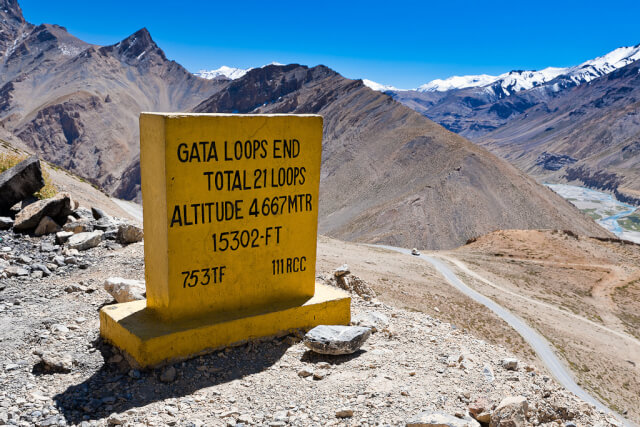 4. Khardungla – View from the Top
The view from the top of Khardung La is much like being in a larger-than-life cake shop at an altitude of 17,580 feet. This pass is famous for being one of the highest motorable roads in the world. Everywhere you look, you will find mountains the color of dark chocolate covered with snow that resembles a generous dusting of icing sugar. Miles and miles of mountain peaks set against a stark blue sky and fluffy white clouds make the scene more interesting. But be warned not to get carried away by the spectacular views, as waiting at such a high altitude for more than half an hour could leave you feeling severely dizzy. Khardung La is located at a distance of around 37 kms from Leh.
Unforgettable because…..It's a super-wide-angle shot that will remain etched in your memory for a lifetime. There's nothing to obstruct your view from the top of Khardung, except the clouds maybe.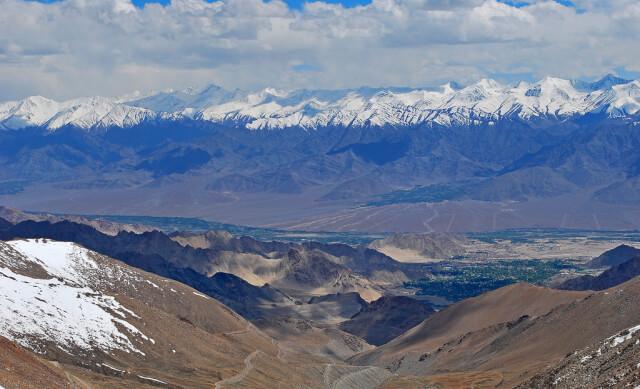 5. Sumkhel Lungpa River Valley
This surreal view comes in close succession of the More Plains. As you traverse the More Plains and head towards Pang, you are greeted with a colossal golden valley…it's as if a long-lost friend is coming towards you with his arms open to wrap you in a bear hug. (If you are coming from Manali, you'll encounter it after Pang, just before the More Plains).
The meager waters of the river course through the bottom of the valley, while the sides of the valley rise from the bottom with bizarre jagged structures protruding from their surface. The scene is so dramatic that you need to stop in your tracks and stare at it for a few minutes for your mind to absorb it.
Unforgettable because…..The theatrical effect of the entire scene dwarfs you and your human ego. This is one of those moments for which you would want to revisit the magical land of Ladakh.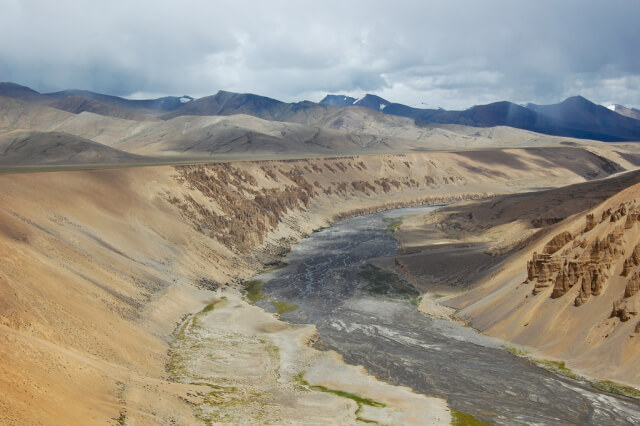 Written by Anuradha Mane Wadhwani. Photos credits.

Video by InVideo
Please follow and like us: