Waskaduwa & Hikkaduwa Sri Lanka's West Coast Beaches
Waskaduwa and Hikkaduwa are two astonishing beaches on Sri Lanka's west coast and they surpass every expectation. Both beaches are quiet similar, but also very different at the same time and are within proximity of each other. Here is an article that will guide you to these two beautiful beaches.
Waskaduwa
Waskaduwa is a small beach resort located just 45 kilometers from the financial capital Colombo. Although the area doesn't have plenty of beach hotel options to choose, it is a tourist's haven and a blessing in disguise because of the privacy you will have – an ideal destination for couples, business people and families.
The tides were very high when I made my visit, but they are normally calm in the months running from December to April. By then the water will be good enough for swimming, kayaking and maybe snorkeling. Sunsets in Waskuduwa are among the most astounding I have ever seen anywhere.
Hikkaduwa
Hikkaduwa is one of Sri Lanka's most established beach resorts. It offers a plethora of accommodation options, exceptional restaurants and astounding lined beaches. Hikkaduwa is encompassed by an array of natural resources and this beauty is what has drawn hoards of local and foreign tourists throughout the year.
The entire community is almost made up of Sinhalese Buddhists, probably a reason why the local population is so warm and friendly. Social activities are normally centered religious and family events. There is a clear and well established social hierarchy with of course some families being more wealthy than others.
Hotels and other accommodation options are located right by the beach and Galle, which can be very busy and noisy is also located very close to the beach and within proximity to a number of hotels.
Plenty tourist attractions are located nearby, within drives not exceeding 30 minutes. There are many activities around the beach resort which include coral watching, surfing and kayaking. There are also spas to keep you relaxed and calm. As a bustling tourist resort, you need to wary of being ripped off. Use your negotiation skills as locals normally inflate prices for tourists.
If you're lucky, you might just run into "Seenigama Perehera" which I did, it happens in late August.
Only have time for one beach?
If you want a relaxed and private environment with little activity prefer Waskaduwa.
If you want something vibrant and lively with lots of activity choose Hikkaduwa.
Where to Stay in Waskaduwa?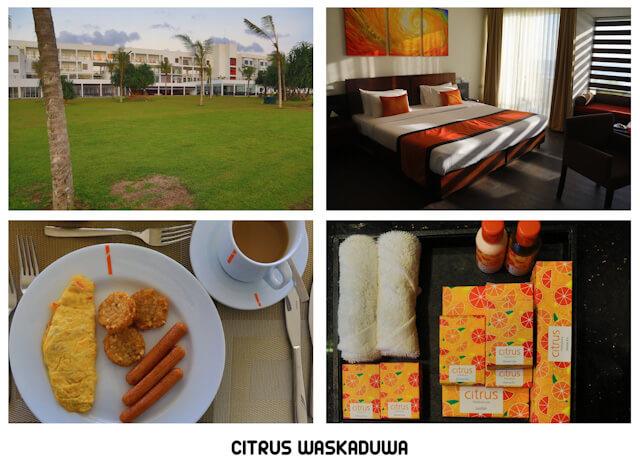 Citrus Waskaduwa  is one of the biggest hotels in Sri Lanka and it's rated a 4.5 star.
The hotel offers a world class unforgettable and lustrous experience of amenities perfectly concocted with surpassing Citrus hospitality. This is the latest member to the Citrus group of luxury hotels and it features close to 150 rooms and suites.
The hotel has a blend of facilities which range from banquets to a state of the art spa as well as a myriad of splendid dining options. Citrus Waskuduwa is located in proximity to Kalutara & Wadduwa and it is a prime destination for both business and leisure travelers alike, who are looking forward to have some delicious tours during their great tours.
Since the hotel is ideally located within reach to attractions, Citrus Waskuaduwa offers the adventurous traveler many water sporting activities and excursions to keep everyone enthralled. The hotel's close location to popular tourist destinations like Galle, Bentota, Kalutara and Wadduwa provides the perfect opportunity to explore the amazing scenes of Sri Lanka.
The restaurant serves a variety of local and international cuisines to satisfy any pallet. Be sure to try any of their local dinner & breakfast menus as well as any arrack cocktail in the bar. The hotel offers several tour packages which include Galle and Colombo city tours, whale & dolphin watching at Mirissa, trips to Sinharaj Rainforest and Ambalangoda Mask Factory.
Citrus Waskaduwa – No. 427, Samanthara Road, Kuda Waskaduwa, Kalutara | citrusleisure.com
Book this hotel on Booking.com or Agoda.
Where to stay in Hikkaduwa?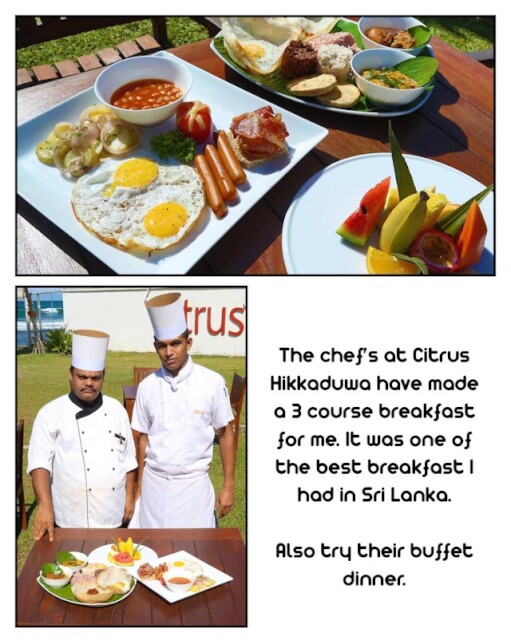 A cheaper but exclusive hotel located a little distant from Waskaduwa is Citrus Hikkaduwa, a backdrop seaside resort. The hotel is situated in Hikkaduwa, a beautiful nicely tuck beach town right in the heart of the southern part of this island.
With the advent of tourism and the increase of local and international visitors this tiny fishing village has been transformed into vibrant city with numerous restaurants, souvenir shops and a lively nightlife.
Citrus Hikkaduwa is neatly tucked in among the coral reefs and only a minutes' walk from the dazzling golden beaches and warm oceans. This hotel provides the perfect gateway in the midst of a tropical island setup. Guests can relax and enjoy the scenic views of the ocean and other surrounding vegetation as well as experience the lively clubs and colorful boutiques which scatter the beach.
One of the things you'll love about this establishment is the complimentary ice tea you will be given upon arrival. The hotel is located right on the road which can be a bit disturbing when you consider the amount of traffic flowing nearby. Although a 3 star resort, there aren't many better hotels in the area.
Breakfast and dining options are in buffet style and the menus which consist of variety of dishes found locally & internationally surpass every expectation.
During their free time guests can indulge in any of the outdoor activities provided by the hotel. Depending on how much you love exploring – you could take a trip to the turtle hatchery, the Moonstone Mine factory or to the historic Kalutara Raja Maha Viharaya.
If you are a water lover, you'll be delighted to know that there are several water sports you can soak your feet in. These include water polo, wind surfing, diving, deep sea fishing and beach volleyball.
Citrus Hikkaduwa – 400 Galle Road, Hikkaduwa | citrusleisure.com
Book this hotel on Booking.com or Agoda.
Please follow and like us: