Why I want to relocate some where else
I have been on the road for about 112 days in 2013, rest of the time I was at home in Hyderabad. Though I have stayed for only few days in cities like Hanoi, Saigon, Kuala Lumpur, Singapore and Hong Kong, I have developed a special feeling with them. But with Hyderabad, I have not developed any connection in 25 years as I feel this city is a void and dull place.
I feel that Hyderabad lacks a character, a heart and a soul. Hyderabadi's may disagree because they have not traveled to different parts of the world or their mind is too narrow to agree. There are many reasons I am looking to relocate outside Hyderabad.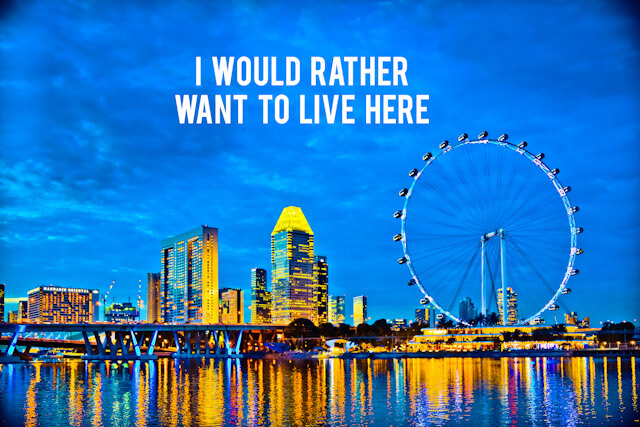 I believe people define the character of a city. People here seem to be lifeless. Most of the life's are spent beyond those glass and chrome buildings of the IT industry resulting in lack of creative activities that make the city vibrant. People have very little understanding of art and art is what made all the great cities. Most of the faces are stressed and you can hardly find a smiling face.
The food scene is not so great. Apart from the oily biryani's and the spicy kebab's Hyderabad really has one of the worst food scenes. Someone might rant about the Chinese restaurant in every street, they are nothing but falsely Chinese. Fine dining restaurants are minimal and beyond the reach an averagely rich person. There are hardly any restaurants that offer authentic world cuisines.
It's not a fun city. The only kind of entertainment the city offers is the third grade quality movies. Every movie runs on the same story line – a couple falls in love but for some reason they cannot be together. Other entertainment like performing arts, concerts or adventures are rarity. Pubs cannot run beyond 11 or something in the night. The strangest thing about the pubs in Hyderabad is that only couples are allowed, while the whole point of going to such places is to find a date.
The value for money is very low. The restaurants suck, but they charge as if they are best in the world. The tuk tuk driver quotes the fares as if you are traveling in a Ferrari. Even you order a local beer in a bar they would charge as if it was a rare Irish wine.
It's a nightmare to live here. The pollution, the traffic, the congestion, the public infrastructure, the corruption and the crimes will make you insanely frustrated. Overall, Hyderabad is one of the worst places to live if you are a fun loving person.
Why this hate speech?
It's not a hate speech, its an opinion. This is my advice to foreign expats who are thinking about relocating to Hyderabad.
Where would I want to relocate?
Cities in India are not an option because they would be more or less the same. USA and Europe is never an option because I know what kind of treatment Indians get there. Africa and South America are still developing. The Middle East is very conservative. The only choice I am left with is South East Asia.
I have been to many cities in the rest of Asia. I am really in love with Hong Kong, Singapore and Kuala Lumpur. But Saigon has really blown my mind away. Its really a fun city to live in with some or the other kind of events happening everyday. The people are very friendly, kind and always have a smile on their faces. I have a lot of friends already there. I know the streets and the shops as if I was brought up there.
What do you think? Does Hyderabad really suck or is it my fault that I am not able to have fun here? Any response is welcome.
Please follow and like us: