Trip To Australia – A Fist Timer's Guide To Down-under
If it's your first trip to Australia its a easy country/continent to navigate, with an inclusive society. Sitting at the edge of the Pacific Ring of Fire, Australia is an enormous island continent and a truly unique one, on the face of the Earth. From tumultuous shows of extravagant nature to idyllic white beaches and stunning modern cities studded with countless skyscrapers and progressive lifestyle, Australia is an amazing destination. Beautiful opportunities and experiences embrace life here as each day unfolds, for those who love to explore. With more metropolitan cities of Indian being connected with various Australian destinations at surprisingly economic prices, the continent is increasingly going up the radar on tourism enthusiasts of India!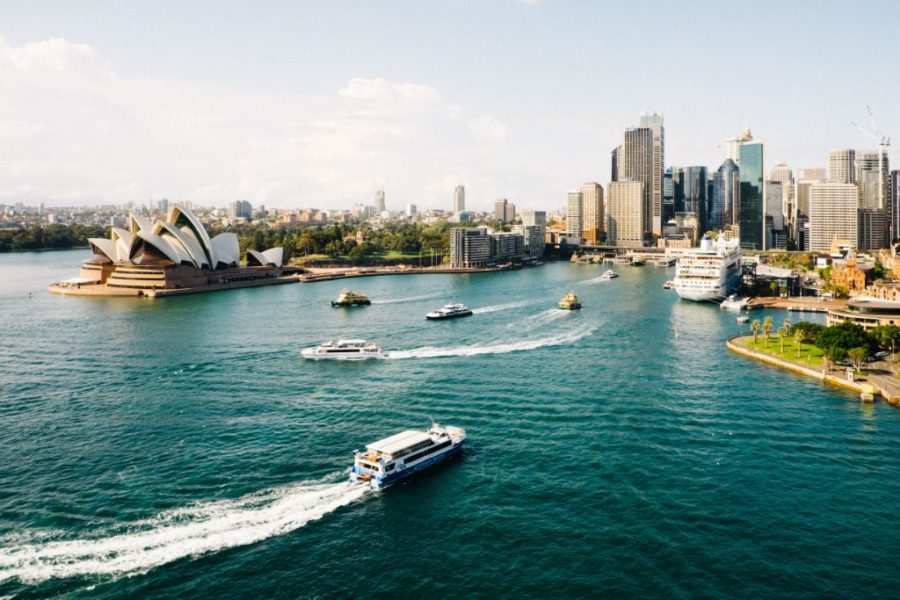 Kangaroo, white coffee and Indigenous residents: Australia offers endless experiences!
Staying true to exclusive features of an island, Australia safeguards a number of endemic species, ancient human tribal communities with nuanced cultural traits, unexplored landscapes and more! For a discerning traveler with an elevated taste in the urban lifestyle, Australia presents state of art infrastructure and modern facilities at her astounding urban setups. Sydney, Brisbane, Gold Coast, Perth, Melbourne: each of them has unique experiences on offer.
For a Cricket enthusiast Indian, these names are familiar as test match fields. Cricket stadiums are almost as revered as pilgrimage spots, since Sir Don Bradman stood ground here once upon a time!
During your trip to Australia, do not miss the opportunity to visit the Great Barrier Reef! The single most gigantic reef which is also visible from Outer Space, Great Barrier Reef is home to more than 900 islands and millions of tiny living microorganisms. Needless to say, the Great Barrier Reef is one of the 7 seven wonders of the world and holds immense value for the world's ecosystem!
Other places to experience scenic nature in Australia are Twelve Apostles Limestone Peaks (Port Campbell National Park), the Pinnacles limestones (Nambung National Park), Whitehaven beach, Port Campbell National Park etc. While the outskirts of Australian island is dotted with picturesque beaches, her hinterland harbours mystique desert lands.
Get an Easy eVisa to Australia with 651 E-Visitor Pass and stay for a longer period of time!
Introducing 651 E-Visitor Pass has made it easier than ever to to make a trip to Australia for European Passport holders. Moreover, this visa is granted for free!
The provision of Subclass 651 eVisitor pass omits the requirement of physically visiting the embassy by the applicant. Previously, for a paper application, this used to be an incumbent part. You need to furbish the embassy with enough funds to support your stay while you are in the country and the fact that you are healthy. An adequate health insurance is mandatory to obtain this visa.
With a 651 E-visitor Visa, you may travel in and around Australia as well as outside the country during your stay (and come back to Australia). The process is digital and your visa will not be stamped with a label.
Please note, 651 E-Visitor Pass is allowed only for European citizens planning a temporary visit to Australia. Granted days of stay can go upto 9 months. The day visa gets granted, your term of stay starts. Usually, 90% of visa applications get approved within 9 months of the application.
Most Beautiful Cities to visit in Australia!
Though Canberra is the capital of Australia, there are plenty of important, old and iconic cities where the pulse of the country rhythms!
Sydney
Famous for the Lotus shaped Opera House and the Sydney Harbour bridge, Sydney is the oldest city of Australia. Sydney also celebrates the colorful festival of Mardi Gras in March.
Melbourne
Home to a number of eminent universities, Melbourne in Australia is the quintessential cultural capital of the country. There are plenty of things to do in Melbourne. Start your stay with exploring the Royal Botanical Garden, proceed to experience the Bunjilaka Aboriginal Cultural Centre to understand the lifestyle of the son of the soils of Australia, shop at the iconic Victoria Market. If you love adventure, hop onto an early morning ride on the Hot Air Balloon and watch the city come to life!
Brisbane
Famous for beautiful year round sunny weather, Brisbane is strategically located close to a number of famous attractions, namely, a Koala Sanctuary, Steve Irwin's legendary zoo, the iconic City hall etc.
Perth
Perth is famous as the Capital City of Western Australia. It sits pretty by the mouth of the Swan river as she flows into the ocean. Perth boasts of long stretching sandy beaches, Kings Park and Botanic Garden on Mount Eliza with stunning views. For an art enthusiast, Perth offers a visit to the legendary Cultural Centre. It houses the renowned state ballet and opera company and the Art gallery of Western Australia! To watch a colony of 1200 penguins up close, you can drive down to the Penguin Island at the Shoalwater Marine Park, located off the coast line near Perth.
Gold Coast
We are talking about an island, albeit a continent but primarily an island surrounded by the mighty Pacific, and how can we not mention her ethereal beaches? The Gold Coast of Australia lets you dip your toe in the pristine turquoise blue water of the Pacific and how! You would not want to leave Australia once you have done so!
Gold Coast has a number of water theme parks and has been playing as a tourist magnet for decades, specially for family travelers.
Other points of interest include: Skypoint by the Surfer's paradise beach, Currumbin Wildlife sanctuary for the Kangaroos, Burleigh Heads Beach, Warner Bros Movie World, Dreamworld, Lamington National Park etc.
Adelaide
Located at the South Of Australia, Adelaide is known for the Adelaide Festival, a cultural extravaganza celebrating various art forms and films. The Art Gallery of South Australia honours Indigenous art of the country. Adelaide Central market bears the signage of days bygone and reflects colonial architecture. I would recommend taking a heritage walking tour at downtown Adelaide to tap into the intriguing past of the city.
The best way to experience a trip to Australia is to rent a car and make a road trip on ocean road! On the trail, you will pass through many ranches, waves breaking against nameless shores, vibrant cities, national parks and the extraordinary great barrier reef for a large part of it!
Please follow and like us: