The 6 Most Luxurious Villas Of Goa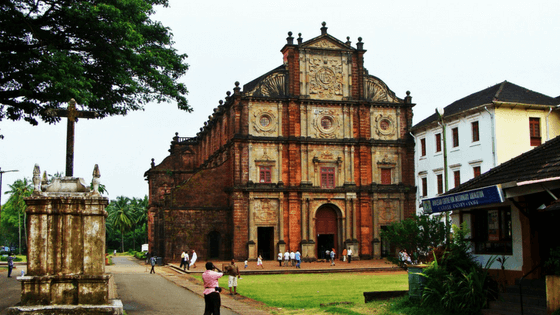 Choosing Goa as a travel destination for your holiday adventure with a group of friends or family is a right decision and it promises to be rewarding. It has so many stunning luxury rentals. These villas have striking features and state-of-the-art facilities that are incredibly designed to make your stay even more exciting.
Although these luxury rentals are available in different designs and have various unique features and services, still they are imposingly built to meet your various needs and preferences. What's more, they are located in various strategic positions, such as nearby your dream destination, walkable distance to a beach or in green and quiet neighborhoods.
But with so many luxury rentals available in Goa, choosing the right one to suit your preference could be a little more complicated than you could imagine. However, to make it easy for you to enjoy a maximum comfort and a dream holiday in Goa, here are the top 6 villas to choose from.
1. Grand Hill Villa
This is one of the most luxurious villa in Goa. It is located in Vagator, North Goa which is a favorite destination for Europeans.
The property contains six to eight individual villas and is a perfect choice for families with children. In total, it boasts of four rooms and each of these rooms, have a private balcony that offers you the pleasure of an excellent view of the landscape around and also access to a romantic breeze.
The magnificent villa has permanent staff that you can request and it offers additional services of laundry and food delivery.
Something else you should know is that the Grand Villa is situated in a quiet and private territory and it surrounded by a perimeter fence.
2. Villa Caesar
With three separate fifty square meter bedrooms, this villa can take up to six people. The rooms are spacious and have a shower room with a bathtub and a makeup room.
It also has a 10 square meter swimming pool that is fitted with a water filter system, a satellite TV, air conditioning and a phone to call the staff that is readily available to assist you.
Its kitchen is fully equipped with a fridge, microwave, a toaster and the chef upon your request prepare meals.
Should you decide to request, the chambermaid will offer a range of services that includes doing laundry, changing bed sheets and washing dishes. There is also a gardener to keep the garden tidy all through the year and these staffs are not invasive.
Villa Caesar is located in a quiet community that is fenced and is far from major roads but within ten minutes distance Anjuna beach.
3. Farrington
Farrington is luxury villa available for rent in Candolim, North of Goa. It is one of the most developed districts in Goa and often referred to as the tourist capital of Goa.
This luxury rental villa on the beach has three different comfortable bedrooms that are located on two separate floors of the villa. Each bedroom has an air conditioner, a bathroom and a closet. The villa also has a dining room, a lounge area, green lawn, kitchen and a spacious pool with an automatic water treatment system.
The equipment the luxury villa has includes a refrigerator, wide Plasma TV, cooking utensils, stabilizer, washing machine, coffee maker, microwave, juicer and iron.
It provides services such as housekeeping, twenty-four-hour security, a safe in bedrooms and the possibility of renting a car.
4. Villa Valentina
This two story villa is well suited for VIP guests. The villa has access to a ten-metre pool with a professional water treatment system. There are two bedrooms on the ground floor and each of these rooms has a shower, bathtub and makeup room.
On the second floor is a large, luxurious master bedroom that has air conditioning, satellite TV, and high ceilings. The room also has wide windows that give a broad view of the perimeter around and are closed at night with wooden shutters.
Villa Valentina also has an intercom to summon the staff whenever needed and a safe with a coded lock.
The living room is extravagantly furnished, and the kitchen is fully equipped with a refrigerator, microwave, toaster, oven and a gas stove. The dining area can seat about ten persons.
Pleasant options are also available. These includes everyday carpet cleaning and changing of bed sheets every three days. Cooking maid, food delivery, and room service from a close by the hotel are available, but it's chargeable.
Lastly, Villa Valentina is about ten minutes' drive by car and motorbike from Anjuna, Baga and Vagator beaches.
5. Prestige Villa
This villa is a luxury rental with a beautiful Portuguese style interior; hand designed tiles and colonial style furniture. The beautiful villa is perfect for a family or group of friends coming to Goa for the holiday because it can accommodate eight to ten people.
It boasts of a small landscaped lawn where children can play around, and adults can sit to relax and chat with friends. It also has four well-furnished air-conditioned bedrooms with double beds and bathrooms. The villa's kitchen has a refrigerator, microwave, toaster, oven and a stove.
Prestige Villa also has facilities and services like internet access, power backup/inverter, parking space with security, twenty-four-hour service staff and more.
6. Maroon Age
Located at a corner in Candolim, this luxury villa is Goa's best-kept secret. It was designed by the French in the nineties but has been renovated to showcase a modern beauty that is admirable. It is a significant and exclusive private property with a swimming pool with a water purification system. It also has a beautiful tropical garden that is an abode to fruits like guava, coconut palms, cashew and flowering plants.
The magnificent property has wonderful open spaces for relaxation, spacious porch, internet service, twenty-four-hour security and wheelchair access.
Maroon Age houses three bedroom suites that are stylishly furnished with king size beds and fully air-conditioned. Although the design of the rooms is elegantly modern, it still has a rustic feel to it. The villa is suitable for three to six individuals.
However, there are some restrictions to know. These limitations include a fixed arrival by 2 PM (check-in) and departure times by 10 AM (check-out). Full payment is due ten weeks before the booked date of your holiday and lastly, welcome, and property staff provides departure service to the airport.
Please follow and like us: