11 Things to Know About Stok Kangri Trek
Stok Kangri is the highest trek-able peak in the world. The climb from the base camp is a challenge, catalyzed by the dipping oxygen levels. Very experienced trekkers only should attempt it and you must go in a group with a seasoned tour guide.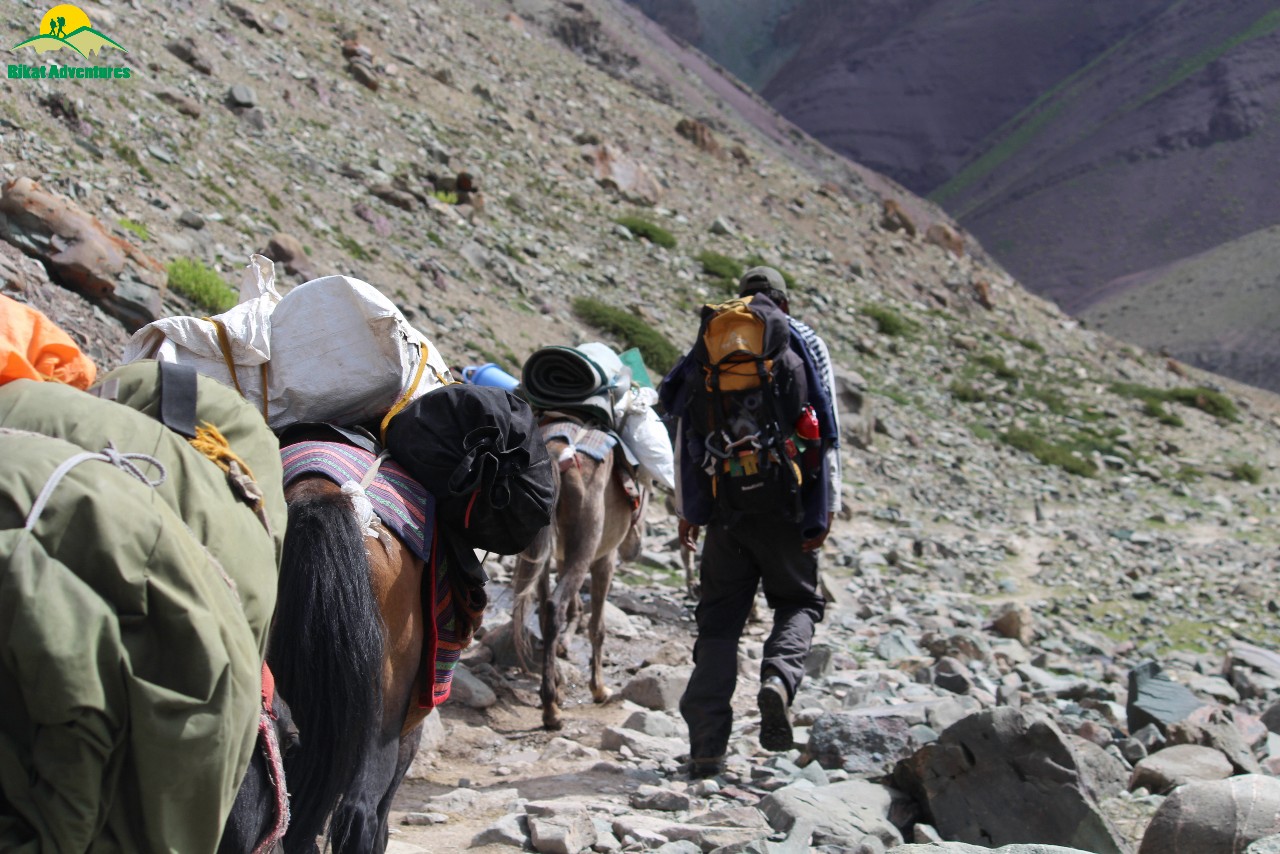 State – Leh in the Ladakh region of the state of Jammu & Kashmir
About Stok Kangri – Stok Kangri summit gives you a full round view of Karakoram, Saser Kangri, and Zanskar ranges. The high altitude terrain is snowy and rocky.
Maximum Altitude – 20,180 ft. – Stok Kangri Peak
Trek Circuit – Round. Stok Village to Stok Village.
Gradient – Difficult. You should attempt it only if you have past experience of acclimatizing at Ladakh and you have twice climbed to an altitude of over 16000 ft. in back to back kind of treks. Besides physical endurance, mental toughness will matter the most. It's more of a mind game.
Trek Distance – 40 kms approx.
Duration – 9 Days
Season – July to October
Timing – Due to changing landscapes reacting differently to weather and daily temperatures, the trek starts early morning on most days to get optimal views, safely. You hit almost all night halt points by afternoons or so.
Temperature During Trek Months – -20°C to 10°C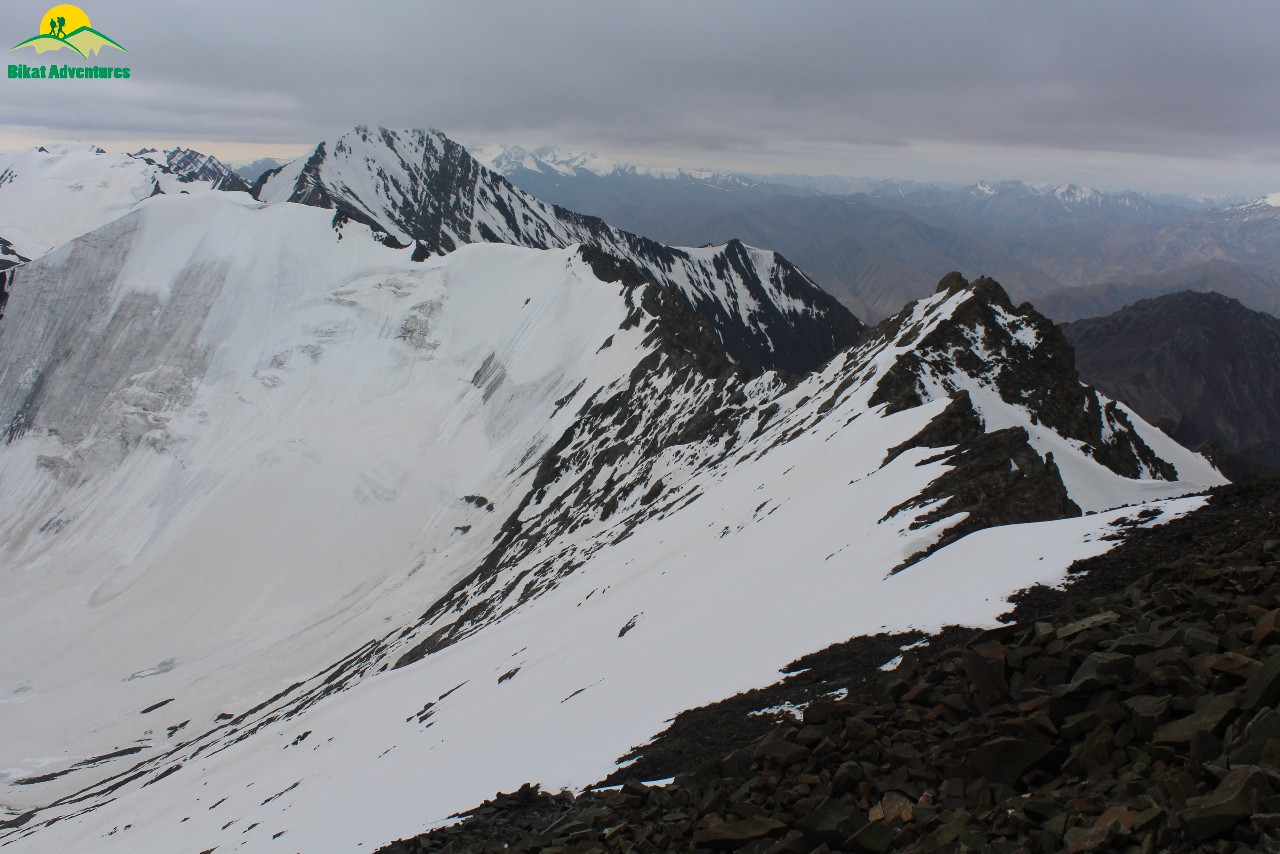 Fitness – A fully fit and experienced trekker only should take Stoke Kangri trek. You need to start preparing 3 months in advance ideally, training 6 continuous days a week and 1-day rest. More than speed, endurance, stamina, & leg strength building are critical for this hike. Before the trek, you should be able to walk 6km in 35 minutes with 15 kgs backpack. Train on 2 sets on alternate days.
Set 1
Stairs: Climb up stairs with 12-15 kgs backpack for 3 minutes continuously in 2 rounds with 1-minute break in between.
Push Ups: 10 sets of 10 pushups each with 1-minute interim break.
Sit Ups: 10 sets of 10 sit ups each with 1-minute break in between.
Set 2
Jogging or Swimming: For 15 minutes, keep a combination of 60 seconds of jog and 90 seconds of brisk walk. Alternatively, 60 seconds of fast swimming and 90 seconds of slightly slower swimming.
Crunches: 10 sets of 10 crunches each with 1 minute of break between each.
You need to be flexible too to carry all the weight uphill. Adaptable muscles help you before as well as 'after' this trek in India. Therefore, take up stretching exercises for shoulders, lower back, hips, quadriceps and hamstrings.
Things To Pack – A 40-60 liters sturdy and supportive backpack with rain cover, torch, trekking pole and very good trekking shoes & boots are a must. Due to low temperature and rain probability, woolens and thermals are a must, windproof & padded jacket, with good fleece layering are good. Do carry a raincoat. Sun caps, gloves, sun glasses, woolen scarves, 2 pair of sports & 1 pair of woolen socks, and toiletries are other essentials. A couple of cutlery, water bottles, and plastic covers are other desirables. Comprehensive First Aid Kit is a must.
Trek Itinerary – Leh round trip is 9 days' trek. Depending on the place you are traveling from and if you want to keep a couple of days extra for Leh on your way back, the trip is 11-12 days. Here is the 'trek' itinerary.
Day 1 – Arrive at Leh (11,500 ft.) preferably by air. Rest for the evening
Day 2 – Acclimatize in Leh
Day 3 – 15 kms drive from Leh to Stok Village (11,800 ft.)+5 kms trek from Stok Village to Chang Ma (13,800 ft)
Day 4 – 3.5 kms trek from Chang Ma to Mankorma (14,200 ft.)
Day 5 – 4 kms trek from Mankorma to Stok Kangri Base Camp (16,300 ft.)
Day 6 – Acclimatize at the Base Camp
Day 7 – 7 kms trek from Base Camp to Stok Kangri and 7 kms back to the Base Camp
Day 8 – 13 kms trek back to Stok Village+15 kms drive to Leh. Rest at Leh
Day 9 – Morning, the group disperses at Leh. Expedition ends.
Please follow and like us: