Review – The Golden Tulip Devins Hotel Seminyak
There are an array of hotels throughout Seminyak. This is a beach resort area found within the southern end of Bali. There are gorgeous beaches, surfing in the Indian Ocean, as well as high-end shopping. Choosing a location is no easy task. The Golden Tulip offers stunning hotels throughout the globe and is known for providing world class service and accommodations.
Location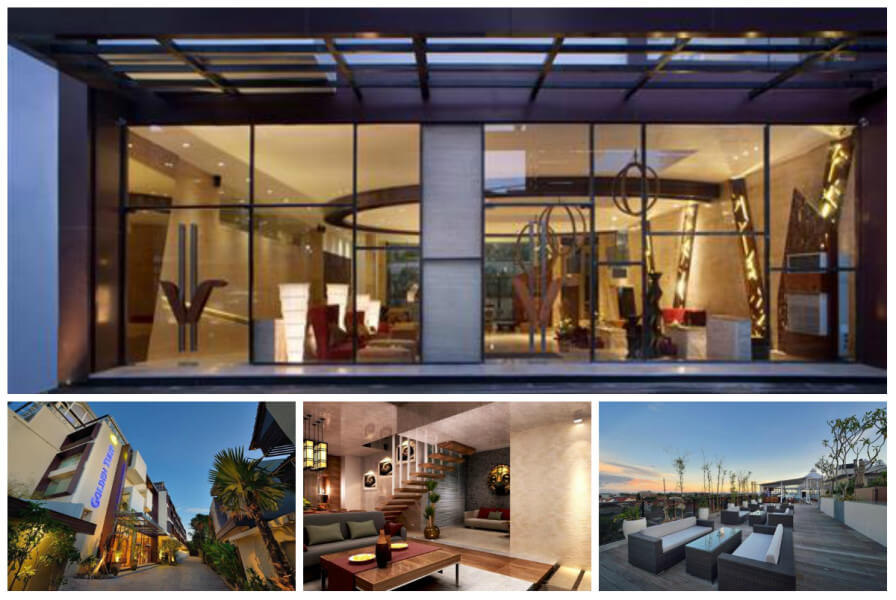 The Golden Tulip Devins Hotel Seminyak is positioned downtown within Denpasar. It is only 30 minutes from the airport, making it convenient to be able to fly into Ngurai Rai and then arrive at the hotel via private transportation or car hire. Perhaps one of the best features of the hotel is that it's only a five-minute walk to the famous restaurants, bars, and boutiques of this highly visited resort area.
The hotel itself offers a wide array of amenities, so many guests find that there's no need to leave the hotel for much unless they want to take advantage of the sunset nightlife, which can be found up and down the beaches. It is only a 15 minute walk to be able to enjoy Petitenget or Batu Belig Beach, as well as temple.
Check In and Lobby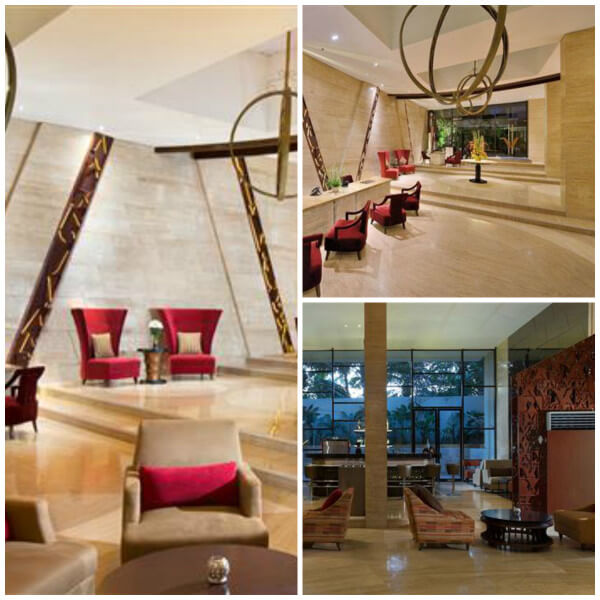 Guests of the hotel will be instantly invited upon walking into the marble lobby. The modern decor is absolutely breathtaking. Spacious is the best way to describe this area. Seating is found throughout, providing a destination to go and relax within the hotel, or wait for others.
A friendly, multilingual check-in attendant will be available at the desk. They will quickly check guests into the hotel and explained to them the various features available and provide guidance to the room. Should any guests need help bringing their bags to the room, this will be provided for them.
Concierge is also available. This is designed to make it easy for people to learn about the different boutiques, restaurants, and other attractions throughout Jalan Pettinget. The concierge staff will be able to make dinner reservations, schedule taxis, and help in a variety of other ways to ensure that a person's holiday plans go accordingly.
Rooms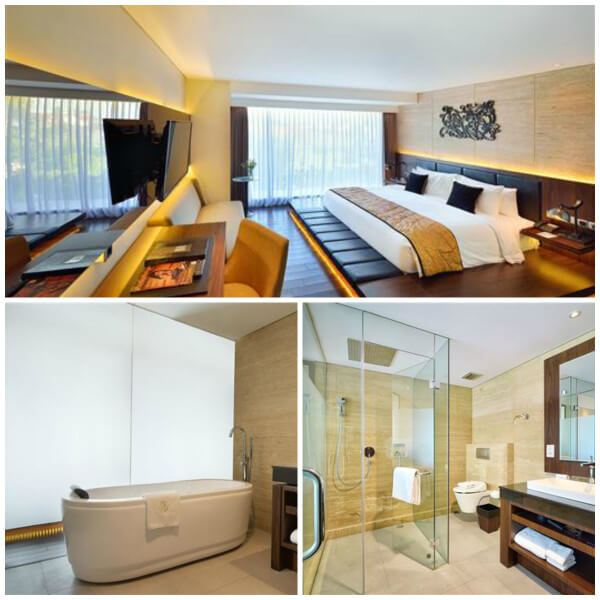 There are 108 guestrooms available, all that are elegantly decorated. There are deluxe and premier rooms as well as Penthouse suite. Energy-efficient air conditioners (reviewed at unclutterer) are found in all of the rooms and there are 42 inch LED screen TVs with cable on the walls. Bathrooms have a touch of luxury with an eco-toilet as well as rain showers, along with hairdryers and complementary toiletries. There are also coffee and tea making facilities and a microwave oven.
The Penthouse suites feature modern styling as well as a private pool or an outdoor Jacuzzi. This allows people to stay in the lap of luxury without having to leave their room and use pool with Jacuzzi facilities with other hotel guests. Wooden decks and loungers are also featured within many
of the suites.
The rooms are designed to accommodate two people, though some of the larger rooms are able to accommodate four.
Housekeeping is provided daily and there is a turndown service. Further, 24/7 room service is available.
Breakfast is included in the cost of all rooms.
Dining & Drinking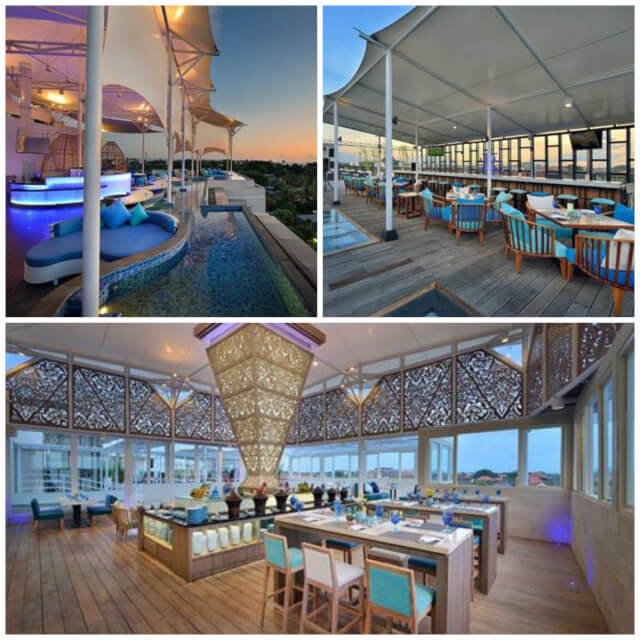 The Golden Tulip Devins Hotel Seminyak offers multiple places for dining and drinking.
The Blu Restaurant-Bar-Lounge is located on premises. They have a wide array of menu items, including fresh seafood. This is an elegant restaurant open for lunch and dinner. The chef prepares Asian and international fare and his creative in presentation. The bar lounge is also a popular destination within the late evening hours and drink specials are abundant. Musical entertainment is also provided throughout the evening, providing a relaxing atmosphere. Local hospitality is warm, and room service is available from this restaurant for all meals. Further, many people enjoy a dinner at Blu Restaurant because of the sunset views that overlook the gardens.
A lobby bar is also available. Providing a wide array of cocktails, wines, and beers, many guests take advantage of this bar upon checking in as well is when waiting for other guests to arrive. Tea and coffee is also served, and is found to the library corner, which can offer a relaxing refuge. Competitively priced drinks are available, and guests will be able to have these charged to the room.
Other Facilities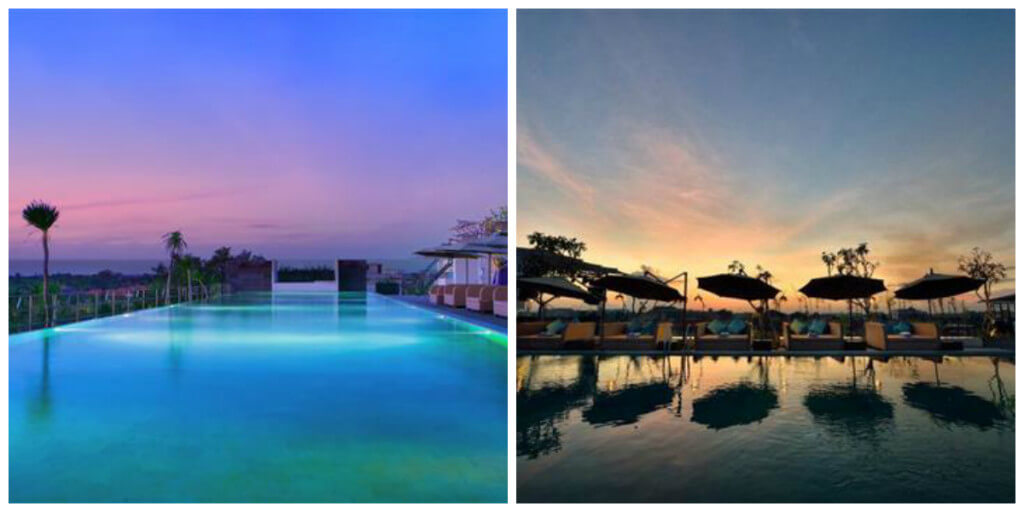 There are a wide array of facilities throughout the Golden Tulip Devins Hotel Seminyak. One of the most impressive is the rooftop pool, which is open year round in order to enjoy the sun. Guests are invited up to the private pool where they will be able to take in all of the sites with an aerial view.
There is also a library, featuring hundreds of different titles. These titles are found in an array of languages, making it easy for guests from around the world to be able to find a book to read if they are looking for a distraction. The books can be borrowed for the duration of the stay, and can be an ideal way to enjoy the beach.
Dedari Spa is another facility found on-site. There is an aquatonic facility within the spot and a wide range of treatments are available for guests as well as those who are not staying in the hotel. Some of the top treatments available from the licensed aestheticians include massages, body wraps, and manicures and pedicures.
There is also a 24/7 Business Ctr. that is fully equipped with computers and printers. Various services are available for a small fee, ranging from secretarial services to photocopying and even airport shuttles.
Other services and amenities that are available include wake-up calls, valet parking, free Wi-Fi within
all public areas, as well as a safety deposit box at the front desk.
Golden Tulips Devins Hotel Seminyak | goldentulipdevins.com
Seminyak, Kuta, Badung Regency, Bali, Indonesia
Please follow and like us: