First Hilton Experience At Hilton Colombo
The Hilton in Colombo is one of the finest hotel you are going to find. Whether you are on a business trip or coming for fun, you'll love the luxurious comforts of the hotel. With amenities that cater to all, this is definitely a beautiful spot to stop. Plus, you can enjoy the various entertainment and attractions of this high-energy city!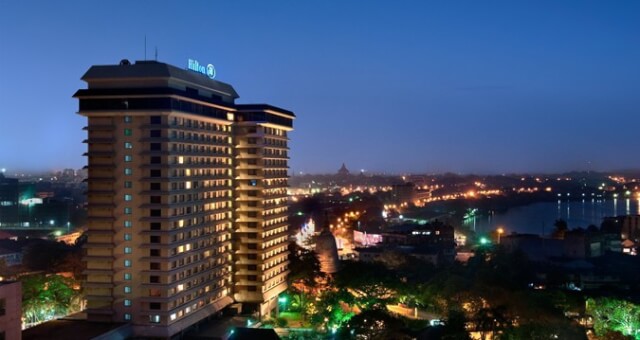 LOCATION
The Hilton Colombo is one of the most beautiful places you will ever visit. Located in the business district of Colombo, you are going to be surrounded by hundreds of exciting things to do. Colombo is the commercial capital of the country, so it is alive with energy day and night. The current population is about 5.6-million. People settle here for good reason.
Situated on a large harbor, the city has long been a trading mecca for centuries. It was used by the Greeks, , Arabs, Romans, Chinese and Indian traders. That of course means that it takes its cultural influence from all of these backgrounds. All you have to do is walk the city a few blocks and you'll immediately be able to notice the hints of a rich background.
The weather in Colombo features a tropical climate with temperatures ranging from the low 80 F to the high 80 F. Yes- it is warm here. If you love sitting on the beach basking in the sun, this is the place to visit. In winter months, the average temperature is about 71 F, which still is quite warm and comfortable.
If you are an art lover, Colombo is going to be a place you enjoy and likely will want to return to time and time again. Be sure to visit Galle Face Green, which is located in the center of the city and moves along the Indian Ocean. Also, the Gangaramaya Temple is a place to see. It is a testament to the various historical influences that have left their mark on the land. You also can venture to Viharamahadevi Park, which is next to the city's national museum and town hall. The park features beautiful topography and a large Buddha statues.
This is a great location so if you plan on staying, be sure to see the city. Let Hilton host your stay, but let the city show you a great time!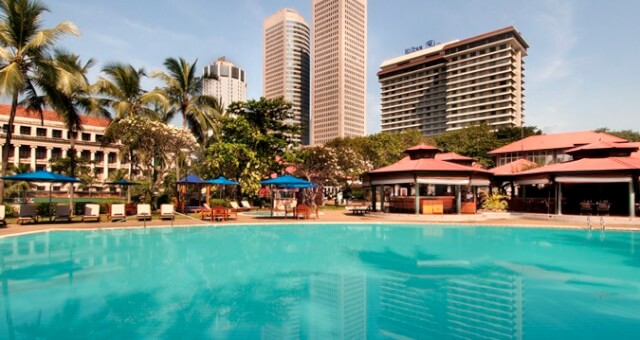 THE ROOMS
One thing you will notice at the Hilton Colombo is its focus on comfort and convenience. This is in the middle of the business district, so if you need to get work done, you'll have no problem finding the resources you need. Of course there is a business center right at the hotel where you can easily hook up your laptop. In addition, there are visual and audio equipment rental services, cell phone rental, meeting rooms, secretarial services and video conferencing available. Any business function you need, you will find at the Hilton Colombo.
In addition though, you need to find some time to unwind because this is the perfect place. Each room is built with comfort in mind. Once you see the beds, you'll want to take a nap in the pillow-soft sheets and blankets. There are both guest rooms and suites, along with executive rooms. The guest rooms feature spacious seating areas with internet access and a sofa. You can enjoy the beautiful views from the large picturesque windows.
If you choose a suite, you can pamper yourself in the 538-square-foot room that has executive lounge access, and includes free refreshments and breakfast. It also features a marble bathroom and you can request a sea-side view.
Finally, the executive suites at the Hilton are some of the best rooms available in the city. They offer the best of amenities for the busy traveler. Though residents are focused on business, the rooms give them the option to stop and relax, while taking in the amazing views.
Regardless of what style of room you opt for, the Hilton Colombo offers a baggage storage area, car rental desk, concierge service, florist, gift shop, laundry/valet service, on-site convenience store, safety deposit box, room service, tour desk and shoe shine stand. You also can visit the playground for children, the pool, or the fitness rooms.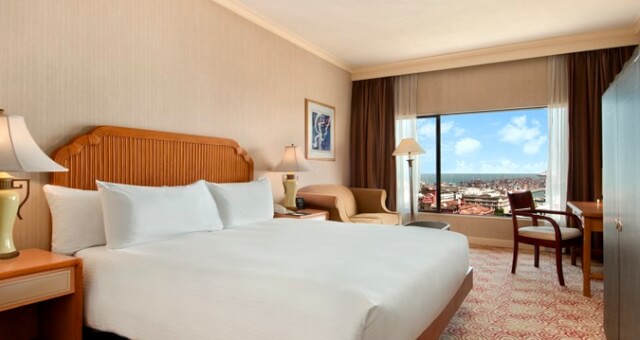 THE FOOD
While you are in Colombo at the Hilton, be sure to take advantage of the fine dining available. The best thing about this hotel is their attention to culinary detail. Whatever your preference in cuisine, you likely are going to find it here. Two restaurants to definitely schedule a visit to are:
IL Ponte – This is the only Italian trattoria in Sri Lanka and is a definite stand-out when it comes to meals. It offers home-style family-friendly foods including pastas and wood-oven baked pizzas. The menu is complete so whether you are on a business trip, or traveling with children, you are going to definitely find the perfect meal to close out the night at Il Ponte. Be sure to taste their roasted lamb chop and sautéed vegetables as it is a favorite of visitors! You also can taste their delicious grilled tuna tagliata (with sun dried tomatoes and pesto) or their gamberi alla busera – marinated tiger prawns grilled to perfection.
Ikoi Tei – It's a Japanese Restaurant. This is another fantastic eatery. If you are at the Hilton, be sure to stop by. This restaurant is Japanese and that means that they do assorted sashimi along with salmon, tuna and nigiri. If you love sushi, you'll love this restaurant. From the aesthetically pleasing visuals when you walk in to the five-star service you'll receive, everything is built to make visitors happy. One thing you definitely should try regardless of your main course is the soup. With a thin slice of beef, ramen noodles and a hard-boiled egg, this is one of the most filling meals you will have. Plus, it is delicious!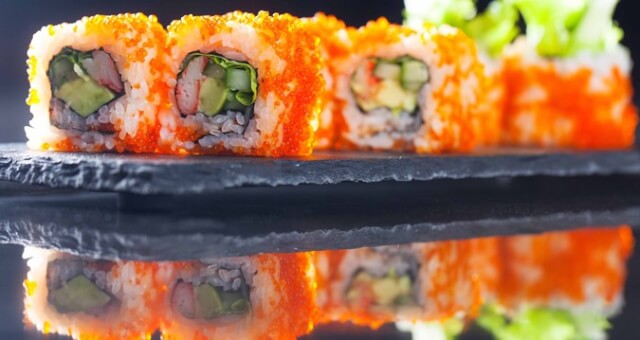 In addition to these two fantastic restaurants, you can also visit the Curry Leaf Restaurant, which features local seafood and a lotus pond. Or how about the Echelon Pub, featuring historical pictures of old Colombo. They feature international beers and cocktails. You also can visit Spices Restaurant or Stella Karaoke Bar. Try as many as you get a chance to because each restaurant featured by Hilton Colombo was chosen with good reasons—top-notch service, outstanding food and incredible ambiance!
CONCLUSION
If you are in Colombo and need a hotel, visit The Hilton. Not only are the rooms amazing, but the staff is there to please. You'll love the pampering and luxury you receive. Likely once you visit, you'll plan your return time and time again!
Please follow and like us: