Top 5 Things To Do In Split, Croatia – Top Must See & Must Do's
Split is the perfect example of a proper Mediterranean city and there are plenty of things to do in Split, Croatia for the tourists. It feels very ancient, and nothing really prepares you for how historic it looks with quite a lot of the city's buildings and architecture kept intact in its original form. Split is Croatia's second largest city located at the Eastern part of the Adriatic Sea, and it's a preferred tourist destination. It was created sometime in the 3rd or 2nd century BC but the specific year is generally unknown.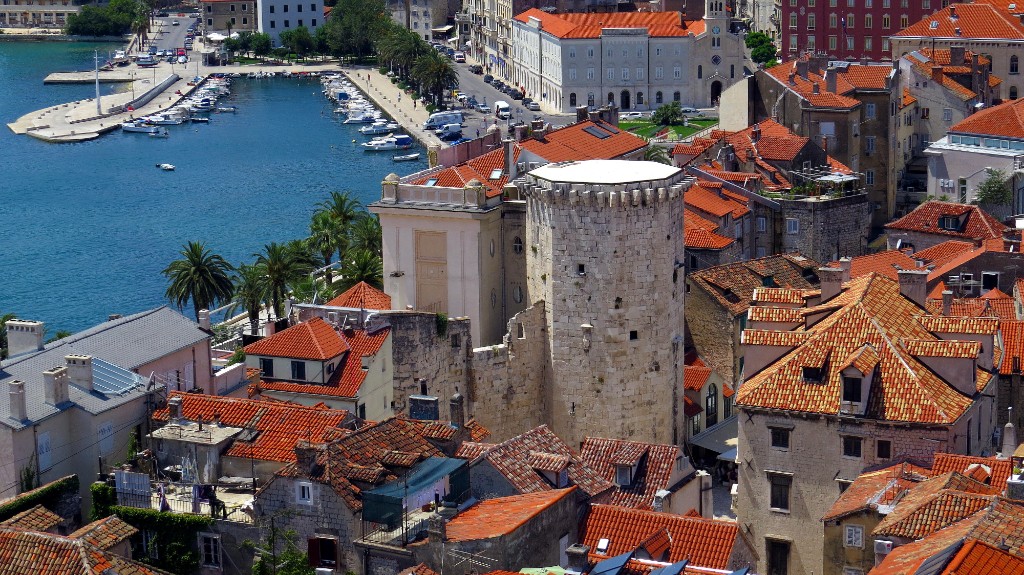 A vacation to Split is highly recommended. You could even see most of the city's most popular sites in one day if you start early enough. However, if you have up to three days to spare, you could experience Split in all its grace and may even have time to see amazing attractions in places around the city. Hopefully, the following things to do in Split will convince you to take a trip there as soon as possible.
See the Diocletian's Palace
One of the must things to do in Split, Croatia is to visit the stunning palaces. The Diocletian's Palace was built in the 4th Century, around 305 AD, for Diocletian who was a Roman emperor at the time. It is called a palace because it was originally proposed to be one but the structure is a whole lot more than an emperor's palace, with a good portion of it dedicated for military troops. Today, the edifice houses quite a few restaurants, bars, and shops.
The palace has a few interesting features, one of which is the Peristyle. This is an open-air area and the center of the palace. It's an amazing area to be in and it looks even more amazing at night. There's also the Split Cathedral. Also known as the Cathedral of Saint Domnius, it was consecrated sometime in the 7th Century AD and is generally referred to as the oldest cathedral in the world still being run in its original architecture and without a lot of recent renovation. If you wish to get your place renovated , you can click here and get attic insulation for Houston texas First Defense insulation.
The Palace also features the Gregory of Nin Statue, two of the famous Egyptian Sphinxes, the "Let Me Pass" street that is arguably the world's narrowest street, and many more attractions. The Diocletian's Palace is currently a UNESCO World Heritage Site, and a part of it has also been used in the filming of popular HBO series, Game of Thrones.
Experience the Marjan Hill
The Marjan Hill is said to be at least 170 metres high and is a beautiful leisure venue for many of the people in the city. It's a pretty intricate hill with a lot of jogging tracks and many footpaths that have become often visited by joggers and strollers. People also do quite a bit of rock-climbing and mountain biking here. The Hill also features more than seven churches including the Church of Our Lady of Seven Sorrows, St. Jere Church, Church of St. Nicolas the Traveler, and many more.
One spectacular part of this hill is the café bar, Vidilica, which sits on top of the hill and offers a breathtaking view of the entire city and all the waters around it.
Visit the Museum of Croatian Archaeological Monuments
As mentioned earlier, Split has a considerable number of landmarks and venues that date far back into history. You can also contact experts from Renew Kitchen & Bath Remodeling as they can help you in renovating kitchen and bathroom with split theme . All these places must have had a thousand and one different pieces. These pieces, numbering at least 20,000, were taken and preserved at the Museum of Croatian Archaeological Monuments. However, of this number, only about a quarter can properly be shown to the public. Most of the items are traced to the period between the 7th and 15th centuries and they range from stone artefacts and jewelry to weapons, clay figurines, epigraphs, and many more.
Enjoy the Adriatic
Split is also very famous for its beautiful, stunning beaches. The best way to enjoy this is to combine it with your visit to the Marjan Hill. This is because just by the Marjan Hill are a few awesome beaches that welcome visitors and fun lovers almost every day.
However, if you'd like to meet people and partake in different water sports with other tourists as well as locals, the best place to visit is the Bacvice Beach. This is easily the most popular of all the beaches and will entertain as well as involve you.
Visit Split's Beautiful Galleries
Split has a few stunning galleries with many sculptures and paintings. One of such is the Ivan Mestrovic Gallery. Ivan is one of the most revered Croatian sculptors of the 20th century. The gallery is the house where he lived, which was designed by him and built sometime between 1931 and 1939. It contains more than a hundred of his work.
There is also the Jaksic Gallery that is run by the family of the same name with a lot of artwork from a few members of the family including Dina and Lovro.
The Jaman Gallery is another one that has on display, quite a few paintings from Danijel Jaman, a local painter. His paintings are known to be very abstract, loud, and colorful.
Take a trip to Split, Croatia, and try as much as possible to visit as many of these places as you can. However, try not to limit yourself to these places. Find out about more places from the people around and visit even more places that may not have been included on this list.
If you know any other things to do in Split, Croatia that would interest our readers please let us know in the comments section below.
Video by InVideo
Please follow and like us: