One day tour of Thimphu by taxi and walk
Thimphu is not a very big city and all the primary locations can be covered in one day. This post is an efficient itinerary of Thimphu that will help you save time and energy. The itinerary is split in to two section – the first section you need to travel by car and the second section is an city tour on walk.
Thimphu by taxi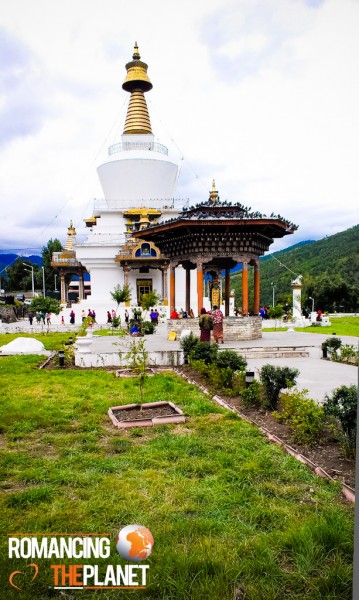 Wake up early in the morning and this gives you time to soft hike towards Tango and Cheri Goemba. These two sites are located 15 kilometers from the city center and is on the east side of the Wang Chhu river. You need to hike around 500 meters to reach the Goemba so having a healthy breakfast would do lot of favors to you. This is only destination that is far away form the city center. Now, you would be going back to the main city to visit some sights that capture lot of tourist attention.First visit the Trashi Chhoe Dzong, which acts administrative headquarters, houses a monastery and hosts social festivities. This Dzong is located on the banks of Wang Chhu river and opposite to this dzong is the impressive Dechencholing Palace which houses the 5th king of Bhutan. Then make your way to the Buddha View Point which lies on one of the highest point of Thimphu. This mega sized statue of Buddha can be viewed almost form any where in Thimphu.
Then visit the historic National Memorial Chorten which is a huge Tibetan styled stupa. Lots of local people, mostly old people come here for there daily worship. From here it time to get some taste of Bhutanese arts. For this visit the National Institute for Zorig Chusum where students undergo training in any of Bhutan's 13 traditional arts. If you are a animal lover, you can also consider visiting the Motithang Takin Preserve to get glimpse of Bhutan's national animal – Takin.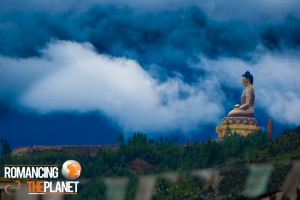 Time to get a walk
Now you can get rid of the car and walk the city. Start at the Taj Tashi Hotel. Head to the post office on Chang Lam to buy some unique Bhutanese stamps. Then its a short walk to the Zangto Pelri Lhakhang where you can spin the red and gold prayer wheel. Then a few steps ahead on your left is the weekend market, where you get all sort of things and find lots of local people. Just opposite to the weekend market is the Wang Chhu Bazaam which is a wooden bridge over the Wang Chhu river. Then head towards the Chhogyel Lam and on to your right is the huge Changlimithang Stadium, consider visiting this stadium which is built in unique Bhutanese architecture. Just adjacent to this, you would find the archery ground where the local teams compete against each other in the archery match. From here is a short walk to the clock square tower which is gathering spots of the local people. Spend a few minutes watching the kids play football. Then head top, to the Ambient Cafe to get a taste of some coffee beans. This cafe is more popular with the foreign tourists and you could get some free wi-fi.
After hanging out at the Ambient Cafe, head towards the only traffic circle in Bhutan. There you could watch the traffic police signalling all his fancy traffic moves though there are hardly any cars on the streets. From here head left to the temple adjacent to the Thai pavilion. If you are a shopping addict wake way towards the Norzim Lam to buy some handicrafts or some local alcohol. Movie buffs can also have a taste of Bhutanese movies at the movie theater in Norzim Lam.
You can discovers cities world wide through our City Discovery network.
Please follow and like us: