Luxurious Boutique Hotels Of Siem Reap
Siem Reap is quickly becoming known as the top destination that tourists are flocking to because of how closely it is located to the most magnificent landmark on the planet, Angkor Wat. For this reason Siem Reap is home to plenty of boutique hotels which are catering to the particular tastes of its diverse stream of guests.
With its laid back pace and good time vibe, Siem Reap boutique hotels are the place to stay when you travel to Cambodia.
In the heart of Siem Reap sits the exquisite Karavansara Retreat and Residences. At Karavansara Retreat and Residences, the friendly staff will have you feeling like royalty. There is a range of rooms available to meet your needs, from romantic couple suits to three bedroom apartments with two full bathroom and a full kitchen to accommodate the whole family.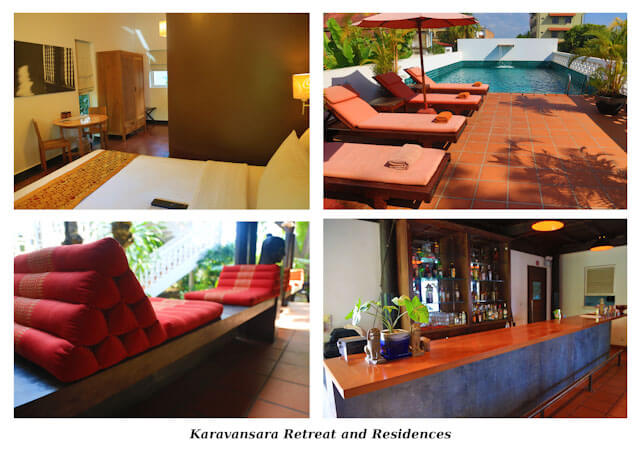 Karavansara Retreat and Residences is located in a world cultural heritage site with a gorgeous natural environment, top of the line architectural design, award winning service and the privacy & exclusion that you cannot find at other resorts. The attention to even the smallest details provides you with the sophisticated luxury of your dreams.
At Karavansara Retreat and Residences you will have more services available to you than you know what to do with. This boutique hotel provides the expected accommodations such as free Wi-Fi, room service and breakfast. They also offer more extraordinary services like free parking, shuttle bus service, laundry service, children activities and even babysitting services.
A visit to Karavansara Retreat and Residences will leave you with an enlightening and rewarding lifestyle experience of luxury living.
Karavansara Retreat and Residences – Street 25, Acha Sva Road, Wat Bo Area
Bookings can be made on either Agoda or Booking.com
---
Not far from Karavansara Retreat and Residences rests the spectacular Hollywood Angkor Boutique Hotel which overlooks the banks of Siem Reap River. This purpose built property was designed by architect and co-owner, with the richness of Khmer culture combined with a chic modern style to create a highly intimate setting for each guest.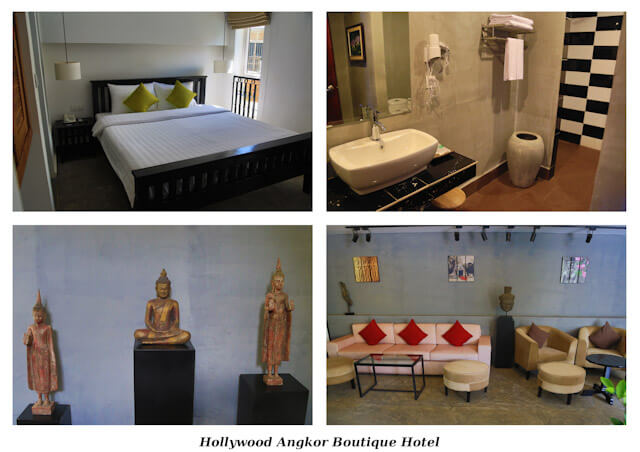 At Hollywood Angkor Boutique you will be met with private bathrooms which include a bath, shower, hairdryer, and quality toiletries. Every room is equipped with a flat screen television featuring satellite cable as well as a mini-bar. The staff at Hollywood Angkor Boutique meet your needs with a warm and friendly response with personal service.
The atmosphere at Hollywood Angkor Boutique is exclusive and laid back, private and comfortable. Its atmosphere being complimented with the various unique services that are provided. At Hollywood Angkor Boutique you will have at your disposal a swimming pool and lounge, 24 hour front desk service, complimentary Wi-Fi in all common areas, daily English or Asian breakfast, exquisite dining with Khmer traditional cuisine, wines, beers and snacks. They offer laundry service, currency exchange and even have a doctor on call.
Hollywood Angkor Boutique Hotel will provide you the refreshing get away unavailable elsewhere and with their endless special offers available a stay at this boutique will provide the truest form of peace of mind on all levels.
Hollywood Angkor Boutique Hotel – Acha Sva Street, Wat Bo Area
Bookings can be made on either Agoda or Booking.com
---
Just down Siem Reap River nestles the glorious Rambutan Resort. The Rambutan Resort features Khmer style villas and suits situated around a lovely pool area. This resort is designed with all the luxuries of a modern Asian style. At Rambutan Resort guests can enjoy a dip in the large salt water pool or waterfall, sip a drink at the pool bar, visit the restaurant or grab an in-house massage all within the beauty of the lush tropical forest that surrounds them.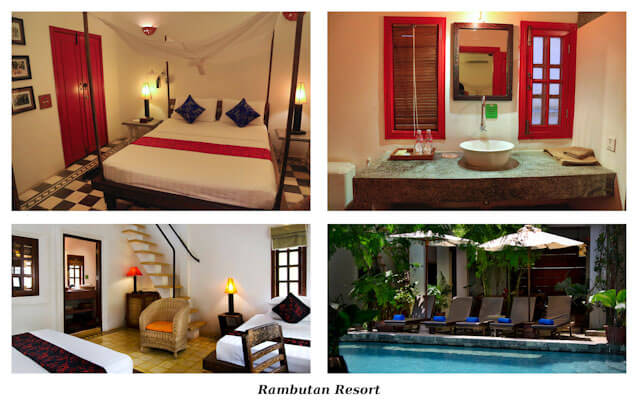 Rambutan Resort allows you the option of two different accommodation styles – a deluxe villa or a deluxe suite. The deluxe villa features two floors with a private outdoor living area on the second level. And while the deluxe villa consists of only one floor it more than makes up for that with its own lounging area balcony.
Breakfast, lunch or dinner can be ordered to enjoy in your room or directly to your terrace, or you may enjoy a meal in their fine restaurant. After your meal you may choose to take a leisurely five minute walk to Phsar Cha which is the old marketplace located in the historical center of Siem Reap.
Rambutan Resort rooms offer whimsical artwork, air conditioning, flat screen cable TV, laptop safe seating area with mini-bar. The private bathrooms located in each room provide a rain shower, hairdryers, toiletries and complimentary slippers for each guest. After exploring the amazing features of the rooms, guests may relax at the spa or work with the tour desk to arrange the perfect sightseeing tours.
At Rambutan Resort you may also take advantage of their many services provided to their guests such as car rental, shuttle service, airport shuttle, 24 hour front desk, tour desk, ticket service, baggage storage, daily housekeeping, and their unique in-house business center.
Rambutan Resort – Wat Damnak, Siem Reap Central Area
Bookings can be made on either Agoda or Booking.com
Which ever boutique hotel in Siem Reap you choose, you will not be disappointed. Each resort offers a unique experience in the local culture and provides a luxury incomparable anywhere else. No matter what your situation or your preferences there is a boutique hotel in Siem Reap to meet your needs. The boutiques are so glorious in their splendor and luxury that Angkor Wat will quickly become a stop on your list of things to visit and experience.
Please follow and like us: