Interview – Samuel Jeffery from Nomadic Samuel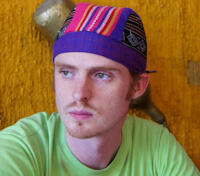 Interview with Samuel Jeffery, the wizard pulling the strings behind the curtain of Nomadic Samuel cultural travel blog and is the lesser half of Backpacking Travel Blog which he runs with his girlfriend Audrey Bergner of That Backpacker. Samuel also makes amateur travel videos for his YouTube channel Nomadic Samuel. Samuel's work has been featured in National Geographic and The Huffington Post. Today Samuel talks about travel blogging and gives some valuable suggestions on how to monetize a travel blog.
Hello can you give us a background of your blog? What was the initial motive behind starting a blog?
Hello! I really appreciate this opportunity to discuss travel blogging on your site. My name is Samuel Jeffery and I was born and raised in a small town on Vancouver Island (Gold River) before attending the University of Alberta in Edmonton, Canada. Since I graduated college in 2005, I've been living a nomadic lifestyle alternating between teaching English overseas and backpacking around the world. NomadicSamuel, my main site, was spawned after I realized I wanted to share my travels with a larger audience than just friends and family. Backpacking-Travel-Blog, the second site I'm involved with, was created so that I could share the travel videos I'm creating with my girlfriend Audrey along with destination guides for the places we visit together.
Your blog is one of the top travel blogs in the world. How did you manage to find so much success? What were the challenges in early stages?
Thanks! I honestly think I have a long way to go, before the website is one of the top travel blogs. I think my site has gained a relatively rapid following given my extensive years of travels and my dedication towards working on projects. If I'm not eating or sleeping chances are I'm working on something related to my travel sites and/or videos. The greatest challenges were related to figuring out WordPress and understanding SEO, widgets, plugins and all of the other technical and strategical elements of running a successful site.
Your travel videos are gaining popularity on YouTube. Do you see yourself as a potential professional travel filmmaker?
I definitely don't think our videos are of a professional quality. We actually enjoy making them more in a vBlog style format. I think sometimes if you over edit your videos with fancy transitions, narrative and other techniques that you can actually alienate your audience. I believe that a lot of people who watch videos on YouTube enjoy the 'amateur' like quality of them; we specifically, try to make our videos in laid back casual style where our viewers can feel as though they are just hanging out with us.
Where has your work been featured?
I've been fortunate enough for my work to have been featured on National Geographic and The Huffington Post. I've also had my train footage in India featured in a Music Video: Bhi Bhiman's Guttersnipe.
Is writing for large publications more profitable or making revenue from a personal blog?
It certainly can be more profitable. My girlfriend Audrey is writing for Travel and Escape and Viator. We also have friends who are writing for About.com. Some folks in the travel industry have used their blog as a launching pad for other projects, such as freelance writing. One of the greatest aspects of having a travel blog is that it can allow you to venture off into other areas.
What are the qualities a travel blogger should have?
A travel bloggers needs to be skilled at their craft (writing, photography and/or video), a social media ninja, marketer, promoter, networking guru, entrepreneur and SEO savant. More importantly, a travel blogger needs to really work hard and feel a sense of passion for what he/she is doing. It's a difficult field to break into these days with so many other established travel blogs; therefore, a lot of hard work and dedication is required. I wrote about how to create a successful travel blog in your first year of blogging which is one of my most popular blog posts to date. I think one of the biggest things is just not giving up.
Can you give suggestions on how to monetize a travel blog?
The most common way for travel bloggers to earn money is through advertising on their blog. In order for your site to attract advertisers you need to build its link profile and social media presence. Once that has happened you'll start be contacted naturally. Other ways to monetize your site include using Adsense, creating stock video/photography, writing for other publications and/or partnering with tourism boards/hotels/tour operations.
Where do you see yourself in the next 5 years?
I have no idea where I'll be located but I can say with certainty that I'll be doing something related to travel.
Anything else you want to say to our readers…………..For those of you thinking about traveling long-term or starting a travel blog, I highly suggest doing it now. I find far too often individuals make excuses and delay plans which eventually never manifest into reality. If you really want to do something start planning now and taking steps towards making it happen.
A travel blogger you admire? I really admire Bret Love and Mary Gabbett of Green Global Travel for taking an initiative to promote and encourage eco-friendly travels.
A travel quote that inspires you? Twenty years from now you will be more disappointed by the things you didn't do than by the ones you did do. So throw off the bowlines, sail away from the safe harbor. Catch the trade winds in your sails. Explore. Dream. Discover. – Mark Twain
Favorite country to travel? Vietnam!
Least favorite country to travel? Ecuador
Must have travel app? I actually don't have a smart phone…LOL
Weird food that you ate? I recently ate crickets in Battambang, Cambodia – they were delicious!
Please follow and like us: