Good Bye 2014, Welcome 2015
Yet another great year has passed by and I had made some unforgettable experiences. Hoping that I will continue to travel this year as well.
Here I present some of my travel statistics and highlights of 2014.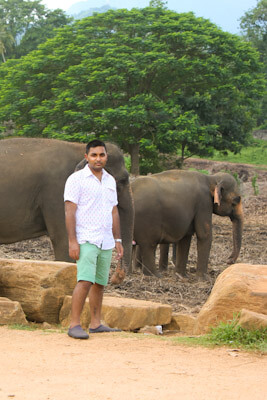 Travel statistics of 2014
Number of days on road – 177
Countries traveled – 7
Distance traveled – 46,000+ km
Flights taken – 23
Train journeys – 4
Road journeys – 50+
Ferries taken – 2
New beers tasted – Lost the count
Days I felt homesick – 1
Average spend per day – 120 USD (food & beverages + accommodation + entrance fees + local transport – airfare – visa charges)
Favorites of 2014
Country – Sri Lanka
City – Downtown Singapore
Street – Orchard Road, Singapore
Nature Spot – Marakolliya Beach, Sri Lanka
Food – Banh Uot (Vietnamese food)
Beer – Saigon Lager Beer by SABECO (same as last year)
Airlines – Thai Airways
Airport – Changi International Airport, Singapore
Hotel – Shinta Mani, Siem Reap, Cambodia
Restaurant – Blu Kouzina, Singapore
Restaurant(Indian food) – The Song of India, Singapore
Highlights of 2014
Celebrating Tet (Lunar New Year) in Vietnam
Eating live oysters with wasabi in Can Tho
Boat woman in Mekong recognize me after a year
Motorbiking in the less known parts of Vietnam
Traffic police seize the rented motobike in Rach Gia
Had to pay 2,000,000 VND to the owner of moto to get it back legally
Hilton Colombo invites me for a dinner in their hotel
Meeting Kumar Sangakarra at his restaurant Ministry of Crab
Amazing Chinese food at Tsing Tao and Loon Tao in Colombo
Staying at Colombo Courtyard – a Carbon Neutral Hotel
Feeling Buddhist serenity at Mahavihara in Anuradhapura
Climbing Sigiriya rock for the second time in extreme heat
Playing with my favorite animal at Pinnawala Elephant Orphanage
Scary bus ride in the curvy hills of central Sri Lanka
Two nights at iconic St.Andrew's Hotel in Nuwara Eliya
Drastic climate change when moving from Nuwara Eliya (5°C) to Waskaduwa (35°C)
Watching the Seenigama Perihera and crazy hippies dancing in this parade
Walking on the walls of Galle Fort and staying within the iconic fort area
Great food and stay at Amaloh and Lantern Boutique Hotels
Kayaking in the calm water and coral watching at Polhena Beach, Matara
Walking to the south most point of Sri Lanka, its called Dondra Head
Meeting an old friend in Tangalle and he takes me out for a local party
Escaping a land slide just in seconds, on way from Phuentsholing to Thimphu
Watching traditional archery in Thimphu
Invited to stay at Terma Linca – owned by one member of country's Royal Family
Climbing the Taktsang Goemba solo for the second time
Meeting a person who actually came to Bhutan, following Romancing The Planet
Hitchhiking from Chuzom to Phuentsholing in a tour operators bus
Detained for one hour by immigration department in Singapore
Meeting a best friend forever in a Singapore hostel
Wonderfull Light & Sound show at Marina Bay Sands Shoppers
5-course Indian food at The Song of India, the chef Mr.Mural is an amazing personality
Getting lost, in the streets of Singapore during Halloween (no map or smartphone)
Great Greek food and wines at Blu Kouzina restaurant in Singapore
Visiting Cloud Forest at Gardens By The Bay, it was surreal
Learning about local things in Singapore from lifestyle blogger Chevonne Cheng
Langkawi – one of the most beautiful island of the world
Just 30 minute flight from Langkawi to Penang
Exploring Ernest Zacharevic's street art in Penang
Dinner buffet at a revolving restaurant that actually rotates 360°
Visiting the historic city of Malacca
Walking Jonker Street at night is an amazing experience
Eating Peranakan food like Pie Tee and Asam Laksa
Lunch and dinner at a Gurudwara in Malacca (it's a special experience)
Stay at Eastern Heritage Guesthouse, you know what I mean if you stayed there
Street food at Jalan Petaling in Kuala Lumpur
Invited for a dinner by Chef Cristia of Doors Music+Tapas
Tag team with a Pakistani friend to beat a New Zealander and South African in billiards
Sunrise at Angkor Wat for second time (done it in 2013 also)
Making amazing friends with locals in Siem Reap
Donating to the poor and unfortunates in Cambodia
Stunned by the calmness and serenity of Chiang Mai
Tom Yum soup on the street of Chiang Mai
Flight to Phu Quoc, the flight was very old
Bucket List for 2015
I have not made any bucket list for 2015, as I was not able to achieve them in 2014. So, it's pretty useless.
Please follow and like us: