Events To Travel To The United States For
Sometimes the best way to travel are for the wonderful events in USA that happen every year. It could be a series of concerts, a festival, a sporting competition, or any number of other things. But event tourism gives you a great excuse to check out a new place, and leads you to experience some culture and excitement as well.
The following are some excellent events in USA that will take you to various interesting destinations within the 50 states.
Lollapalooza
As you might expect there are numerous excellent music festivals around the United States. Tennessee's Bonnaroo and California's Coachella are among the most famous, and some others like North Carolina's Moogfest and Texas's SXSW have risen in popularity of late. But Lollapalooza, held every summer in the famous Grant Park in Chicago, Illinois is arguably the most special. Originally founded by the band Jane's Addiction in 1991, it's been held in Chicago since 2005 and invites tens of thousands of spectators to the park, where an unrivaled lineup of major musical acts is in action. On top of the festival, Chicago is also an incredible city to explore during the summer.
Great American Beer Festival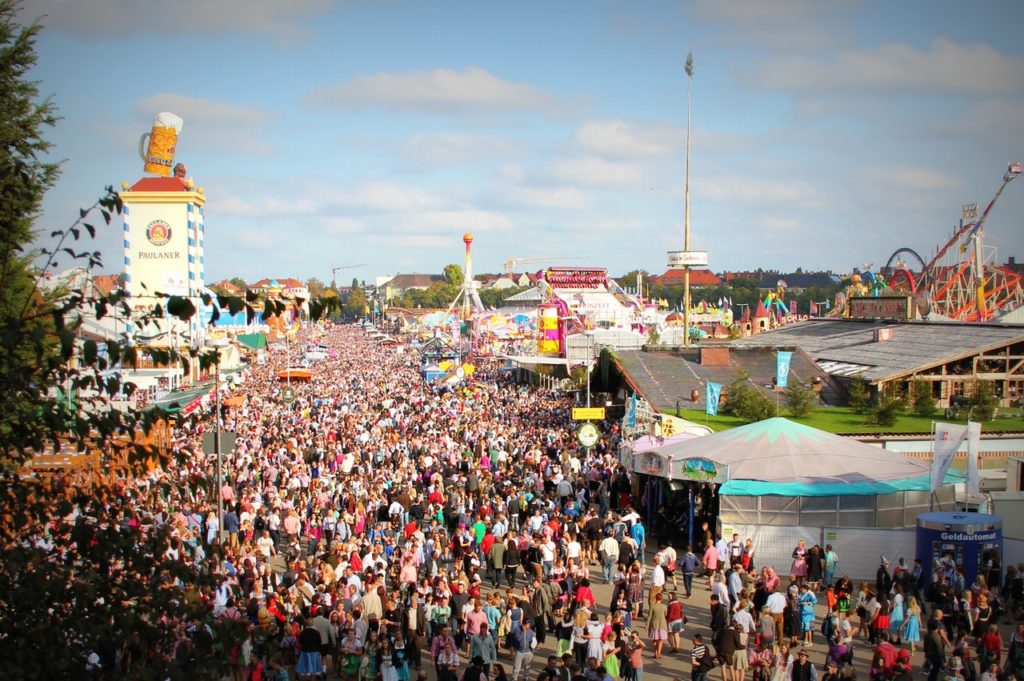 Mentioned first on a very thorough list of the best beer festivals in the U.S., the Great American Beer Festival is appropriately named. The same list refers to it as the preeminent beer festival in the world, which is certainly saying something – but which is also probably accurate, unless you want to argue about Oktoberfest in Munich (which is more of a full-fledged holiday than a beer-specific festival). It's held every September in the lovely mountain city of Denver, Colorado, and last year's event featured drinks from an astounding 800 breweries. And as with Lollapalooza, it exposes you to one of America's more charming big cities.
Miami Open
We could point to numerous sporting events in USA that are incredibly entertaining: the college basketball Final Four, the NBA Finals, the MLB World Series, etc. But these aren't annual events in the same place. For that we can turn to other sports such as tennis, and even here there are several choices. The U.S. Open in New York and the BNP Paribas Open in California are the most famous American tennis tournaments, but the Miami Open is just about as big and enjoyable, more accessible, and brings you to Miami, Florida in the spring, which is just about perfect.
Kentucky Derby
One of the most historic sporting events in USA, the Kentucky Derby has been run over 140 times, and still seems to be getting better. The crowds are enormous and festive every year, many of the best horses on the planet compete, and recently word broke that the fan experience will be getting even better. Sports betting was recently legalized in the U.S., and the parent company behind the Derby is 
ready to take advantage of the ruling
, presumably providing on-site betting for fans (which is very much a part of this sport). The race is an incredible spectacle, and also takes you to a pretty part of the country you might not visit otherwise.
Burning Man
Burning Man is a difficult event to describe. It also takes place in the Nevada desert, which means it's probably the lowest priority on this list in terms of having an excuse to visit a fun part of the U.S. (though you're not too far from
California
, Las Vegas, or even the Pacific Northwest). Nevertheless, it's such a wildly unique festival it deserves mention. Basically it's a celebration of art, creativity, individuality and boldness whereby flocks of visitors congregate in a massive open space and erect a temporary city out of this, that, and whatever else. That's about as well as it can be briefly described, though it's worth reading the account of a first-time visitor who noted it was 
even crazier than expected
.
Mardi Gras
Last but not least, Mardi Gras is perhaps the most famous festival in the
United States
, and one of the most famous ones in the world. It's an annual early-spring celebration in New Orleans, Louisiana that is effectively a holiday. Visitors flood a few famous streets in the town's famous French Quarter and basically let loose, eating delicious local food, indulging in adult beverages, dancing, singing, and enjoying nonstop parades up and down the streets. It's an event that gives you a great feel for the city it's in; while New Orleans isn't always such a party, it is fair to say that Mardi Gras shines a light on its bizarre, lovable culture.
Please follow and like us: