Why you should go to Hanoi?
Hanoi, the capital city of Vietnam, has a history that dates back to more than thousand years back. The city is much cooler than other parts of Vietnam as it is in the North. Hanoi is a blend of old and new, classic and contemporary, traditional and modern. Few days in Hanoi will definitely give you a cultural kick start that you are looking out for in South East Asia.
Why You Should Go to Hanoi?
1. To see the Ho Chi Minh Mausoleum Complex
The most important landmark in the political history of Vietnam. The Ho Chi Minh Mausoleum, is a tomb built in tribute of Vietnam's favorite person, Ho Chi Minh (children call him Uncle Ho). The strictest discipline and manners have to be maintained here. No cell phones, no electronics, no talking, no revealing cloths, no hats. If you disobey the rules at this tomb, be prepared to be stopped by the soldiers there. The tomb was built against the wishes of Ho Chi Minh and his body is well preserved in a glass box. The body is so well maintained that you would feel he is just sleeping and alive. The tomb is closed for two months at the end of the year when Uncle Ho is taken out for preserving and restoring his body.
Ho Chi Minh Mausoleum is only a part of the Ho Chi Minh Mausoleum complex. The other sits at Ho Chi Minh Complex are
Presidential Palace is a colonial building constructed by French, during their rule in Vietnam and was used as a Palace for the General of Indochina.

Ho Chi Minh's Stilt House is a traditional rural styled house where Ho Chi Minh lived during his rule as a president and is located near the Presidential Palace where Ho Chi Minh refused to live.
A museum dedicated to Ho Chi Minh portrays the life of Ho Chi Minh. Photographs and documents relating to overthrowing of colonialism and rise of communism are displayed to the public.
2. Glimpse of history at Hoa Lo Prison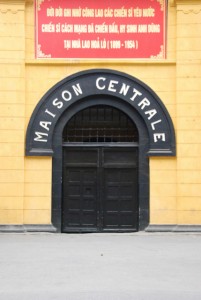 A place to understand the sufferings of the prisoners of war, Hoa Lo Prision was sarcastically called as Hanoi Hilton by the American prisoners of the Vietnam War. This prison that was used to house the prisoners of French Colonial Rule and later was used to prison the prisoners of Vietnam War. It was demolished in 1909, but the gate to the prison (picture on the right) still stands which is a famous landmark. Its a place which saddens the souls.
3. SHOPPING AT OLD QUARTER
Hanoi's Old Quarter consisting of 36 small streets is where you will get a taste of Vietnam. The vibrant and lively streets are flooded with shops, restaurants, traffic and people. There is something for everyone to buy here. A walk in the old quarter is on every tourists itinerary. The picturesque Hoan Kiem Lake is located nearby.
4. To Eat the Street
Hanoi is a paradise for street food lovers and the food is very interesting specially at the Old Quarter. The stalls provide you small toy sized plastic stools to sit on and the food is cooked right in front of you. The delightful street foods are Bun Cha (rice vermicelli noodles with grilled pork), Pho Ga (rice noodle soup with chicken), Pho Cuon (spring rolls with beef and vegetable) and Banh Cuon (sticky rice cake with meat or shrimp). A eat on the street without a bottle of Hanoi Beer is incomplete.
5. To Karaoke with the locals
Not finding a karaoke club in Vietnam is like going to Paris and not finding the Eiffel Tower. Vietnamese are very passionate about singing and no one is bothered whether they are singing good or bad, all they want is to sing. Visiting a karaoke with a Vietnamese could be good fun.
6. To take an overnight train to visit Sa Pa
Please follow and like us: