I am going back to Bhutan #ToDrukYul
After almost a two year gap, I am traveling back to Druk Yul (The Land of Thunder Dragon) again for the second time. For all those who do not know Druk Yul, it's the other name of Bhutan. If you have not heard of Bhutan, then I have to say its a mountain country that is land lock between huge China and India.
If in case you are the person who do not know even India and China, look at this map.
Why am I going back?
Two years back when I went there, a festival known as Thimphu Tsechu has attracted me so much that I am going again to attend this festival. Tsechu is an annul event held for about a week in every district of Bhutan. This colorful festival is celebrated in high spirit and devotion, the highlight being the masked monk dances. But this time, I will be attending another event called as Thimphu Drubchen.
The other thing about Bhutan that impressed me most is, the growth index of the country is measured in terms of Gross National Happiness and not not Gross Domestic Product, which was devised by the former King of Bhutan, His Majesty Fourth Druk Gyalpo. In layman's language it means that human well being and happiness is more important than materialistic possessions.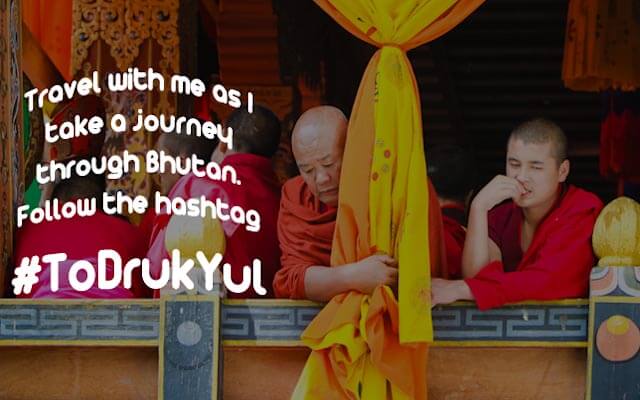 How and when am I going?
It's a long journey from my home here in Hyderabad to Thimphu. I take a train to Kolkata, then another train from there to Hasimara, a taxi to the India-Bhutan border, apply for the necessary permissions in Phuentsholing and finally a bus to Thimphu.
I will be going there for four or five days starting from September 27.
So, whats the itinerary?
September 27 to 29 – Thimphu
September 30, October 1 – Paro
Can you join me on the trip?
Yes, feel free to contact me or leave a comment if you want to travel along with me on this trip. You are responsible for all your expenses.
How can you follow my journey?
If you cannot travel along with me, I will be regularly tweeting and updating photos about my journey with the hashtag #ToDrukYul on my Twitter handle @romancingplanet. So you can live in my shoes.
Please follow and like us: