A Starter guide to Thailand for Indian Tourists
From India, it takes only a couple of hours to reach Suvarnabhumi Airport, Bangkok, the capital of Thailand. Easy visa rules, delicious street food, affordable luxury and a bounty of adventure travel experiences make Thailand an obvious choice of foreign destination among young Indian populace. Some of my friends have even chosen Thailand as preferred destination for honeymooners as well as bachelor parties!
I found Thailand surprisingly flexible with my budget, both the times when I was ready to splurge with family or wanted to backpack across South East Asia!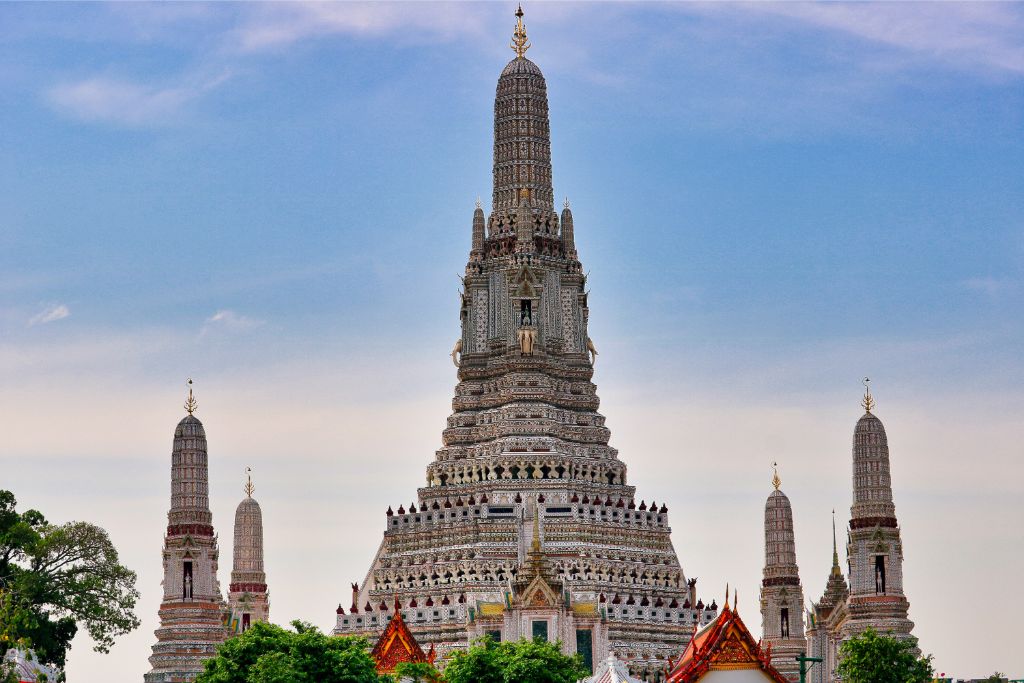 Thailand Visa for Indians
With an influx of tourist footfalls from India, Thailand has been frequently relaxing visa rules for Indians and making easy changes. For example, Thailand offers free Visa on Arrival for Indians. As of now, Thailand has extended the free Visa on Arrival facility until April, 2020.
Visa on Arrival is available for Indians for up to 15 days stay at a stretch. Just go with the following documents at immigration:
Confirmed Return air-ticket
Hotel bookings
Sufficient funds (20,000 THB for an individual)
Best time to visit Thailand
Touted as the tropical heaven, Thailand is a happy place for those who love sun and sand! November to March is the preferred time to visit Thailand for pleasant weather and festive feel. Christmas and New Years eve in Thailand bring in many festivities.
The most celebrated and must attend festivities in Thailand are
Songkran (April) – This water festival marks the new year in Thailand. When you visit Thailand during this season you can people from all backgrounds splashing water on each other.
Yi Peng(February) – The lantern festival celebrated in Chiang Mai is one of the most sought after event to watch in the world. People gather on the streets to release paper made lanterns in the air which signifies that the people have forgotten the misfortunes in the past and ready to start afresh.
Loy Krathong(November) – Unlike Yi Peng where lanterns are released in the air, during Loy Krathong baskets made of banana leaves and carrying flowers & incense sticks are put in lakes or rivers to seek the blessing of the water goddess.
The sea becomes dangerous with monsoon downpour. Many of the ferry service is abstained during monsoon. Summer, from late March to June, is sweaty hot in Bangkok.
How to fly to Thailand from India
Every Indian metropolis and a large number of tier two cities are connected to Bangkok's Suvarnabhumi airport with multiple flights on a daily basis. Low cost airlines Air Asia operates extensively in India and flies Indians to Don Muang Airport.
List of direct flight routes to Thailand from India
To Bangkok – direct flights available from Ahmedabad, Bangalore, Chennai, Delhi, Hyderabad, Jaipur, Kolkata, Lucknow, Mumbai, Varanasi
To Phuket – direct flights available from Bangalore, Delhi & Mumbai
Internet Access in Thailand
It is important to stay connected when on the road. For seamless connectivity, especially with folks back home in India, I recommend purchasing a dtac HAPPY Tourist Sim package upon arrival (any airport in Thailand). dtac is the No.1 sim card in Thailand. They have a wide range of network coverage in Thailand, from Bangkok to Pattaya to Phuket, everywhere.
Expats in Thailand recommend dtac HAPPY Tourist Sim for high quality data service and low call drop rate. So does the locals who prefer dtac HAPPY Tourist Sim for expansive country wide network coverage.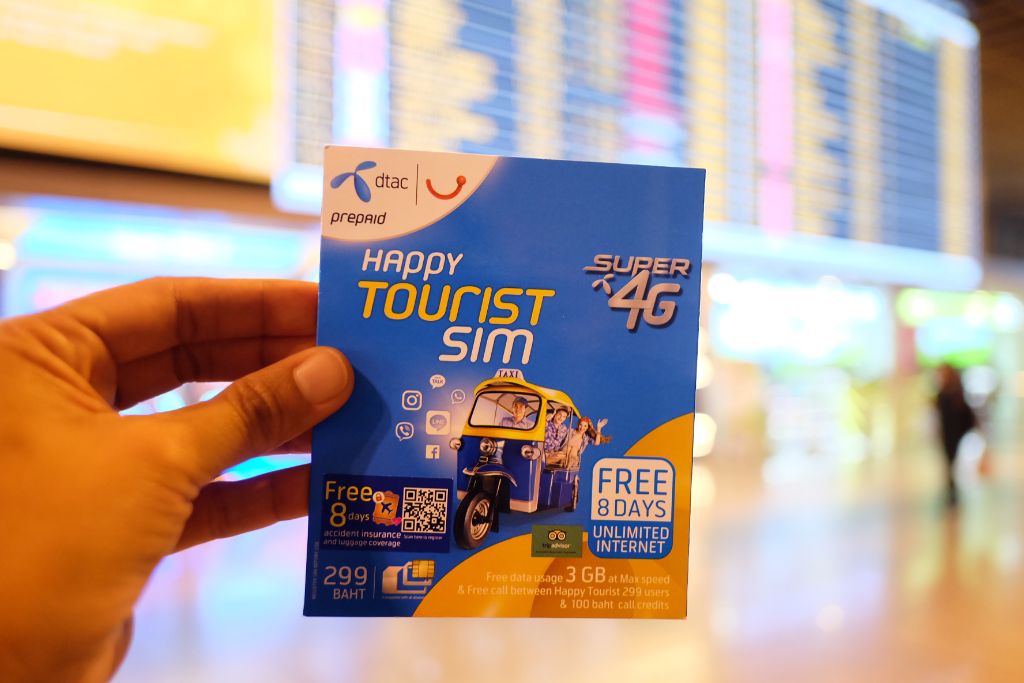 The dtac HAPPY Tourist Sim has two convenient traveler's options designed for heavy internet usage. For 299 THB, one can get unlimited data for 8 days. For travelers with upto 15 days travel plan in Thailand, dtac HAPPY Tourist Sim offers unlimited data at 599 THB. Calling back in India is charged at an economic rate of 0.6 THB per minute. Please remember to add 00400 before country code 91.
Also, upon sim activation, an SMS will be sent to your device with the link to the privileges from partners and stores in Thailand like Grab car, Central Department Store, Sea Life and Madame Tussauds.
dtac HAPPY Tourist Sim cards can be easily obtained from the airport counters (Arrival Hall – Gate 7 branch or baggage handling No.19 at Suvarnabhumi Airport, or dtac counter at any airport in Thailand). You can, alternatively, find one dtac HAPPY Tourist Sim at any convenience store across Thailand, dtac shops at the prominent shopping malls and regular phone shops. The best thing about dtac HAPPY Tourist Sim is that these cards can be purchased at major Indian airports like Delhi, Mumbai & Kolkata.
Access information to link : http://bit.ly/KOL_India_RomancingThePlanet
Top Places to Visit in Thailand
It takes anywhere between two to three months of traveling to get an authentic taste of Thailand. However, following are the destinations more famous with tourist circuit.
Bangkok
Also known as Krung Thep to the locals, Bangkok is the capital of Thailand.
Located by the Chao Phraya river, Bangkok is a sprawling metropolis, connected with underground MTR and skytrain BTS. Shopping malls, weekend night markets, walking streets, China Town, countless rooftop bars, massage parlous: everything comes together to make Bangkok a bustling megacity. By the river, rise many old temples like Wat Arun, Wat Pho etc.
Consider making a day trip to Ayutthaya, a UNESCO World Heritage site in Thailand. It is the ancient capital of Siam, erstwhile name of Thailand. Remnants of ruined Buddhist temples and monasteries in Ayutthaya can be explored on a bike.
Top places to visit in/around Bangkok – The Grand Palace, The Temple Of Emerald Buddha, Wat Arun, Wat Pho, Damnoen Saduak Floating Market, Khao San Street, The Ancient City Of Ayutthaya
Northern Thailand
Chiang Mai and Chiang Rai in northern mountain region of Thailand remain few of the offbeat tourist attractions in Thailand. More number of digital nomads settle here on a temporary basis.
Top things to do in Northern Thailand – Walk to the summit Wat Doi Suthep & complete any Zipline course in Chiang Mai, pray at the White & Blue temples in Chiang Rai, explore the Tham Lod caves in Pai, visit the hill tribe villages in Mae Hong Son
The Beaches
Phuket – Hailed as the UNESCO heritage city of gastronomy, Phuket is the ubiquitous island paradise of Thailand.  Karon beach, Promthrep cape viewpoint, walking street at Patong, Old town Phuket. Phuket has all these and more. From Phuket, you can make quick day trips to Phi Phi island and James Bond Island.
Pattaya – Known to the world as the sin city of east, Pattaya used to be a port city for American navy. Located at a distance of two hours from downtown Bangkok, Pattaya is the obvious weekend choice for expats and travelers alike. Pattaya is famous for night markets and walking street with bars, cabarets etc. Various watersports are partaken here.
The other top beach destinations in Thailand are Krabi, Koh Lanta, Hua Hin, Koh Samui, Koh Phangan & Koh Phi Phi.
What To Eat In Thailand
It is very easy to find Indian food in Thailand. Credit goes partly to the large expat community living in the cities.
For more information about finding Indian food in Thailand visit this page on my other blog.
However, Thai food is world famous in its own credit. From floating markets to fine dining Thai restaurants as well as street food, there is a wide variety of food available.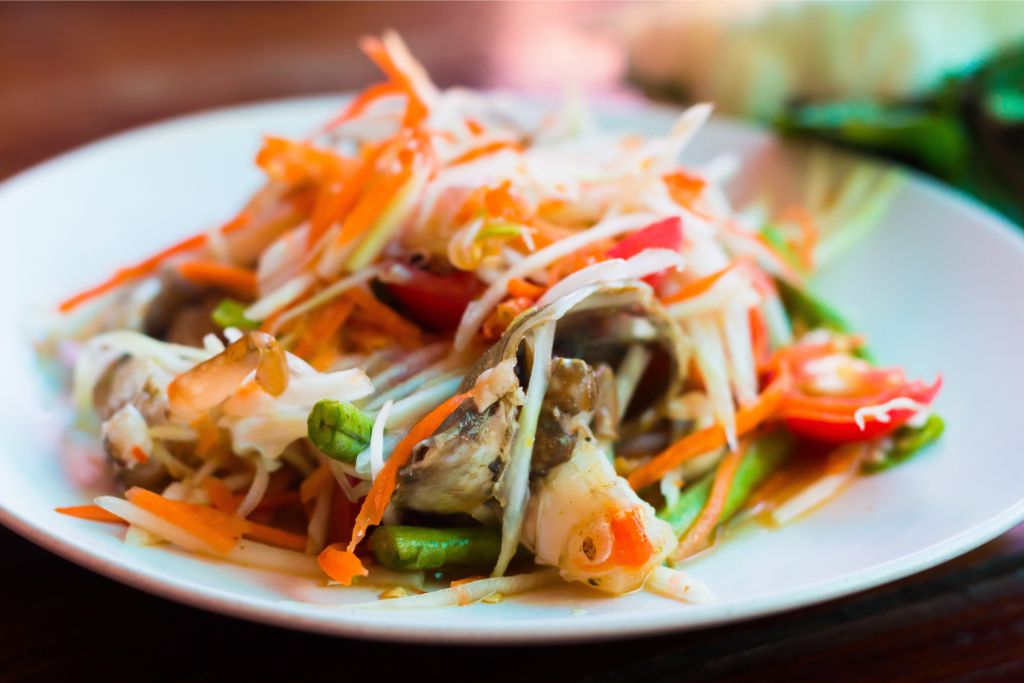 Must try dishes in Thailand include –
Pad Thai – a hand pulled noodle dish which is cooked with chicken or seafood
Tom Yum Goong – a spicy shrimp soup with flavor of lemongrass, kaffir lime & galangal
Som Tam – salad made of thin juvenile of green papaya, salty crabs or shrimp
Pad Krapow Moo Saap – this dish served along with rice is made of minced pork stir fried with basil leaves
Kao Niew Ma Muang – Thailand's most famous dessert is a sticky rice served along with sliced mango with a topping of sweet condensed milk
Please stay tuned on the blog, as I will be publishing a standalone post about the food in Thailand.
Thailand is a beautiful country with an abundance of nature prevalent everywhere. Tropical vibes pour in at the countless idyllic beaches with fine white sand. Few of the world's most famous diving spots await to be explored. All these, starting with friendly Thai people smiling and welcoming guests with the iconic folded hand gesture.
Please follow and like us: