Five local people of Kerala who caught my interest
Local people really do have interesting stories and a few minutes we spend with them gives us a lot of insight into the cultures and traditions which they follow.
1. A prideful truck owner
The bus I was traveling in from Thekkady to Kovalam had problem with its breaking system. So the driver had to stop the bus in between and remove the drum of the break which was broken. So, during the meantime I got down the bus to take some macro shots on my camera. This person calls me and asks me to take a photograph of his truck. As soon as I showed the photo of his truck on the screen of my camera, the pride in his face was something I would remember for a long time.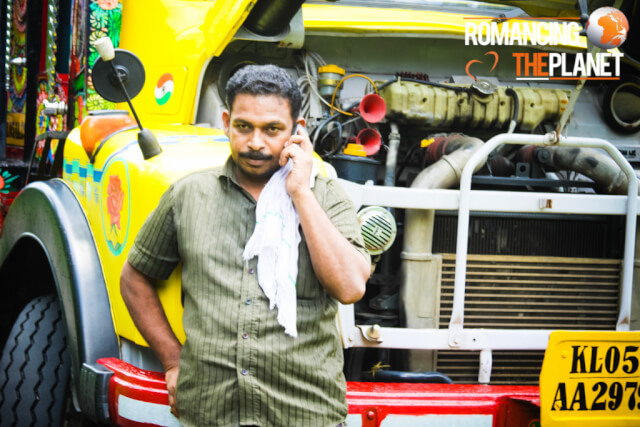 2. A cotton candy vendor at Munnar view point
When I got down from the bus to enjoy the beauty of Munnar at a place called View Point, this street vendor grabbed my attention. In a shabby local language he asked me to purchase a piece of his cotton candy. Though he desperately wanted me to buy it, I decided not to buy it because of hygiene issues.
3. A person eating betel nut in Idukki district of Kerala
This person who was eating a betel nut which locally added flavours (called as "pan" in Hindi) grabbed my attention after my visit to the spice garden near Thekkady. When I asked him a few questions he was quiet happy to answer them with patience. It was quiet difficult to understand him because he speaks only Malayalam.
4. My bus driver for the whole trip
The bus driver for the whole trip. His name is Saji and he speaks a mix of Hindi, Malayalam and English. So it was not at all difficult for me to understand him. He helped me in gaining knowledge of the roads and which place to buy goods. He also accompanied to a shop where I bought a sarong (called "lungi" in most Indian languages). This is a person whom I would remember my whole life and he became a good friend to me.
5. Ice cream vendor on the streets of Trivandrum, Kerala
After visit to Sri Padmanabhaswamy Temple, my body was feeling the heat and went in search of something cool where I met this Ice Cream vendor. He said he make around thousand Indian Rupees (around twenty United States Dollars) a day. He travels ten kilometers from his home to make a living and support his family of three children.
Please follow and like us: