DIY – Traveling independently from anywhere in India to Thimphu or Paro in Bhutan
An easy step by step guide on how to travel independently only by using a public transport or foot from anywhere in India either to Thimphu or Paro in Bhutan. There are many routes to reach Thimphu from India, this DIY guide tells about the most economical, easiest and fastest route via Jaigon/Phuentsholing border crossing.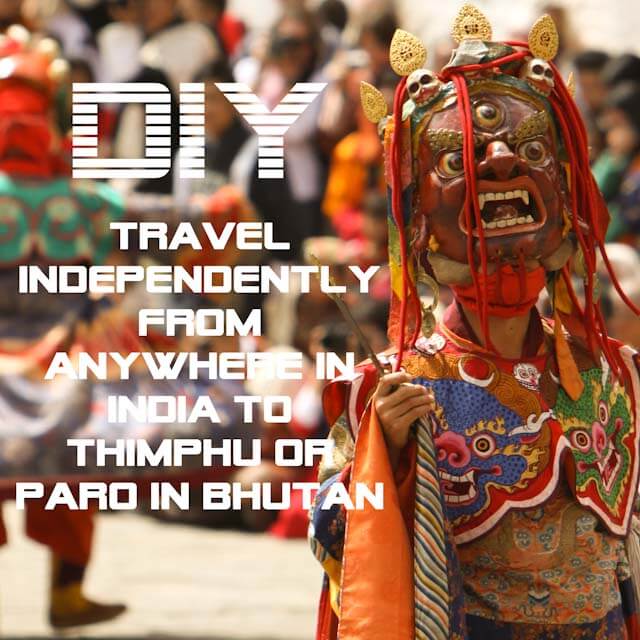 Book a train ticket to Kolkata or reach Kolkata by any means you like. There are two train stations in Kolkata (Howrah and Sealdah). Bookings can be made through online agents like IRCTC, Yatra or Make My Trip.
Next step is, reach the Kolkata's Sealdah train station. From here you need to board the Kanchankanya Express (starts everyday at 8:30 PM) and get down in Hasimara(next day 10:30 AM). The journey is 14 hours and about 700 kilometers long.
From Hasimara, you need to go to Jaigon (Indian side on the border crossing). The distance is 13 kilometer and a shared taxi cost no more than INR 150-200 per person.
After the taxi stops at the border, cross the border on foot (remember do not cross the border on the road, there is a separate crossing for pedestrians) towards Phuentsholing (Bhutan's side on the border crossing). Now you are already in Bhutan.
Permit to enter Bhutan for Indian nationals will be given at the Regional Immigration Office (located on the same building on Revenue and Customs Office) or if you do not have one, you will not be allowed to goto Thimphu or Paro. If you are a foreigner (not Bhutanese or Indian) visas should be arranged prior to travels (visa on arrival does not exist) and do not forget to get your passport stamped at the immigration check points.
Now, after you get the necessary permission, walk to the bus station at the Norgay Lam and buy a ticket to either Thimphu (INR/BTN 200) or Paro. Its takes about  3 to 4 hours to reach Thimphu and 2 to 3 hours to reach Paro depending on road conditions. Land slides may cause huge delays, be prepared during the rainy season.
The following maps shows the route from Hasimara railway station to Phuentsholing bus station. Zoom in (clicking + button on the bottom right) for a more detailed route.
Please follow and like us: