A Brief Traveler's Guide to George Town, Penang
Situated in the beautiful northeast corner of Penang Island, George Town is the capital city of Penang and was named after King George III. The Malay name for George Town is Tanjung meaning 'The Cape'. In the inner city of George Town 720,202 people make their homes, with another 2,292,394 souls making up the outer metropolitan areas. The outer metropolitan areas are made up of four smaller towns and skirt the edges of George Town proper.
WHAT TO DO IN GEORGETOWN
Enjoy the beautiful and inspiring street art
52 sculptures strong when complete the 'Welded Iron Wall' is the place to begin. This completely metal statue art brings humor to a history lesson about the early settlement of George Town. With 24 sculptures currently standing and more in progress this promises to be not only a beautiful work of historic art but a great chance to educate a new generation.
While walking the streets of George Town take a moment to inspect the wonderful and inspirational murals of Ernest Zacharevic. Ernest has painted works throughout the streets with such work as 'Kung Fu Girl' and 'Boy on Chair' bringing inspiration and beauty to George Town. What began as a visit for Ernest turned into a life passion and resident change. Ernest temporarily changed his address to George Town to pursue a career as an artist and it is easy for one to see why when walking through his completed art.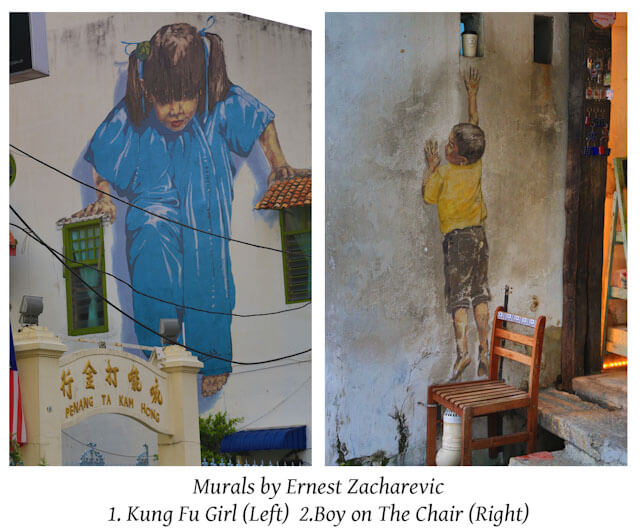 Stroll through the lovely grounds of the Pinag Peranakan Mansion
For a truly awesome site take a walk through the grounds of the mansion which once was the home of affluent Babas throughout the centuries. The mansion has been recreated to give a glimpse of a Baba's wealthy and posh lifestyle. With an estimated 1,000 pieces of collectables and antiques from the era of the Baba on display this is truly a must see sight. Open to the public Monday thru Sunday from 9:30 a.m. to 5 p.m. and low admission pricing of RM20.00 (Ringgit Malaysia) for adults and children under six for free this can be a fun trip for the whole family. If one wishes to tour the inside of the mansion it is required to call ahead and make arraignments for a guided tour.
Have a cultural food experience with street food
If one has never been brave enough to try street food Penang is the place to become adventurous. The native people partake in street food as a way of life and no traveler should miss this experience. Don't worry about salmonella and dirty dishes, those will not be found here. Second only to Bangkok, Penang has some of the absolute best street cuisine in the world. Here is a list of three must try foods from the street food culture in Penang.
1.Assam Laksa – traditional and found in most street vendor's repertoire this spicy and sour noodle dish is a great way to begin a dining adventure. With a great broth of poached mackerel, lemon grass, tamarind, shrimp paste and chilies served with a healthy topping of rice vermicelli taste buds will dance with excitement.
2.Hokkien Hae Mee – a Chinese influenced dish this soup based dish has become a must have staple in most Malaysian cultures. With fried noodles, sliced of chicken, squid and fish cakes, prawns and water spinach Hokkien Hae Mee is one mouthful of culinary culture after another.
3.Popiah – a beautiful and tasty third choice for the first time street foodie. Egg, soybean curd, Chinese lettuce and vegetable stew all comfortably nestled inside of a porous and light crepe. This native comfort food dish is served sweet, chili and black sauces to enhance the whole delicious experience. Also available in deep fried version.
Take a stroll down any street and one is sure to find at least one of these three great beginner dishes being served.
Visit beautiful historic sites
While full of noticeable history there are at least three must see stops while in George Town.
Stop 1 – Cheong Fatt Tze Mansion
Built in the 1890s and beautifully restored in the 1990s this mansion was the home to a successful and very prominent Hakka Chinese Merchant, Cheong Fatt Tze. Given the chance to show his veracity in business when he married into a wealthy family Cheong Fatt Tze had his main home built with Feng Shui principles and style. Boasting 38 rooms, 7 staircases, 220 windows and 5 courtyards paved with granite this beautiful home is a spectacle it behold inside and out. Tours begin daily at 11 a.m., 1:30 p.m. and 3 p.m. and can last between 60 and 90 minutes. It is advisable to call ahead of visiting to book a tour as they do fill quickly. With a cost of RM12 for entrance and lodging available on site the Cheong Fatt Tze Mansion should be at the top of anyone's to see list.
Stop 2 – Fort Cornwallis
Built in 1793 and rebuilt in 1810 to fix what were thought to be strategic planning issues Fort Cornwallis is located on historical Light Street. The fort was named for Charles Cornwallis and is not very well positioned for defense of the city. Built in the shape of a star the only remaining buildings for the fort are the gun powder magazine, the outer walls and a small Christian Chapel. Admission to this piece of living history is a mere RM 2 for adults, and the old Magazine house hides the keys to the past in the displayed pictures and historical accounts from the forts operational days.
Stop 3 – Queen Victoria Clock
Presented by Cheah Chen Eok in 1897 to commemorate the Diamond Jubilee of Queen Victoria this 60 foot tall clock tower provides a reminder of the history between George Town and England.
A view of the spiritual history with stops at religious sites
Stop 1 – Wat Chaiyamangalaram
Located on land given by Queen Victoria to bolster trade relations on Berma Lane, Wat Chaiyamangalaram was founded in 1845. Famous for one of the world largest Buddha statues this Thai-style Buddhist Temple is home to the reclining Buddha. Its beautiful entrance way is guarded by a grandiose paring of a statue and a guardian dragon; making this temple a great place to truly feel the calming effects of Buddhist Meditation.
Stop 2 – St. George's Church
Located on Farquhar Street and named after the patron Saint of England this is the oldest Anglican Church in South-East Asia. Built in 1818 with a pool of convict labor St. George's Church was designed by military engineer Captain Robert Smith. Located a stone's throw away from St George's is the Church of Assumption one of the oldest and the first permanent Roman Catholic Church on the island. Visit both churches are see great spiritualism and history.
Visit the Clan Jetties
These small villages on stilts are part of the Penang Heritage Trail. After desolation by fire what used to be a seven jetty setting are now six. Each Jetty is named after the Chinese Clans who started them and have large walkways, stilt homes and other buildings each on stilts over the water. These jetties were built in 1882 and are an important part of the Penang history.
WHERE TO STAY IN GEORGETOWN
Cititel Penang – 66, Jalan Penang, 10000 Pulau Pinang
At a whopping 16 stories high and situated in the middle of downtown George Town the Cititel Penang is a great choice for business and pleasure travelers alike. Hosting 451 homey and comfortable rooms, five minutes from the main ferry terminal or 30 minutes from the international airport, this hotel is a must stay accommodation. The upper floors have breath taking sea or heritage city views to choose from.
No need to worry about a long walk to find food as the Cititel has three in-house restaurants to choose from. Open 24 hours is the Main Street Cafe serves local, Asian and international cuisine for guest dinning pleasure. The Kirishima Japanese Restaurant offering wonderful Japanese foods and the Zhonghua Gourmet Restaurant are also available for the guests to choose from. Facilities also include a wellness centre, indoor pool with Jacuzzi and gymnasium for use of guests.
Spices Hotel – Lorong Lumut, Georgetown, 10300 Pulau Pinang
Located in the cultural enclave surrounded by historical buildings, monuments and living heritage this comfortable home like stay will entice the senses and the soul. Remodeled from dilapidated buildings to provide homely stay makes travelers feel as welcome as in their own homes. One predominantly unique feature of Spices is the live Bodi tree still growing on the wall in the central courtyard.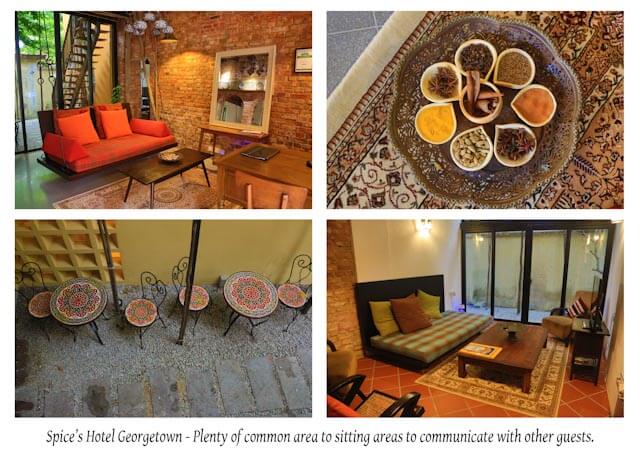 Spices is nestled and hidden behind a row of heritage shopping houses on the small street of Lumut Lane. Amenities include free wireless internet service, reception lounge, family deck, library and dining hall for house guests only. Prepare for a work out as there are no elevators in this historical setting. Spices is not pet friendly and the whole of the hotel is non-smoking. However the atmosphere and intimate space is worth the restrictions.
Campbell House – Lebuh Campbell, Georgetown, 10100 Georgetown, Pulau Pinang
Marked by innovation, sophistication, authentic and personalized service the place to be while in George Town is the Campbell House. What appears like a regular Heritage Boutique Hotel will turn out to be a personalized stay to remember. Each room has quite a bit to offer the occupant – with a Nespresso machine in room, a no charge mini bar stocked with iced lemon tea, cotton robes for the guests and hypoallergenic bedding, the rooms at the Campbell House give all the comforts of home. Breakfast is served between 8:30 a.m. and noon everyday at their downstairs Il Bacaro restaurant, this way guests may take their time preparing for their day.
Each room at the Campbell has their own theme for the enjoyment of the guest. These themes all centering around peace and personal harmony. Here are just a few of the themes the Campbell has to offer.
Blossom Room : This room offers an open floor plan with a queen size bed for the guests comfort. Offering an en-suit glass shower room this room is designed to showcase the best of feminine beauty, strength and more importantly love. This intimate room is located on the first floor of the Campbell Hotel.
Silver Leaf Room : Denoted by its high ceilings and decorative silver tones, the Silver Leaf room invokes a feeling of serenity and comfort. Decorated with a mix of antique and contemporary furniture with a modern en-suit bathroom complete with a beautiful and relaxing walk in rain shower. The super king bed allows for the guest to cuddle into the peace of the rooms theme, of the rise and fall of the moon and tides.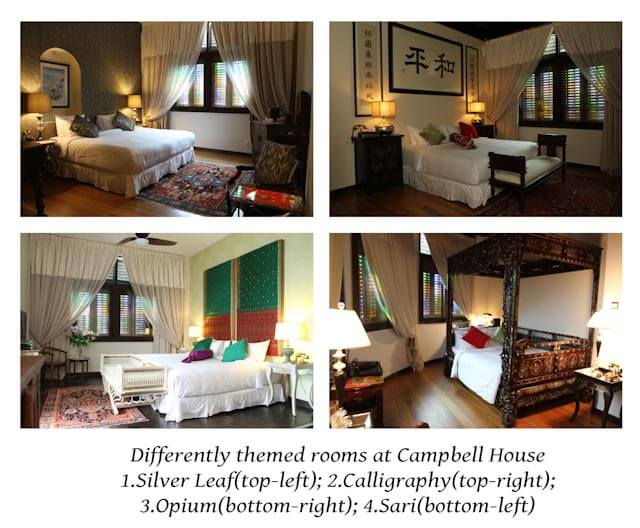 The listed rooms are just a couple of the rooms available for guests to relax and find comfort in while they are abroad in the beautiful city of George Town. There are equally beautiful and unique rooms throughout the first floor and second floors, including the second floor Calligraphy room (where I stayed) denoted by the hand painted piece hanging above the bed. This piece is a literal reminder of what the Campbell is all about for its guests. The piece reads, in traditional Chinese Calligraphy, PEACE. Enjoy a stay in a beautiful room of your choice and you won't regret.
Whether looking for history or art, a great place to stay, a sea side vacation or anything else George Town is a great place to visit, maybe even temporarily escape to like Ernest Zacharevic. Check out the street food while on a wonder filled walk through George Town's historical streets and then take the evening to unwind and relax in any one of the great Hotels in the area. The in the morning take a great trip to the historical and religious sites which make George Town so popular. Travelers beware George Town could very easily become a new favorite destination.
Please follow and like us: