A Comprehensive Guide For Every Traveler Visiting Turkey!
Turkey: The Pearl Of The Ancient World!
Europe and Asia shoulders with each other in the land of Turkey, where an iconic medley of myriad influences, from Mediterranean, Middle Eastern nations, the Balkans and Central Asia have given birth to a rich heritage and culture. History of Turkey dates back to the golden period of the Byzantine Era, followed by the Ottomans! These dynasties are likely to suffice to highlight the cultural treat a traveler is in for while visiting Turkey! In this Turkey Travel Guide, we try to elaborate on the simplified process of getting an e-visa for Turkey, followed by mentioning the beautiful destinations and gourmet delights!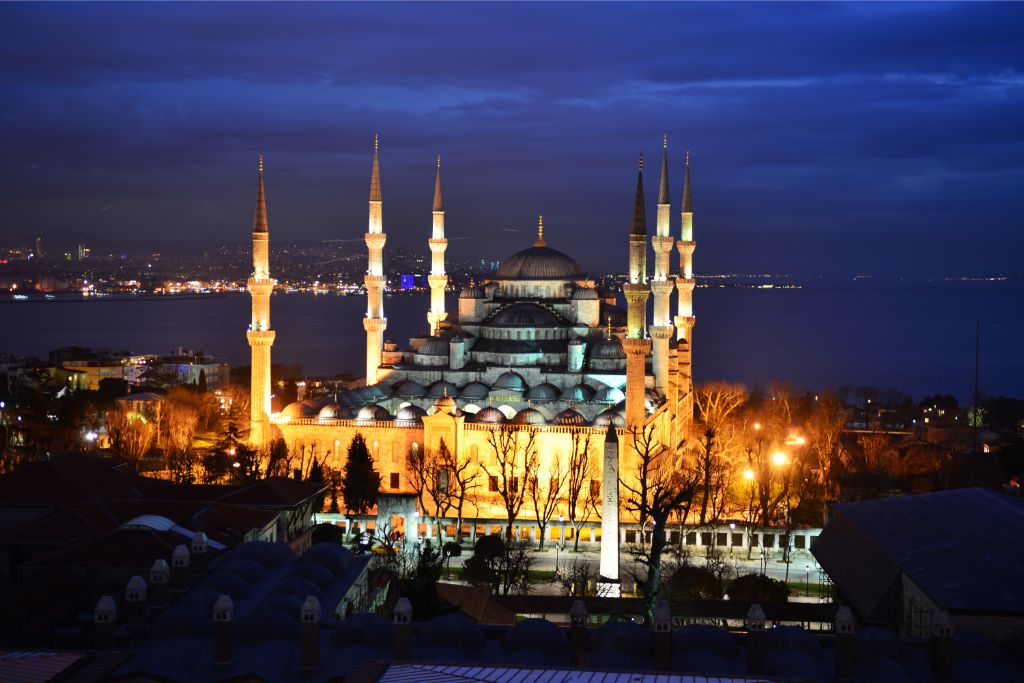 Obtaining A Turkey Visa
Obtaining a Turkey visa was never easier with a convenient provision of e-visa system! An e-visa Turkey allows a visitor to stay up to 90 days. Payment can be made by debit or credit card.
Please note, in case of Indian passport holders, the provision of e-visa is only applicable if you have a valid visa from the US, UK, Schengen and/or Ireland. A residence permit is also considered for e-visa Turkey. In absence of either of these, Indians need to apply for a regular sticker visa at the Turkish embassy.
Top Places To Visit in Turkey
In this Turkey Travel guide, we try to highlight the must-visit destinations ranging from world-class cities to pristine nature reserves. The best time to visit Turkey varies from spring (Apr-May) and autumn (Sep-Oct) with favorable warm weather conditions.
Ankara – The capital city, Ankara houses the remnants of the founder of modern Turkey Mustafa Kamal Ataturk's body at Anitkabir Museum. Plenty of heritage sites along with modern highrises showcase the gradual evaluation of Turkey taking the shape of today! Make sure you visit the Ankara Castle (Kalesi), Atakule Tower, Beypazarı neighbourhood famed for silver works, Roman Bath and Haci Bayram Mosque while in Ankara.
Istanbul – An ancient heritage city with a share of land in both continents, Asia and Europe, Istanbul lives and breathes heritage. The Ottomans, the Byzantines ruled over the largest city of Turkey. From the astonishing church turned mosque Hagia Sophia to the Turkish Jazz bars in the bylanes, Istanbul spells her character through historic monuments and old lanes alike! Do book for an evening cruise at the Bosphorus waterway. The Grand Bazar of Istanbul is no less than 5 centuries old and can be compared to that of Khan e Khalili in Egypt! Carpets, leather, ceramics, jewellery galore in its 60 lanes. A Hamam bath experience is highly recommended when in Istanbul.
Antalya – One of the beach resort town by the Mediterranean sea, Antalya showcases many Roman ruins, minarets, mosques, clock tower. A unique one way Tram service line connects many historical sites much to tourists' convenience.
Bodrum – Located at the edge of southern Aegean Sea, Bodrum is a fine coastal port city featuring old world castles, Roman ruins, rustic villages. Many island tours are conducted from Bodrum.
Konya – If you have drooled over Rumi's heart-wrenching poetry, do not forget to pay a visit to the bard's tomb at Konya, Turkey. Remnants of Seljuk architecture surrounds this mystic land of whirling Sufi Dervishes. Konya carpets are adored in the artistic sphere.
Trabzon – Located by the Black Sea coast, Trabzon houses Sümela Monastery at the outskirts along with the pretty Alpine villages of Ayder. Rize, a town famed from growing Turkish tea is located closeby! The old quarter houses Byzantine churches. Marco Polo had mentioned about Trabzon in his famous travelogue.
Beyond the idyllic city breaks, in this Turkey travel guide, we highlight the destinations famous for archaeological ruins as well as natural sites.
Cappadocia – The Central highlands of Turkey where Moon meets earth! Hailed as the moonland and noted for the "Fairy Chimneys", the quirky landscape of Cappadocia also features cave churches, underground urban settlements and rock cut buildings! We recommend taking a hot air balloon ride at Cappadocia.
Pamukkale – Often featured in Bollywood music videos, Pamukkale is often termed as Cotton castle. Cascading shallow pools of thermal water create an elusive white world. Pamukkale is every Instagrammer's dream destination.
Mount Nemrut – Enlisted as a World Heritage site, Mount Nemrut is revered as a deity in local culture with the summit dedicated to ethereal spirits of deceased kings. The tumulus or tomb hills are sculpted after the king's face and rises 2500 meters above the sea level. When in the region, do try some hearty Anatolian dishes!
Ani – The erstwhile capital of the Armenian Empire, Ani is a ghost town tucked inside the Turkish Steppe. The pink ruins in churches and castles are worth visiting in Ani.
Ölüdeniz – A major tourist spot in Turkey, Ölüdeniz houses Blue lagoon, a picture perfect nature reserve. An hour-long paragliding trip from the summit of Mount Babadag is possible in summer.
The Turkish Dishes You Must Try!
Any Turkey travel guide remains incomplete without a mention of the rich Turkish cuisine! A diverse culture testifies its presence in quintessential Turkish dishes, ranging from lamb to yoghurt to myriad styles of bread. Contrary to popular belief, there are ample offers on the vegetarian menu. Turkish diet finds its trait from the earliest nomads to Indian, Arabic and Perisan influence as course of history unfolded.
Doner Kebab – The Turkish Doner KebaB can be classified into two variants: dürüm where döner, the kebab strings are wrapped in lavaş bread. Iskender kebap has döner spread on a bed of pide bread with yogurt, tomato sauce, and butter.
Köfte – Succulent meatballs made into crispy shells with minced meat, onions, flavored with herbs like parsley, and nuts and further dipped into a tomato gravy or served as is, Kofte is a must-try dish when in Istanbul!
Lahmacun – A type of Turkish pizza of thin crisp bread and topped with meat, vegetables and cheese is generally loaded with parsley, rolled furthered and savoured!
Balik Ekmek – A Mackerel sandwich originating in Istanbul is a famous seafood dish!
Turkey also serves a strong cup of black coffee and indigenous Apple tea. If you crave sugar, do indulge in Baklava on the streets of Istanbul!
From the Heritage cities to world class archaeological sites, pristine beaches with luxury resorts dotting the coastline and stunning natural wonders, Turkey offers a plethora of experiences for the discerning traveler! Not to forget the addition of friendly hospitable residents, some of the oldest souk markets of human civilization and lip smacking delicacies only make the case of visiting Turkey stronger! We hope this Turkey Travel Guide was a comprehensive tale to inspire you to visit this ancient nation with useful information. Feel free to add your suggestion of off the beaten tracks in Turkey!
Please follow and like us: