101 things to do in Hong Kong
Hong Kong is a perfect gateway to start exploring the East Asian culture. When someone thinks about Hong Kong, they think only about the tall skyscrapers and shopping. But in reality there are many more things to do in Hong Kong.
Without much elaboration, here are 101 things to do in Hong Kong.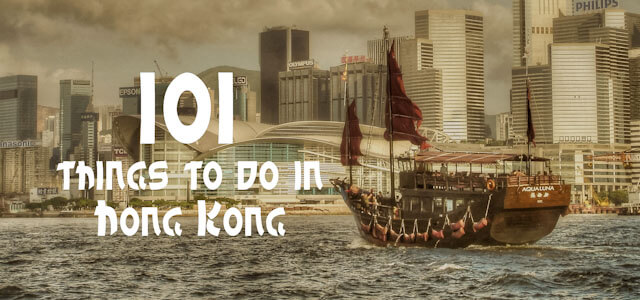 1. Take the peak tram and head to the Victoria Peak.
2. Stop at The Landmark Mall for shopping luxury brands.
3. Buy souvenirs at the local shops in Western Market in Shueng Wan.
4. Light some incense sticks for luck at Man Mo Temple on the Hollywood Road.
5. Enjoy the appetizing Mediterranean brunch at Scirocco.
6. Watch a variety of birds, mammals and reptiles at Hong Kong Zoo.
7. Buy Chinese lanterns at Graham Street.
8. Walk down Wyandham Street to visit the colonial styled old Police Station.
9. Relax with a foot massage at Happy Foot Reflexology.
10. Visit the bronze lions at the HSBC building on the HK island.
11. At night indulge in drinking a session at Lan Kwai Fong.
12. Attend the theater or live music at Fringe Club.
13. Spot different species of birds at the aviary in Hong Kong Park.
14. Sip traditional Cantonese tea at Lockcha Tea House.
15. At 7.30 AM watch the Flag hoisting ceremony at Golden Bauhinia Square.
16. Purchase electronics at Wan Chai Computer Center.
17. Grab an Indian Thali at Khana Khazana restaurant.
18. Or try the spicy crab at Under Bridge Spicy Crab.
19. Watch while the soldiers are firing canons from Noon Day Gun.
20. Make a visit to HK Times Square, a copy cat of NY Times Square.
21. Place bets on horses at Happy Valley Race Course.
22. Zoom at 77 km/h on the dragon roller coaster at Ocean Park.
23. Hit the water on a kayak at Stanley Main Beach Water Sports Center.
24. Gaze at the ocean from Stanley Market Promenade.
25. Watch the activities of Victoria Harbor on a TV at Maritime Museum.
26. Hike the small hill and visit the Stanley Ma Hang Park.
27. Watch the sun set from South Bay Beach.
28. Thrill yourself by paragliding at Shreak O village.
29. Go swimming at Repulse Bay which has the best beach in HK.
30. Feast at on of the many restaurants in Jumbo Kingdom.
31. Travel from Hong Kong to Kowloon on the Star Ferry.
32. Pose with the statue of Bruce Lee on Avenue of Stars.
33. Get great views of Victoria Harbor from HK Cultural Center south platform.
34. Escape the planet at the dome shaped HK Space Museum.
35. Get uninterrupted view of Symphony of Lights from a junk boat.
36. Make time pass by watching the people on Kowloon Promenade.
37. Take a picture of the iconic Clock Tower that was built in 1915.
38. Appreciate traditional and contemporary art at Museum of Art.
39. Observe British hospitality at the lobby of The Peninsula Hotel.
40. At 1 PM watch the dropping of Time Ball at 1881 Heritage.
41. Learn martial arts at Kung Fu Corner, Kowloon park.
42. Bite unknown flavored Japanese ice creams at Azabusabo.
43. Walk into the old Chungking Mansion and seek out desi food.
44. See the story of Hong Kong at HK Museum of History.
45. Check out Chinese handicrafts at Chinese Arts & Crafts emporium.
46. Ask a local why Nathan Road is called 'Golden Mile'.
47. Discover your fortune via a soothsayer at Temple Street Night Market.
48. Walk to the colorful flower market in Yuen Po Street.
49.  Linger along Tung Choi Street to watch which birds are for sale.
50. Pick up some fakes of branded clothes at Tung Choi Street Market.
51. Wonder at which stall to purchase jades in the Jade Market.
52. Catch a Chinese Opera at the Sunbeam Theater in North Point.
53. Get your caricature done by a street artist at Temple Street Night Market.
54. Have a meal of the yummy pork ribs at Mido Cafe.
55. Watch a new Hong Kong movie at Broadway Cinematheque.
56. Take a stroll at the beautiful Nan Lian Garden.
57. Participate in a prayer session at Chi Lin Nunnery.
58. Explore the pavilions and ponds within Kowloon Walled City Park.
59. Late in the evening dine at any of the shack along Lei Yeu Mun Praya Road.
60. Become a virtual pilot by flying the flight simulator in Mega Box mall.
61. Learn ice skating at the rink in the Festival Walk mall.
62. Experience 180-degree theater at Noah Ark in Ma Wan Park.
63. Check if there are actually 10000 Buddhas in Temple of 10000 Buddhas.
64. Rent a surfing board and windsurf near Sai Kung Harbor.
65. Watch the birds on a binoculars at HK Wetland Park.
66. Enjoy the perfect day at the Clearwater Bay First Beach.
67. Fly kites at Clearwater Bay Country Park.
68. Experience Hong Kong's village life at HK Heritage Museum.
69. Try to replicate Chinese calligraphy at Art Museum of CUHK.
70. Hike the MacLehose Trail.
71. Get a bird's eye view of Lantau from Ngong Ping 360.
72. Experience 'Walking with Buddha' at Ngong Ping village.
73. Retreat yourself at Po Lin Monastery.
74. Climb the 260 steps to reach Tian Tan Buddha.
75. Watch the fireworks show at Disneyland.
76. Play golf at 27-hole Discovery Bay Golf Club.
77. Wander the local villages in Mui Wo.
78. Bicycle at Pui O.
79. Have a Mediterranean lunch at Lower Cheung Sha village.
80. Head out on a dolphin watching trip on waters of Lantau.
81. Take a river boat trip at Tai O.
82. Buy dry fish or seafood at Tai O fishing village market.
83. Walk the 4 km long Family Trial on Lamma island.
84. Charter a boat to Central from Yung Shue Wan.
85. Eat food cooked by the monks at Po Lin Monastery.
86. Relax at Deli Lamma Cafe.
87. Take a ferry to Macau.
88. Try Dim Sum at a new restaurant everyday.
89. Take a tram on HK island and don't get down until the last stop.
90. Ride on the top deck of a bus to Shek O village.
91. Count how many designer clothing brands you know on Canton Road.
92. Take part in Art Jamming @ Wellington Street in Central.
93. Play with dolphins at the pool in Ocean Park.
94. Click a photograph with Amitabh Bachan at Madame Tussauds Museum.
95. Buy antiques at the Cat Street.
96. Walk 2 km from Peak Road to the Pok Fu Lam Reservoir.
97. Attend the organ concert at St John's Cathedral on Wednesday.
98. Get 360 view of HK's skyline from sky 100.
99. Take a free ride on mid-levels escalator.
100. Learn Feng Shui or Tai Chi or both.
101. Come back to Hong Kong.
Now, that's plenty of things to do in Hong Kong. If you have only a little time, then here are the experiences not to be missed in Hong Kong.
Please follow and like us: