7 Luxurious Places to Stay in the Middle East
From luxurious 7-star hotels and resorts of Dubai to the magnificent Emirates Palace in Abu Dhabi, the Middle East boasts spectacular places to stay during your vacations. Find out below our top 7 handpicked places to stay across the Middle East, don't forget to bookmark this article for your next trip to the Middle East!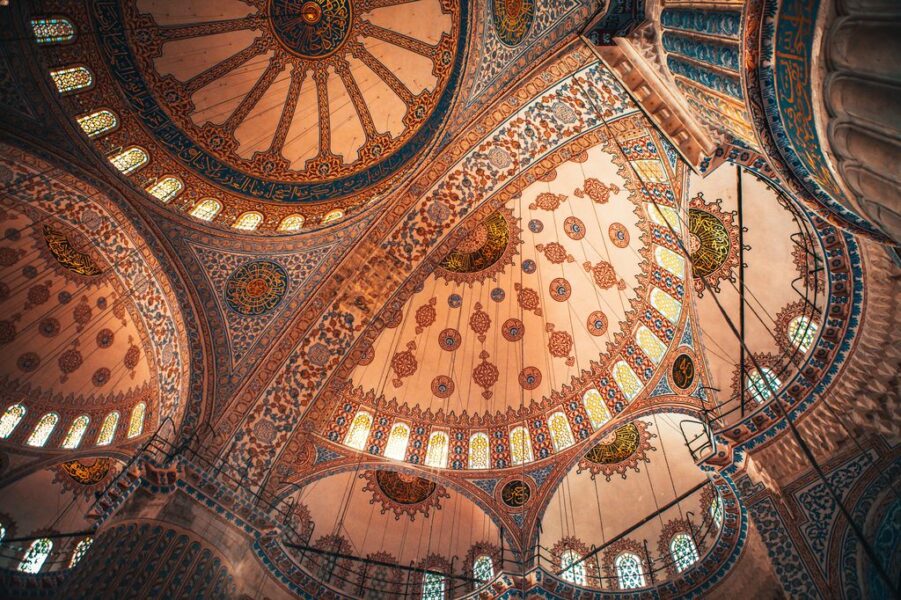 1. Emirates Palace, Location – Abu Dhabi
Cladded with luxury and plush furnishings, staying in the Emirates Palace is equivalent to giving a treat to yourself. Here, every nook and corner you will take a glance at exudes opulence and class. One can choose from sea-facing Palace rooms, garden-facing rooms, or rich city-facing rooms while opting for a stay in this grand Palace. Located in the middle of one of the private beaches in Abu Dhabi, this hotel has 8 different dining spaces that are sure to leave you spoilt for choice. The variety of cuisines served here are put together by renowned chefs. Rest assured, by checking in to this hotel, you will not only be pampering yourself with a luxe treatment but also indulging in the Middle East's tastiest culinary experience of all time!
2. Qasr Al Sarab Desert Resort by Anantara, Location – Abu Dhabi
This resort is like a bright green patch left by mother nature in the endless desert of the Empty Quarter desert. Qasr Al Sarab Desert Resort by Anantara is located on the outskirts of the beautiful city of Abu Dhabi. Aside from having grandeur and comfortable rooms with private balconies and garden terraces, the resort also has villas as well as private pools for a dream-like vacation. Get enchanted by the golden-coloured sands on a camelback ride or on guided tours that are conducted by knowledgeable local guides. Enjoy a round or two of archery, which is a popular sport among the Bedouin, and design your own menu with your own personal chef – these are just a few of the many amazing activities that you can partake in at this resort. Towards the end of the day, you can relax and rejuvenate yourself at the Moroccan hammam of the Anantara spa.
3. The Ritz Carlton Resort, Location – Ras Al Khaimah, Al Wadi Desert
The Ritz Carlton Resort situated in the lap of Al Wadi's nature reserve is the perfect place to book your stay if you are planning to go on a Ras Al Khaimah Desert Safari
Experience the beauty of UAE's vast deserts at this place. Located in the northern part of Dubai, The Ritz Carlton resort lets its visitors engage with the environment and culture in-between the grandeur of a 1,235-acre land which is a protected reserve. A desert trip on a camelback ride or horseback ride, personalized archery training, or an evening of stargazing can all be arranged for you within the premises of the resort via the resort's Experience Concierge.
The lavish villas with private outdoor pools and stunning desert scenery, inspired by Bedouin architecture, await your visit at this resort.
4. Gamirasu Cave Hotel, Location – Turkey
Located in the heart of Cappadocia Ayvali town, with 35 rooms under the caves, the Gamirasu cave hotel is the first hotel in the area which opened in 1999. The hotel offers the opportunity to stay in the carefully restored caves. The Byzantine Royal Suite is the largest suite in this hotel. It has all modern amenities like a jacuzzi, sauna, Turkish bath, and a beautiful view of the valley.
This place was earlier used as a monastery during the Byzantine period. The Cave hotel and its surrounding places always remain very clean as this area is still mostly untouched. With its spiritual atmosphere and welcoming hospitality, Gamirasu Cave Hotel is perfect for those who want to have a quiet and peaceful time during their vacation in Turkey. While you are staying in this hotel, you can pay a visit to the 11th-century Byzantine Orthodox Church inside the hotel, enjoy a relaxing meal in an ancient dining room, and take a dip in the heated swimming pool which is designed to appear like the Roman lakes of Cappadocia.
5. Al Maha, a Luxury Collection Desert Resort & Spa, Location – Dubai
An exclusive private desert resort and spa which is nested among the palm trees, nature's greenery, and sandy dunes of Dubai's Desert Conservation Reserve. The Al Maha, the Luxury Collection Desert Resort & Spa has 42 guest rooms including rich Bedouin Suites to Presidential Suites. They all come with their own private swimming pools and are decorated with beautiful Arab artifacts. Through this resort, you can go on a desert safari to spot the rare Arabian oryx. Or if you want some time for yourself, you can opt for a desert cruise to enjoy the sunset with some hot coffee or any beverage of your choice. People who are into horse riding can also go on a horse riding adventure with the facilities available at the resort.
6. Jumeirah Messilah Beach Hotel & Spa, Location – Kuwait
Located 10 minutes away from the Kuwait International Airport, the Jumeirah Messilah Beach Hotel Spa offers you the best of everything… from sea-facing rooms to beautiful 5-bedroom exclusive suits that come equipped with personal pools and kitchens. These spacious suites make this hotel a perfect stay for a vacation with friends and family. The resort's 5-course dining experience serves authentic tasting foods from around the globe that can be enjoyed in a private beachside cabana.
Once you are done with your explorations and hearty meals, you can head to the Talise Spa for a customized treatment, inspired by the ancient Arabian rituals with decadent za'atar spices, or relax by the pool with a cool drink to wash away your tiredness.
7. Habitas AlUla, Saudi Arabia
Ever heard the term "sustainable luxury"? Now you can not only know but also experience it at Habitas AlUla, located in the Ashar Valley in AlUla. Enveloped by scenic mountains, it has 3 sustainable-yet-luxe villa types: the Celestial Villas, with entertainment and leisure facilities; Alcove Villas, with private terraces overlooking the sandstone landscape; and Canyon Villas enveloped by cliffs.
The Tama restaurant within the Habitas AlUla combines flavours from around the world with that of the Middle East to prepare delicious dishes that carry a touch of fusion. Get to know everything about the history of Middle Eastern Bedouin culture while you are on a camelback ride. Spend a quiet night beneath the starry skies at Gharameel, which gives you the best view of the night sky in this area.
About The Author
Robeena Brown is a travel blogger & destination expert living in UAE and works for local tourism companies like Arabiers. If you have been looking forward to touring Dubai, getting a visa, extending stays and exploring the city, you can follow her on social media.
Please follow and like us: