Where to stay in Phnom Penh in style
1)TEAV Bassac Boutique Hotel, #30, Street 09, Tonel Bassac, Khan Chamkamon, Phnom Penh
TEAV Bassac Hotel is an intimate 19-room hotel that is strategically located near the Bassac River right in the prestigious heart of the Cambodian capital city of Phnom Penh. Although the glamorous hotel is well situated at a walk able distance to the city's main tourist area, it is however, distant from the bustling noise of the city centre.
The hotel is unique in its own way with innovative, spacious and comfortable rooms. Its rooms are adorned with exotic black decor, artistic terraces and smooth floors. As expected in mid-range boutique hotels, TEAV Bassac does not lack any amenity of convenience including minibars, flat-screen TVs, safes, spa, swimming pool and free Wi-Fi in every room.
It offers a good value for your money with reasonable packages. Some of which include Tuk Tuk service, spa, delicious breakfast (English or Asian), lunch & dinner, concierge services, Airport pick-up and drop-off etc.
The hotel sits in a convenient vicinity that is close to several markets, museums, NGO offices, restaurants, major tourist attractions, the Royal Palace, AEON Shopping Mall and the riverfront. TEAV Bassac has got an attractive, well-maintained hotel building.
As one of Phnom Penh nicest hotels, TEAV Bassac features great pieces of art public spaces that present a charming beauty . All its rooms are elegantly decorated in contemporary decor and with a touch of Khmer culture.
2)TEAV BKK I Boutique Hotel, # 14, Street 310, Boeung Keng Kang I, Khan Chamkar Mon, Phnom Penh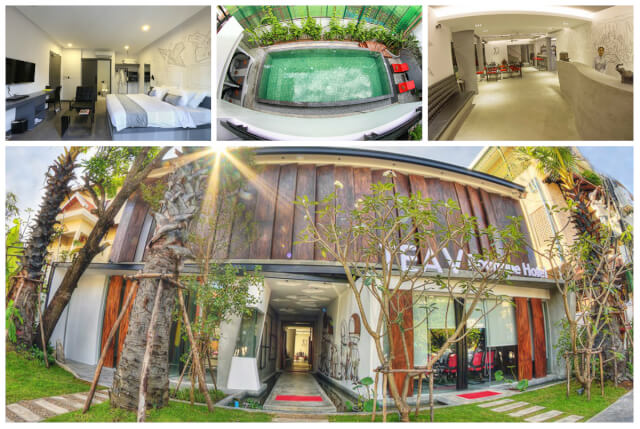 This is decked with an contemporary Khmer architecture. TEAV Boutique Hotel is a 12 room post-modern boutique hotel that is located right in the center of Phnom Penh but it is located a distance away from the hustle and bustle of the city's main street. This magnificent hotel presents a warm welcome into the Cambodian Kingdom.
Visitors can easily gain access to all that the city has got to offer because it is located in the heart of Phnom Penh's central tourist and business districts. Located down a quiet street, TEAV Boutique Hotel stands out as one of the nicest hotels in Phnom Penh. It has got aura similar to their other property TEAV Bassac Boutique Hotel.
TEAV BKK I Boutique Hotel provides chargeable arrangement airport pick-up and drop-off with welcome drink on arrival. It also provides visitors with a swimming pool, laundry services and high-speed Wi-Fi internet access in all public spaces and guest rooms.
TEVI restaurant and bar features delicious delicacies which include European and Asian dishes. It also offers both local and international beers & wines. Overall it features comfortable rooms with very good breakfast in a very conducive atmosphere. It is beautified with colorful traditional arts in modern style. TEAV BKK I Boutique Hotel is a place to be for anyone seeking comfort and pleasure.
3)Almond Bassac Hotel, No 128F, Sothearos Blvd, Phnom Penh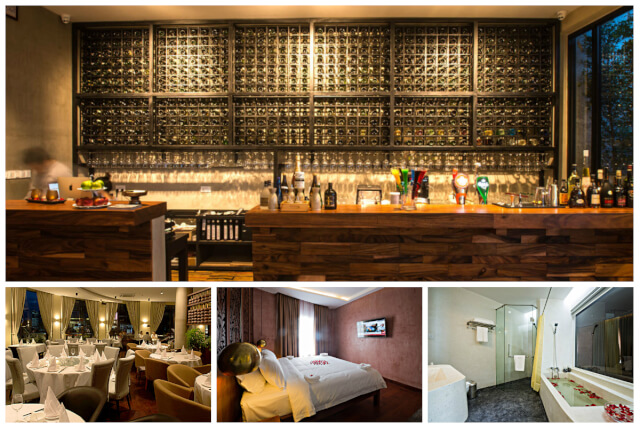 Cambodia has several world class hotels and guest houses, but a few of them have distinguished themselves over the years. One of the distinguished ones is The Almond Bassac Hotel, which is relatively new. It is located in the heart of Phnom Penh, the largest city in Cambodia. It is situated on the confluence where ancient waterways converge.
As a touristic advantage, Almond Bassac Hotel is situated close to the famous Bassac River and several other tourist attraction centers like the Royal Palace, the central market, AEON Mall, National Museum, Wat Phnom and riverside. Not only that, it also about 5 minutes walk to Diamond island.
Almond Bassac Hotel knows that the best and cheapest form of advertisement is through happy customers, so they take their time to offer world class services just to exceed customers' expectations at all times. The staff of the hotel will treat you like a king.
The hotel offers over 40 rooms. Not just run-of-the-mill rooms but 40 super sophisticated rooms with state of the art furniture and fittings. In fact, Almond Bassac Hotel is simply home away from home. One striking and rare feature is that each of their rooms is unique.
The rooms are categorized and named after the three main rives in Cambodia – Bassac, Mekong & Tonle Sap rivers. Each room has a contemporary flat-screen television, a safe for security of your valuable documents, a sofa, a desk and chair in case you want to do a little office work. Not only that, each room also has a coffee maker and a mini refrigerator – see the selection at Discount Water Filters. This is jet age and nobody should be offline for too long so Almond Bassac Hotel offers a free high speed access in every room. Apart from the state of the art facilities, the decorations and artwork in every room are simply out of this world.
To ensure your comfort, Almond Bassac Hotel offers transportation service and personal laundry services. Because their customers matter to them so much, they offer free welcome drink and free daily breakfast depending on your package. Whether you have come for a business trip or a pleasure trip, Almond Bassac Hotel will make your stay a memorable one.
The restaurant at Almond Bassac Hotel – Seaven Sea offers a wide variety of Chinese based Asian dishes. No matter where you come from, you will find a food that will leave you happy.
Please follow and like us: